Now you can own a complete limited edition U.S. Currency Collection-Proof Struck in Twelve Ounces of 99.9% Silver
Over the last 100 years, the bank notes Americans carried in their wallets have changed to reflect the times. But one thing always remained the same. They were all printed on paper.
Until now.
Now, for the first time ever you can own a complete limited edition 12-piece U.S. currency collection in a new and spectacular version: Proof struck in twelve ounces of dazzling 99.9% silver!
Even more exciting, you can build your collection over 12 months, adding one silver proof each month for the remarkably low GUARANTEED issue price of only $89.95 each (plus s&h).
Not printed on paper, but PROOF STRUCK
in 99.9% pure silver
This collection allows you to own 12 different United States bank notes-one of each denomination issued in the last 100 years-not printed on fragile paper destined to crumble into dust, but each PROOF STRUCK in a FULL TROY OUNCE of dazzling SOLID 99.9% SILVER, making this first-ever collection an enduring classic that will be preserved and cherished as a truly historic legacy.
And what a collection! It includes all twelve different denominations of U.S. currency, showing designs that date back decades and those that are newly revised to meet modern currency standards.
Here's your "snapshot" of the Silver Proofs in your collection
One and Two Dollar Notes: This collection includes the "old standby" that has been in American's wallets since 1928-the $1 Washington- and the seldom seen and always popular $2 Jefferson.
Five, Ten, Twenty and Fifty Dollar Notes: The familiar faces of Lincoln, Hamilton, Jackson and Grant each show the recently revised portraits we all carry in our wallets today.
The $100 Note: This highest current denomination showing Ben Franklin has been revised three times in the last 100 years. You receive the current version in your collection-it's the newest note of them all!
Five Hundred and One Thousand Dollar Notes: These two high denomination notes were retired in the 1960s. They've been pulled out of circulation and destroyed ever since. Now you can own them in enduring proof silver. Now you can own a complete limited edition U.S. Currency Collection-Proof Struck in Twelve Ounces of 99.9% Silver over, please...
Five and Ten Thousand Dollar Notes: The $5,000 note showing James Madison was a favorite of rum-runners in the Roaring Twenties. The $10,000 note showing Salmon Chase has rarely ever been seen outside a bank vault. Now YOU can hold it in YOUR hands!
One Hundred Thousand Dollar Note: This note showing Woodrow Wilson was made strictly for bank-to-bank transactions. The paper note is illegal to own. But we guarantee your proof silver note is perfectly legal to own!
But there's EVEN MORE!
But there are even MORE reasons why you need to secure your 12-Piece Silver Currency Collection TODAY:
EASY DELIVERY: Through GovMint.com's easy delivery program you can manage your budget as you build your collection through twelve convenient deliveries of only $89.95 per delivery (plus s&h). Upon completion, you will own a 12-Piece Silver Currency Proof Set Collection that will be the envy of your family, friends and other collectors.
NUMBER OF PROOFS + PRECIOUS SILVER: This collection is TWELVE PROOFS, each struck in one ounce of pure 99.9% silver, a precious metal that has been coveted for THOUSANDS OF YEARS.
FREE DELUXE DISPLAY CHEST: Your collection also includes a luxurious MUSEUM QUALITY display chest to house your silver bank notes-the case alone is a $150 retail value. It's yours to keep-FREE!
In addition, each Silver Proof includes its own individual certificate of authenticity housed with each proof in a protective acrylic holder.
No Obligation-Cancel Anytime
Of course, you are under no obligation. You may cancel future deliveries at any time, for any reason. Plus, your collection comes with our hassle-free 30-day guarantee, so you can inspect each and every one of your Silver Proof Bank Notes for a full 30 days as you build a spectacular Silver Currency Collection!
This 12-Piece Silver Currency Proof Set Collection is sure to be the one of the most distinctive and precious additions to your collection, and they make exceptional gifts for young and old. Imagine your family's surprise and delight when each monthly package arrives at your door. Lock in your sets now at the issue price of only $89.95 per delivery (plus s&h)!
But you must hurry. This exclusive proof set edition is limited to only 5,000 sets world wide for 2014. When they're gone, they're gone. NOTE: By ordering your set TODAY you lock in your price for the entire collection. Your cost will not change regardless of any changes in the price of silver. Call 1-888-201-7071 to order your collection today.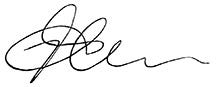 Bill Gale
Founder, GovMint.com
P.S. This exclusive locked-in price is available for only a limited time while supplies last. Orders will be taken on a strict first-come, first-served basis. Limit 10 orders per household. Don't wait, call now to avoid disappointment!
---
World's First $1 to $100,000 Silver Currency Proof Set
A dazzling treasure in twelve ounces of pure silver
They're not folding money- They're pure proof silver!
Paper bank notes in Americans' wallets replaced silver coins in our pockets long ago. Now, here's your opportunity to own a fantastic currency collection that combines the intricate detail and artistry of paper bank notes with the enduring allure of precious proof silver.
It's the $1 to $100,000 Silver One Ounce Currency Proof set. Twelve notes, not printed with ink on paper, but PROOF-STRUCK, each in one ounce of GLIMMERING pure 99.9% silver!
The twelve notes in your collection are one each of every denomination printed over the last century. Some of the notes-like Washington and Lincoln are familiar-while others-like the $100,000 Woodrow Wilson, are virtually unknown to collectors.
Add them all up and the original notes have a face value of $116,686! And we can't even estimate what you might pay to purchase the original bank notes in today's hot currency market. (You CAN'T EVEN OWN THE ORIGINAL$100,000 NOTE-it's illegal!) But you can get this entire set for 12 interest-free payments of only $89.95 each (plus s&h). And there's even greater value in ordering your set now.
Your Satisfaction is Guaranteed
This 12-Piece Silver Currency Proof Set Collection is a fitting silver legacy for every American. Each currency note comes with a 30-day guarantee, so you can inspect each and every one of your Proof Silver currency notes for 30 days. If you are not satisfied, you may return your note for a full refund (less s&h). If you wish to cancel your auto deliveries at any time, just call, you may do so without penalty.
Twelve Months to Your Family's Silver Legacy.
Place your order now. Then you will receive one note a month, building and building a substantial proof silver collection, note by note. When your collection is complete, you will have all twelve of the 20th century's currency notes, struck in silver. It's a collection sure to become a valuable family heirloom of lasting value.
BONUS Deluxe Presentation Chest
Your twelve proof notes fit snuggly into this sturdy, museum quality three-tier presentation chest. This chest provides a luxurious home befitting the massive twelve ounces of silver value in your collection. The chest alone has a retail value of $150-but it's yours as a BONUS with your fourth delivery.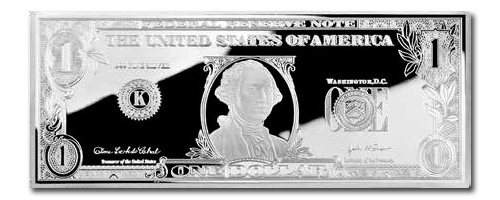 $1 George Washington
George hasn't changed since 1928, but he's never looked better!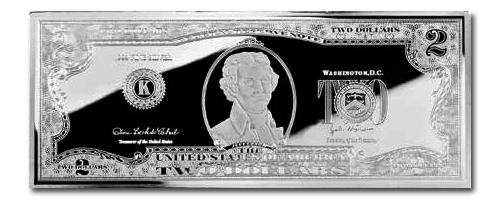 $2 Thomas Jefferson
American's LOVE their two dollar bills. Now there's even more to love!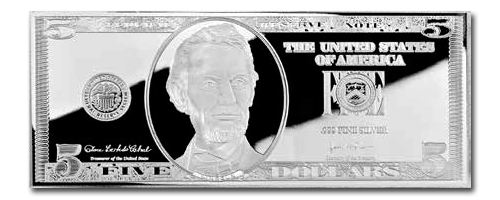 $5 Abraham Lincoln
Honest Abe has an honest FULL Troy Ounce of pure silver!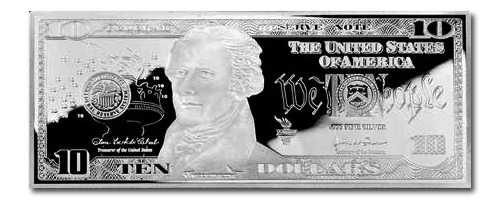 $10 Alexander Hamilton
The redesigned $10 note was released in 2006, now it's shimmering new again.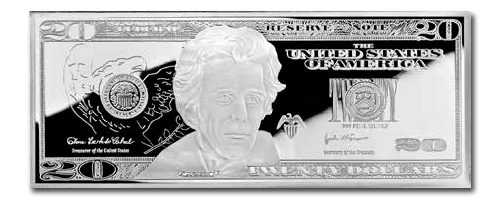 $20 Andrew Jackson
$20 Andrew Jackson notes flee our wallets every day—but the silver version will endure as a family heirloom.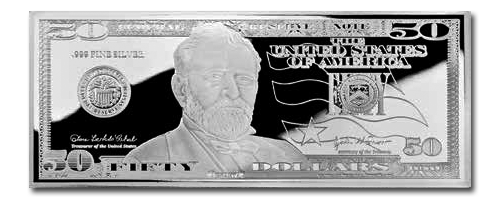 $50 U.S. Grant
$50 U.S. Grant was the hero of the Civil War. Now he's the hero of your Silver Currency Proof Set!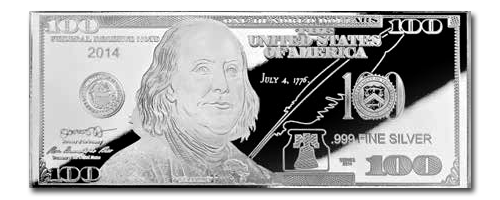 $100 Benjamin Franklin
The only note in your collection that's changed three times since first issued!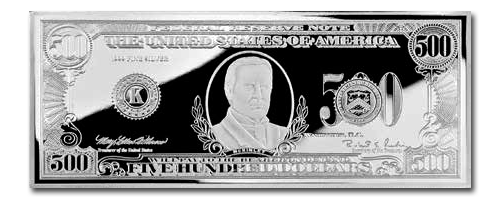 $500 McKinley
McKinley circulated all the way to the 1960s—but never in precious silver.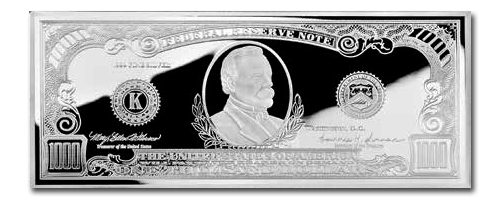 $1,000 Grover Cleveland
The paper notes were long ago destroyed, but this note is an enduring treasure.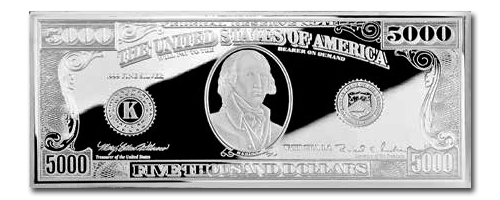 $5,000 Madison
$5,000 Madison was a favorite of Roaring Twenties Rum Runners Few have ever seen the paper note!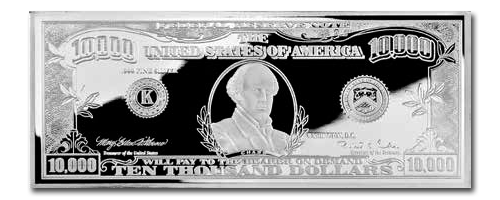 $10,000 Chase
$10,000 Chase was printed solely for bank-to-bank transactions. Now YOU can bank on this pure silver version!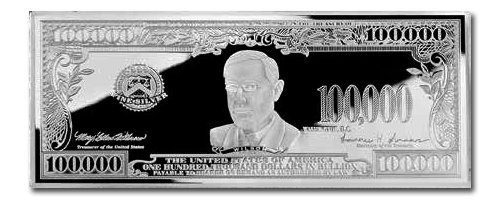 $100,000 Woodrow Wilson
The paper note is illegal to own, the dazzling silver note is yours to treasure.
Prices and availability subject to change without notice. Past performance is not a predictor of future performance. NOTE: GovMint.com® is a private distributor of worldwide government coin and currency issues and privately issued licensed collectibles and is not affiliated with the United States government. Facts and figures deemed accurate as of September 2014. ©2014 GovMint.com.

Prices quoted do not include applicable taxes or shipping and handling of $9.95 per delivery. By ordering your 12-Piece Silver Currency Proof Set Collection and enrolling in our convenient automatic delivery program, you are agreeing to a 12-month standing automatic delivery order. This means that, each month, you will receive one silver currency note; and that the credit card you provide to us with your initial order will conveniently be charged $89.95 each month (plus s&h) per proof. Checks, cash and money orders are not accepted. If for any reason you are not satisfied with your collection, you may return it within 30 days of its receipt for a full return of the purchase price. If returning, the entire shipment must be returned complete, in its original packaging, and in saleable condition. Returning any product will automatically terminate your enrollment in the automatic delivery program. Otherwise, you may cancel your enrollment in the program at any time. Complete details may be found here or by calling 1-888-201-7071. GovMint.com reserves the right to change or cancel this offer at any time. All other GovMint.com terms and conditions apply.