A NEW MOON RISES IN 2018
2018 Moon Festival Pandas Feature Genuine Chinese Jade Gemstones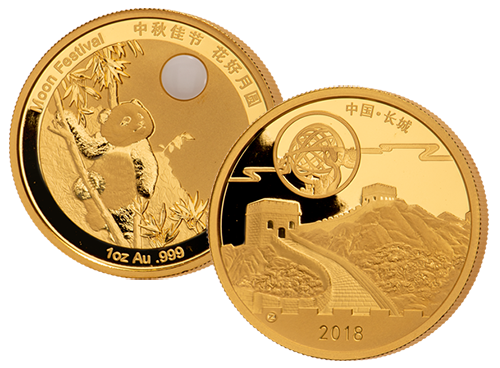 Since its conception, the Moon Festival Panda™ series has become a collector favorite. Their one-year-only designs and special innovations make them something to look forward to each and every year. 2015 started it all with space-flown gold, 2016 saw the introduction of the first Piedfort Moon Pandas, 2017 brought us Moon Pandas with special holographic accents, and 2018 brings yet another new feature to your collection.

Concave Surface

on both 88 gm Gold and Silver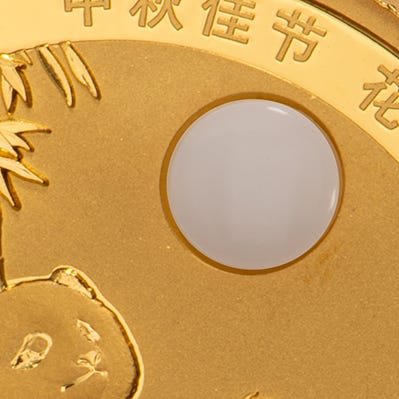 Genuine Chinese White Jade
For the first time ever, you can now secure Moon Festival Pandas that feature authentic White Jade gemstones embedded into the proof's reverse, taking the place of the moon in this year's one-year-only designs. Each unique piece of White Jade is hand-selected and placed one at a time in the field.
Two All-New, One-Year-Only Designs
The 2018 Moon Festival Panda can be added to your collection struck in one ounce of 99.9% pure gold or one ounce of 99.9% fine silver. The Silver Moon Festival Pandas are available minted in either Brilliant Uncirculated (BU) or shimmering Proof condition. The gold and silver proofs display an image of a solitary panda in a bamboo tree, gazing fondly up at the moon (in actuality a gemstone of genuine Chinese White Jade). The BU version displays two pandas -- one sitting happily in the grass enjoying a snack, while another gazes at the moon from a tree in the background.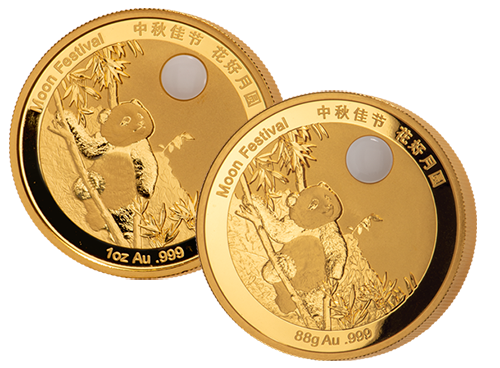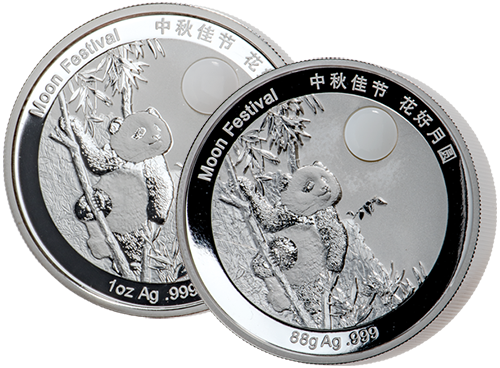 Two All-New Moon Festival Panda Proof Weights
2018 also marks the first time ever that a Moon Festival Panda comes struck in 88 grams of 99.9% silver or gold. Eight is considered a lucky number in Chinese culture, making this release extra special.
Each of these 88-Gram Moon Festival Panda Proofs features a concave surface, allowing the design to sit higher than normal for additional contrast.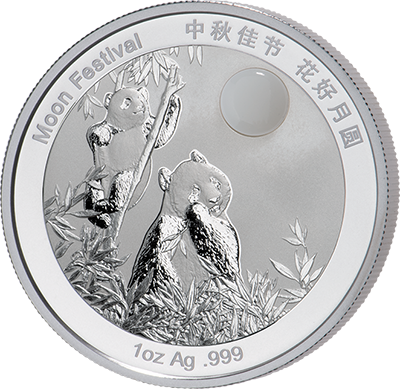 BU design featuring

a pair of pandas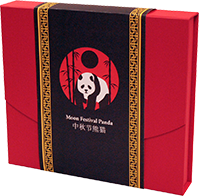 There are multiple ways to easily add the latest Moon Festival Pandas to your collection. Each set comes in a beautiful presentation package.
Each set comes certified by Numismatic Guaranty Corporation (NGC), one of the leading third-party grading services in the world. Your Moon Pandas will arrive in a deluxe presentation box along with a storybook on the Moon Festival, a story card and a mint certificate of authenticity.
Exclusive Limited Release
This is a worldwide exclusive release. As mintages of each individual coin is limited (2,888 for the BU, 1,888 for the one-ounce and 88-gram silver proofs, 288 for the one-ounce gold proof and just 88 for the 88-gram gold proof) only a limited number of sets are possible.
Don't miss out on the first-ever Moon Festival Panda to feature genuine Chinese White Jade gemstones—secure your set today!