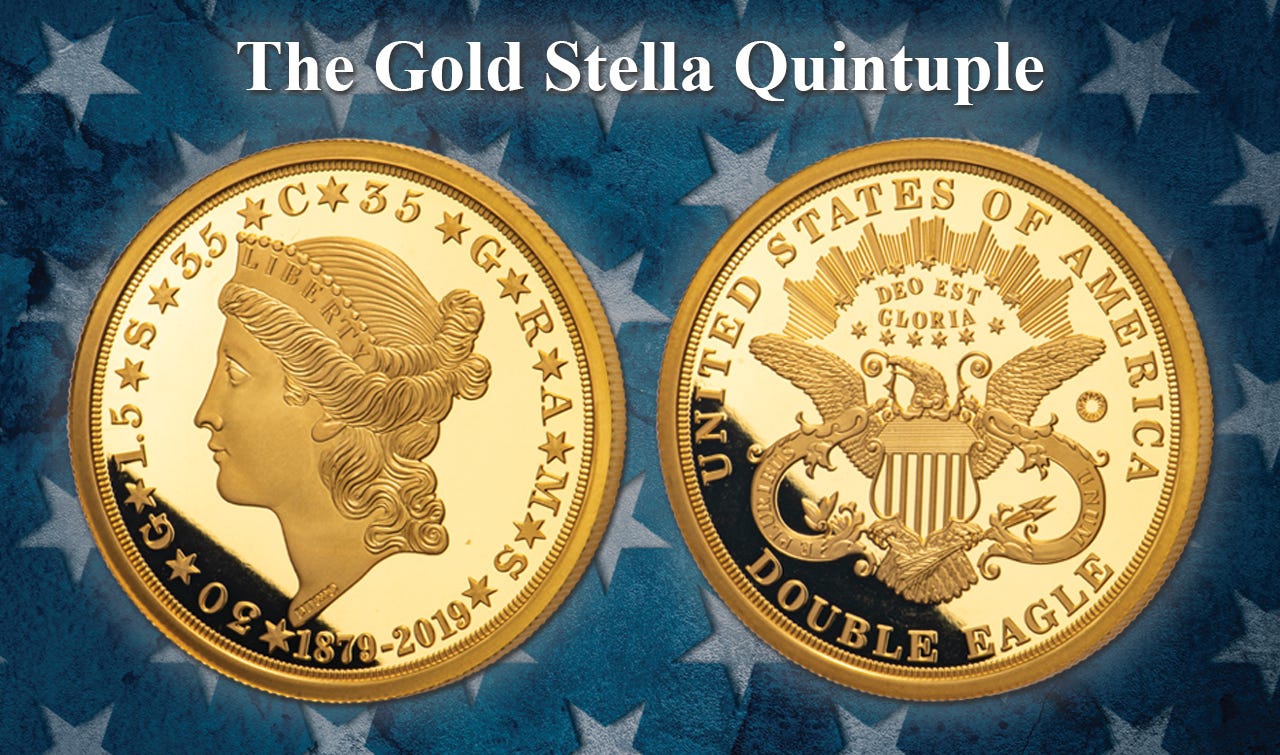 One of the rarest American coins is getting revitalized!
The Gold "Stella" is one of America's most famous and coveted pattern coins due to its exceptional rarity and colorful history. Struck for only two years, the Stella's origins begin following the Civil War and the Panic of 1873. The improving United States economy prompted businessmen and government officials to cast an eye across the Atlantic, where integration of American and European monetary systems finally seemed possible.
Since France was the leading economic force in Europe, most European coins were based on the Gold Franc, and were struck to the same size and weight to provide a standard of trade between these nations. This gave American business owners a golden idea…
The Stella Is Born
America's effort to create a gold coin comparable to the gold coins used in Europe was spearheaded by John A. Kasson, a career politician, diplomat and one-time chairman of the United States House Committee on Coinage, Weights and Measures. The proposed coin bore a five-pointed star on its reverse, carried a denomination of $4.00 and was christened STELLA ("Stella" is Latin for "Star").
The Stella was minted in two types: Charles E. Barber's Flowing Hair type and George T. Morgan's Coiled Hair type. Today, these coins are extremely rare and among America's premier numismatic masterpieces. No one knows with exact certainty how many of these coins were struck, but it's estimated that 440 "Flowing Hair" Stellas were struck between 1879 and 1880. Just 20 "Coiled hair" specimens were struck between 1879 and 1880.
In addition, a larger, heftier $20 Quintuple Gold Stella was also proposed. This coin bore a design similar to the Type III $20 Gold Liberty, with the main difference being the specs around Liberty's head on the obverse. The reverse features the same eagle design, but the motto "In God We Trust" has been replaced with "DEO ESST GLORIA," meaning "God is Glory."
Despite Kasson's insistence, Congress rejected the idea of an international coin, dooming the Stella to remain a short-lived pattern that would never be struck or issued for circulation. But while it was never used in circulation,the Stella's story was far from over…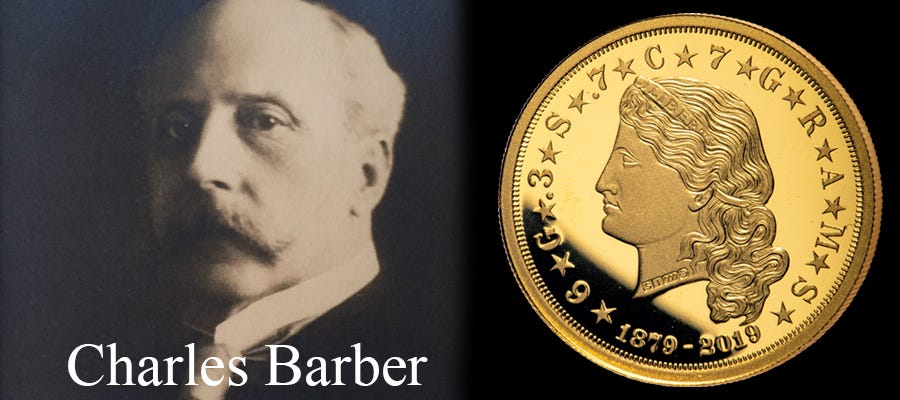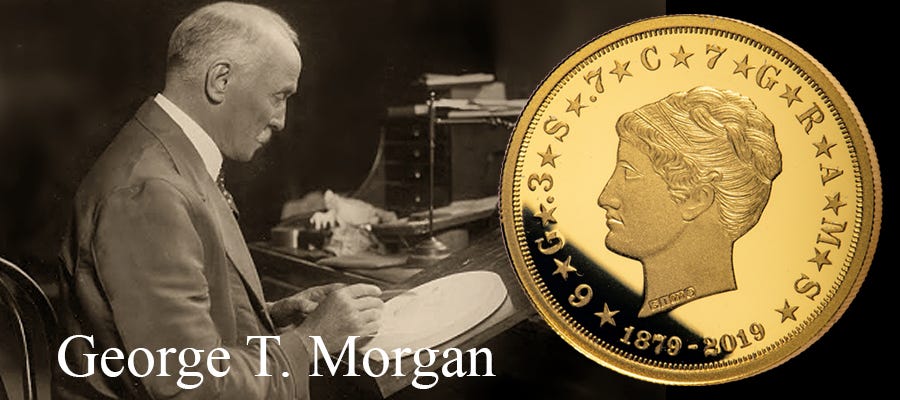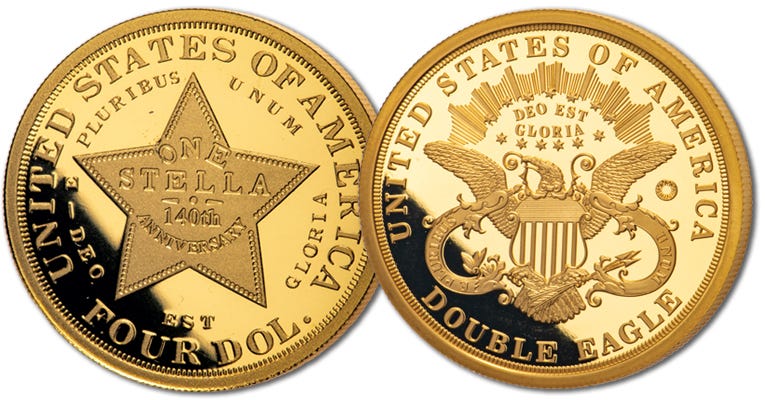 One of America's Greatest Coins
Though it was never struck for circulation, the popularity of the Gold Stella amongst coin collectors and enthusiasts is indisputable. Given the rarity and history of this coin, it is easy to see how the demand for it became so high.
Respected numismatic author Jeff Garrett had this to say when awarding the Gold Stella a prized spot in his book 100 Greatest U.S. Coins: "One numismatic legend states that most Congressmen gave their "Stellas" to their wives as gifts, which would explain the large number of ex-jewelry specimens known today."
If this legend is true, even fewer Gold Stella Patterns exist in their original form.
The Quintuple Gold Sovereign exists in even fewer numbers. Only five of the original $20 Quintuple Gold Sovereigns are known to exist—and one of them is kept under lock and key in the Smithsonian®. Another was sold at auction in 2016 for $1.88 million!

Clearly, getting your hands on one of these original pieces of American numismatic history is both incredibly difficult and incredibly expensive. If only there were some way to secure these historic designs for your own collection without breaking the bank…
The Legends Return
The famous Stellas return with a series of 99.99% pure gold proofs officially approved by the Smithsonian. Given dual dates of 1879 and 2019 in honor of the coin's 140th anniversary, these proofs give you the chance to own the legendary designs as they were meant to be seen—minted with hand-selected planchets, polished dies and multiple strikes for beautifully frosted details that rise over mirror-like fields! What's more, each proof comes certified by Numismatic Guaranty Corporation (NGC) as being in flawless Proof-70 Ultra Cameo (PF70 UC) condition. The $20 Quintuple Gold Sovereign Proofs even come sealed with exclusive labels hand-signed by author and prominent numismatist Jeff Garrett!
Each individually numbered single Quintuple Gold Stella Proof will arrive in a black presentation case decorated with the Smithsonian logo, accompanied by a certificate of authenticity and a storybook detailing the history of the proposed Gold Stella program.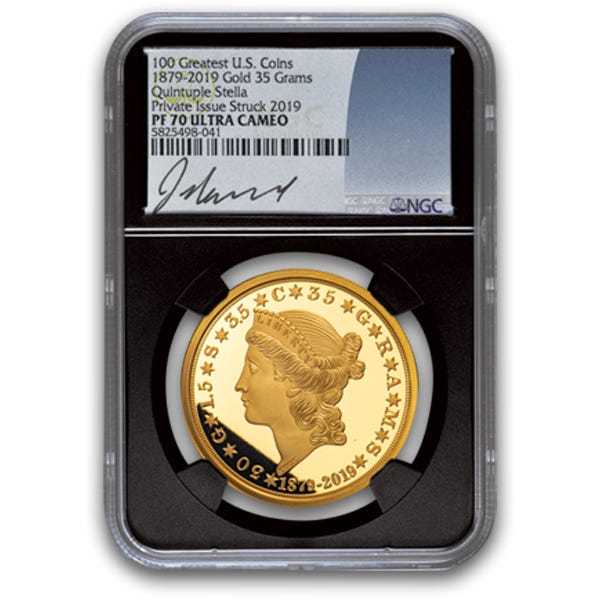 1879-2019 $20 Quintuple Gold Stella Proof
140th Anniversary of the $20 Quintuple Gold Stella
1.234 Ounces of 99.99% Pure Gold
Proof Condition
Graded Flawless Proof-70 Ultra Cameo (PF70 UC) by NGC
Historic Quintuple Stella Design
Dual-Dated 1879 and 2019
Officially authorized by the Smithsonian
Label Hand-Signed by Jeff Garrett
Only 100 Minted
The Gold Stellas are legends of numismatics that have realized millions of dollars at auction. Now, thanks to the Smithsonian, one of the greatest "What If?" U.S. coin designs of all time return! Move quickly and grab a $20 Quintuple Gold Sovereign Proof before these rare American designs fade away just like their predecessors!