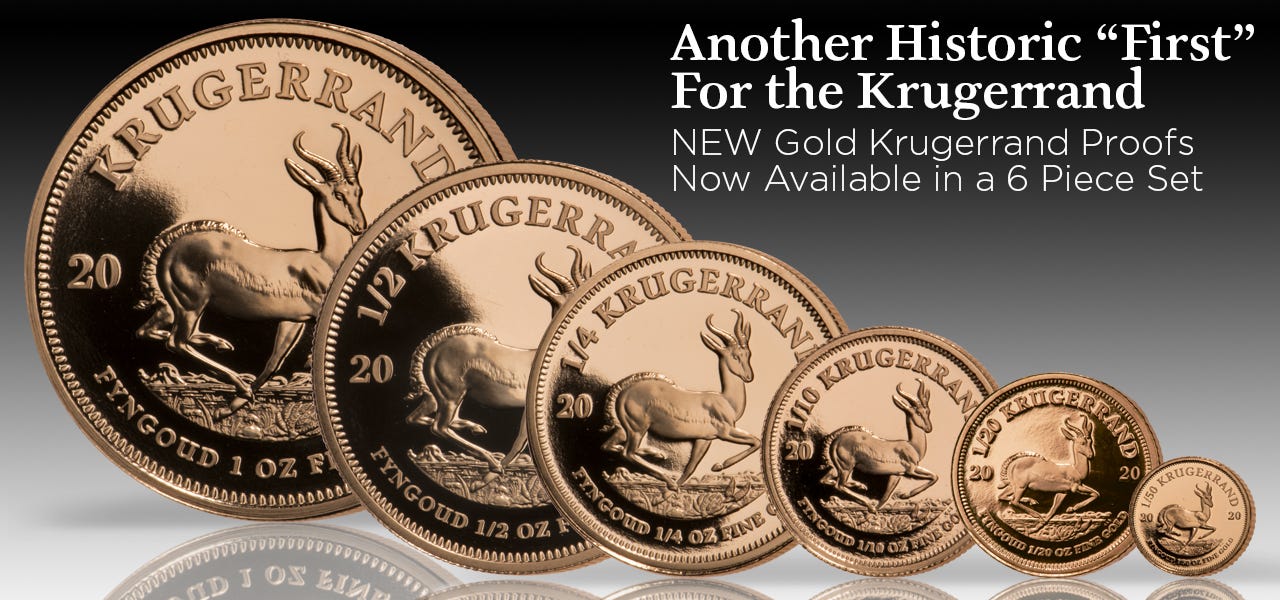 Since 1967, the South African One-Ounce Gold Krugerrand has set the standard for gold bullion coinage. For more than 50 years, its classic design of the Springbok antelope and former South African President Paul Kruger have remained the same, creating a lasting, iconic symbol of wealth and prosperity. But a more elite version of these coins exist.
Struck with specially prepared blanks and dies, the Gold Krugerrand Proof presents the coin's immortal designs with incredibly crisp, eye-catching detail. The designs are given a frosty appearance, while the fields behind them glow with a mirror-like brilliance.
Now you have the chance to secure freshly struck 2020 Gold Krugerrand Prestige Proof Sets certified as flawless and First Day of Issue (FDI).
Secure a Complete 6-piece Set of this Classic Proof Coin
The 6-coin Gold Krugerrand Proof Prestige Set includes the one-ounce, half-ounce, quarter-ounce, tenth-ounce, twentieth-ounce and fiftieth-ounce Gold Krugerrand Proofs, all struck in the same 22 karat gold purity that helped make the world's first modern bullion coin famous.
Each coin is official South Africa legal tender, and comes government-guaranteed for its content, purity and legal-tender value.
Shining Proof Condition
To create these masterworks of the numismatic art, planchets are specially selected and treated to give them an extra polished appearance. Then, under extreme pressure, the blanks are struck multiple times with specially treated dies. The process is slower and far more demanding than the striking of an ordinary circulating coin, but the result is worth it: exquisitely frosted designs and devices that appear to hover over mirror-like fields!
Available Certified Flawless by NGC
The Gold Krugerrand Prestige Proof Set can be yours graded by Numismatic Guaranty Corporation (NGC), one of the world's leading third-party grading services, as flawless Proof-70 Ultra Cameo (PF70 UC) condition. The Prestige Set is also certified by NGC as First Day of Issue (FDI), meaning the coins were received for grading within the first 24 hours of the mintage's release.
All certified coins come in protective acrylic display holders that allow you to hold and examine your latest acquisitions again and again without risking any damage to their flawless condition. These holders each bear a special label describing its content and featuring the hand-written signature of Tumi Tsehlo, former Managing Director of the South African Mint! This may the last time that any coins bear his personal signature—an opportunity you won't want to miss.
Each coin is official South Africa legal tender, and comes government-guaranteed for its content, purity and legal-tender value.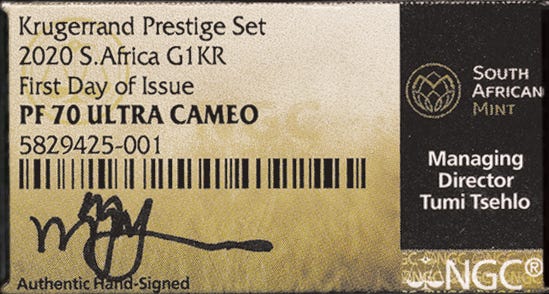 Extremely Limited Mintages
The South African Mint has limited the release of their 6-coin Prestige Proof Sets to just 600 sets. Of that number, only 44 are available certified by NGC as PF70 UC FDI and sealed with Tumi Tsehlo's hand-signed autograph.
If you want to be one of the lucky few to secure these elite coins for your collection, you must act quickly. There's no telling how long our limited supply will last.

2020 South Africa Gold Krugerrand Proof 6-Coin Prestige Set NGC PF70 UC FDI
Nearly Two Full Ounces of Gold
91.7% (22 Karat) Purity
Official South Africa Tender
Classic Krugerrand Design
Proof Condition
Graded Flawless PF70 UC
Certified by NGC as First Day of Issue
Label Hand-Signed by Tumi Tsehlo
These elite 2020 Gold Krugerrand Proofs are some of the most elite coins to come out of the South African Mint in 2020. Our supplies are incredibly limited of these specially designated coins. Don't let this important day in the history of gold pass you by—hurry and secure yours Gold Krugerrand Proofs today.
Call 888-870-6339 now!