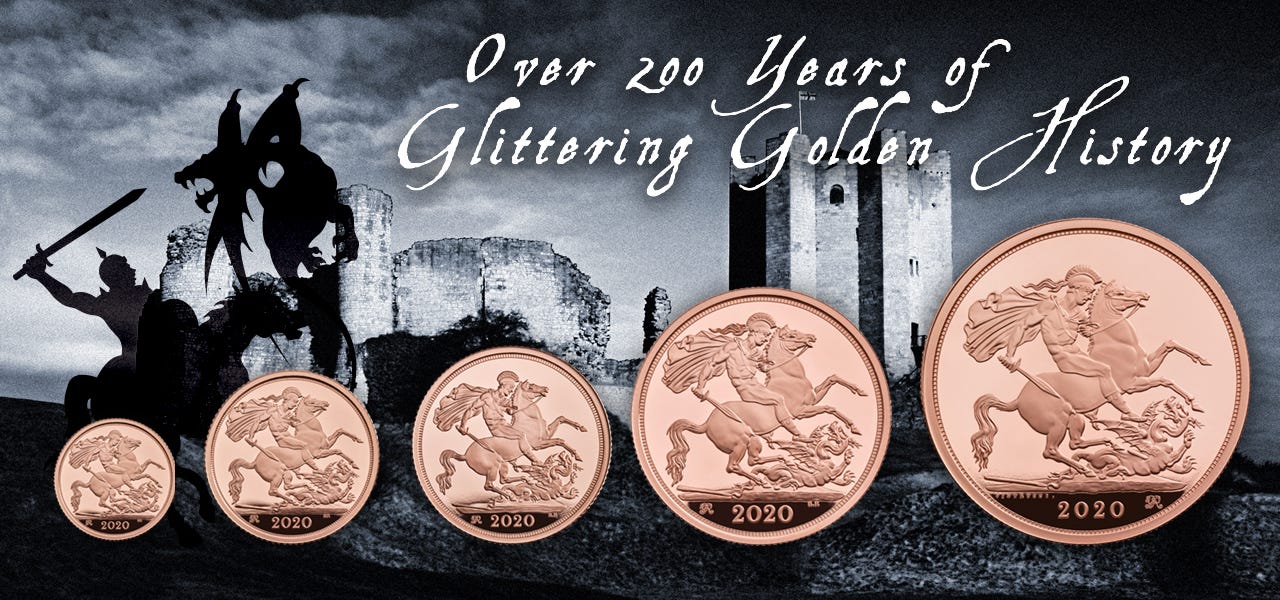 2020 British Gold Sovereign Proof Sets Now Available
First struck in 1817, the British Gold Sovereign is one of the oldest and most widely recognized gold coins in the world. It is the only gold coin to be struck on five different continents, has been recognized as legal-tender currency in more than 20 countries, and has been a world standard for gold coinage for generations.
Just in time for 2020, the Royal Mint is releasing a beautiful set celebrating their flagship gold coin—five Gold Sovereigns of different weights and denominations, all struck in shimmering Proof condition. And as part of a world-exclusive release, we've managed to secure the very first of the mintage!

Share the Legend of Saint George
Struck in 91.67% (22 karat) gold, the Gold Sovereign has long depicted the fierce, legendary battle between Saint George and the Dragon as sculpted by Benedetto Pistrucci. The obverse displays the fifth and current portrait of Her Majesty Queen Elizabeth II by Royal Mint engraver Jody Clark.
Nearly Two Full Ounces of 22 Karat Gold
This 2020 Gold Sovereign Proof Set contains five legal-tender coins: the Five Sovereign, Double Sovereign, Sovereign, Half-Sovereign and Quarter-Sovereign. Each coin comes struck in 91.67% (22 karat) gold and is official legal tender in the United Kingdom.
Proof Condition
In addition to their historic design and 22 karat gold purity, each coin also comes struck in Proof condition. Hand-selected and polished blanks are struck multiple times under extreme pressure using specially treated dies. This results in incredibly crisp details that appear to hover with a frosted finish over highly mirrored fields. Simply put—they're stunning!

World Exclusive First Struck Designation
This world exclusive release is limited to just 50 sets worldwide. Why? Because only 50 of these 2020 Gold Sovereign Proof Sets have been certified by Numismatic Guaranty Corporation (NGC) as One of First 50 Struck—placing them among the very first coins of the mintage. They won't just be the finest examples of 2020's Gold Sovereign Proofs—they'll be the first of the finest. Plus, every set comes housed in a wooden presentation case with a Royal Mint numbered certificate of authenticity and a storybook detailing the complete history of the Sovereign and the British Monarchy.
With just 50 sets certified by NGC as One of First Struck, this world exclusive release won't last long. Don't wait for them all to disappear into another collector's vault—hurry and secure yours today!

2020 British Gold Sovereign 5-Proof Set
Five-Coin Set
Nearly Two Full Ounces of Gold
91.67% (22 Karat) Fineness
Official Legal Tender
Classic Gold Sovereign Design
Proof Condition
Certified by NGC as One of First 50 Struck
Only 50 Sets Available
World Exclusive Release
More than 200 years ago, the first modern Gold Sovereign was released. Become a part of a long-standing tradition and secure your First Struck 2020 Gold Sovereign Proof Set today.
Call 888-870-6339 now!