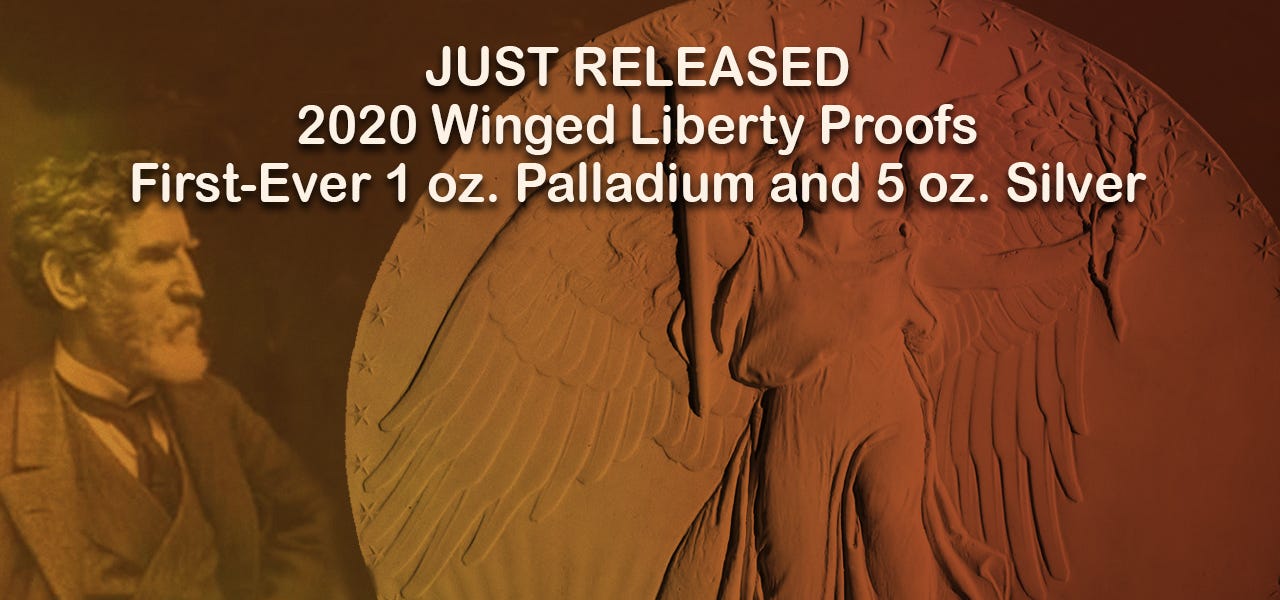 The Coin That Could Have Been, As Only Modern Minting Can Make It!
In the early years of the 20th century, sculptor Augustus Saint-Gaudens was approached by President Theodore Roosevelt with an important mission: transform America's coinage into masterpieces of beauty, artistry, and patriotic symbolism.
He succeeded, and the resulting coins are considered some of the most beautiful ever struck. Even the ones that were incomplete...
A Secret Hidden in Plain Sight
Located within the Saint-Gaudens estate archives at the National Historical Park in Cornish, New Hampshire, a division of the National Park Service, a fully-sculpted plaster shows Saint-Gaudens' original Lady Liberty design for the $20 "Double Eagle" coin.
Unlike the version struck in 1907 and collected around the world, this Liberty proudly wears a feathered headdress and spreads a pair of magnificent angel wings! That design, originally brought to life in 2016 by former U.S. Mint Chief Engraver John Mercanti, became an instant classic. In fact, we were so overwhelmed by collector demand for this historic release that we sold out in record time. This year, the Winged Liberty is back… but as you've never seen her before!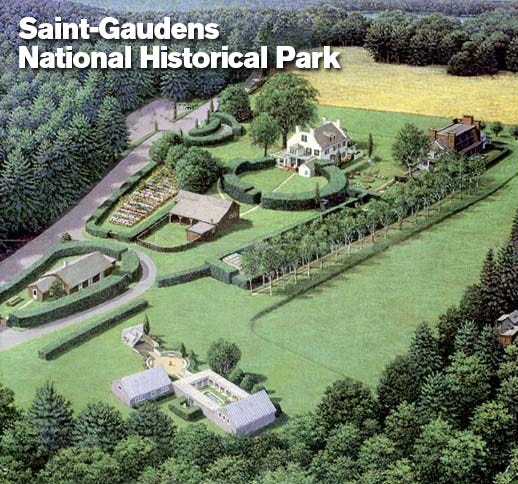 Struck in One Ounce of Palladium and Five Ounces of Silver for the First Time Ever
For the first time ever, Winged Liberty can be yours struck in a full ounce of 99.95% pure palladium!
Though it was first discovered in 1803, palladium has recently risen to the top of the precious metals world. It's currently beating out even gold in its value!
Struck in Ultra High Relief condition, this proof uses modern minting techniques to display incredible high relief designs on both sides of the planchet without the use of concave, bowl-shaped fields. Given a Proof finish, the designs feature a frosty appearance while the fields shine with mirror-like brilliance. It's a wonder to hold on your hands—Saint-Gaudens' original vision as even he could never have imagined it!
Striking these coins is no easy task. For many mints, it's actually impossible, as they don't have the technology to do so! It's even rare for the U.S. Mint, which attempted an Ultra High Relief coin in 1907 and discovered how difficult it was, and didn't try again for over 100 years.
Another first for the series is the release of Winged Liberty Ultra High Relief Proofs struck in five full ounces of 99.9% fine silver. Similarly struck with flat rather than bowl-shaped fields, this massive numismatic achievement features a whopping diameter of 65 millimeters. You'll need two hands to hold this beauty up for examination—which you'll want to do again and again.
Certified Flawless and First Day of Issue
Numismatic Guaranty Corporation (NGC) is one of the most respected third-party grading services in the world. When collectors secure a coin sealed in a protective display holder with an NGC label, they know that the coin they're purchasing has been professionally authenticated, certified and graded.
These 2020 Winged Liberty Ultra High Relief Proofs come graded by NGC as perfect Proof-70 Ultra Cameo (PF70 UC) condition. Coins are graded on a 70-point scale, with a grade of 70 representing utter perfection, even under magnification. Simply put, these proofs are the best of the best, sealed with a grade that almost universally commands more collector value on the open market.
In addition to a perfect grade, these coins have received the coveted designation of First Day of Issue (FDI), meaning they were received by NGC for grading within the first 24 hours of the mintage's release.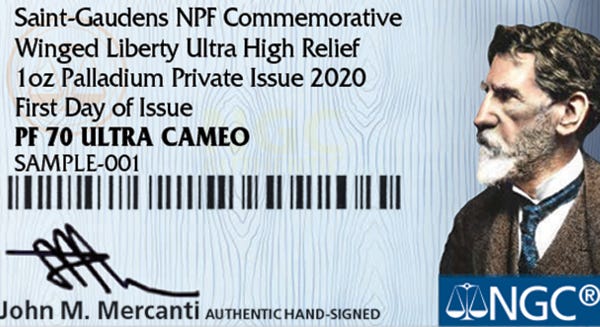 Hand-Signed by Designer John Mercanti
Not only does the NGC acrylic display holder preserve each proof's provenance, allowing you to examine its ultra-fine details again and again without risking harm to its timeless beauty, but they also bear labels hand-signed by John Mercanti himself!
John Mercanti was the 12thChief Engraver of the United States Mint, and holds the record for creating more coin and medal designs than any other U.S. Mint engraver in history. He's essentially a modern-day Saint-Gaudens, known around the world for creating classics like the reverse of the American Eagle Silver Dollar, the best-selling silver bullion coin in the world. So when it came time to bring Saint-Gaudens original vision to life, Mercanti was a natural choice.
The importance of these two legends working on the same piece, more than 100 years apart, cannot be overstated. It's an incredible gift for collectors, and knowing that each label comes hand-signed by Mercanti makes it that much more special.
Officially Authorized Release
This release comes officially authorized by the National Park Foundation. Chartered by Congress in 1967, the foundation is the official charity of the National Park Service and the only national charitable nonprofit whose sole mission is to safeguard and enrich America's national parks—including Saint-Gaudens' home in New Hampshire—and programs through private support.
Limited Availability
Don't miss out on this fantastic opportunity—only 1,500 five-ounce silver and a mere 350 one-ounce palladium proofs have been authorized for minting. Even fewer will be certified by NGC as flawless PF70 UC (FDI) First Day of Issue and just 19 sets out of the entire mintage were designated as First Day of Production (FDP) issues, and be sealed with a label hand-signed by designer John Mercanti.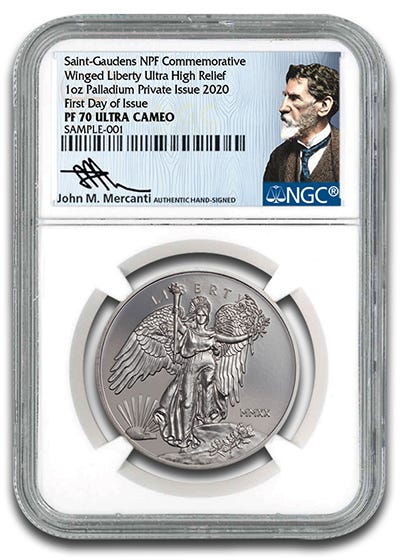 2020 One-Ounce Palladium Winged Liberty Ultra High Relief Proof
First-Ever Palladium Winged Liberty

One Ounce of 99.95% Pure Palladium

Original Saint-Gaudens Design

Crafted by John Mercanti

Ultra High Relief Strike over Flat Fields

Proof Finish

Graded by NGC as Perfect PF70 UC

Certified as FDI

Officially Licensed by the National Park Foundation

John Mercanti Hand-Signed Label

Maximum Worldwide Mintage of 350
2020 Five-Ounce Silver Winged Liberty Ultra High Relief Proof
First-Ever 5 oz. Silver Winged Liberty

Five Ounces of 99.9% Fine Silver

Original Saint-Gaudens Design

Crafted by John Mercanti

Ultra High Relief Strike over Flat Fields

Proof Finish

Graded by NGC as Perfect PF70 UC

Certified as FDI

Officially Licensed by the National Park Foundation

John Mercanti Hand-Signed Label

Maximum Worldwide Mintage of 1,500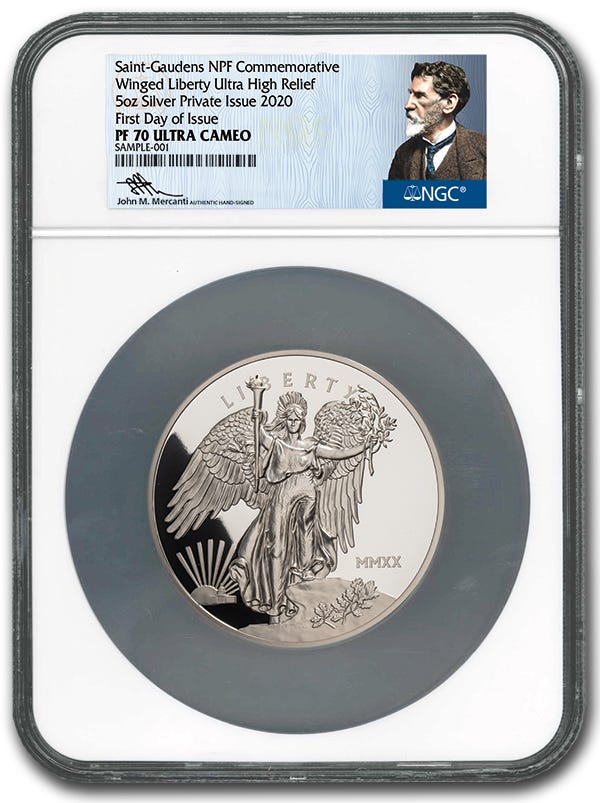 To combine the majesty of Saint-Gaudens' original vision with the precious metal of palladium is nothing short of historic. We don't expect these extremely limited Ultra High Relief Proofs to last long in our vault. Call immediately to secure your 2020 Winged Liberty Proofs today or risk missing out forever.
Call 888-870-6339 now!