It's a fact. The United States Mint has estimated that at least 140 million Americans are collecting U.S. coins such as the Statehood Quarters and Presidential Dollars. As more and more Americans are getting passionate about the exciting hobby of coin collecting, many are discovering a 'secret' way to secure the absolute best of the best in American coins: United States Proof Sets.
The Pinnacle of Perfection Available to Only a Few
Proof Sets are the absolute pinnacle of perfection. Each set features the U.S. Mint's best example of that year's circulating coin designs - but they are made in very limited quantities and are available only to select collectors. You will never find a Proof coin in pocket change.
Each Proof coin is struck from specially prepared dies and is lavished with much more care than regular circulation coins. Master craftsmen at the mint specially polish both the coin dies and metal blanks, which are then struck under tons of pressure multiple times in order to give the designs razor-sharp details.
The result of all this care and craftsmanship? Proof coins are the highest quality coins that the U.S. Mint produces.
Because of this time-consuming attention to detail, only a limited number of Proof Sets are struck each year. Most people never get a chance to even see these sets, much less own one. And very few people indeed are lucky enough to own a complete 40-year regular issue Proof Set collection from 1968 to 2007 - a collection that contains a staggering 259 coins!
In addition, some of these coins are nearly 50 years old. Over the past decades, many of the original proof sets have been damaged or lost. Countless others have been broken apart by collectors to fill coin books with the individual proof coins contained in these sets.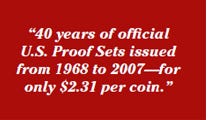 Now, with the appetite for American coins at an all-time high, these sets are becoming harder to find with each passing year. Coin dealers are struggling to keep up with the skyrocketing demand. But thanks to our network of agents throughout the coin world, we've managed to assemble a limited supply of our most spectacular and complete Proof Set collection EVER!
Now, you can own the finest quality U.S. coins ever struck in a magnificent collection that includes all 40 years of official U.S. Proof Sets issued from 1968 to 2007 - for less than $15 per set. That's only $2.31 per coin!
Four Decades of History
This complete collection of 40 years of U.S. Proof Sets from 1968 - 2007 encompasses one of the most storied periods in American history. It covers the terms of eight U.S. presidents: Johnson, Nixon, Ford, Carter, Reagan, George H. Bush, Clinton, and George W. Bush. This collection spans four decades of historic events including the Vietnam War, the first moonwalk, the 1980 U.S. Olympic Hockey team's stunning "miracle on ice" upset of the Soviets, the fall of the Berlin Wall, and our military's return to greatness in the first Gulf War.


Hard to Find: Still in Original Mint Packaging
By law, the Mint can never re-issue any of these coins, so there is a finite - and steadily disappearing - supply. As we have already noted, many of these Proof Sets contain special coins that are highly sought-after by collectors. For example, all the first and last coins are often collected individually, meaning that collectors have to break open Proof Sets to get the coins. When the packaging is broken, the Proof Set is forever destroyed.
And because no Kennedy Half Dollars were made for circulation in 1970 and 1987, a great number of Proof Sets were broken up by collectors who needed coins from those years to complete their Kennedy collections. What's more, I personally know coin dealers who have each broken up literally thousands of 1979 - 1981 Proof Sets just for the Susan B. Anthony Dollar Proofs.
The result is that many of these Proof Sets are increasingly hard to find. Yet each Proof Set in this massive 40 year collection is still in its original authentic U.S. Mint packaging. The fact that they are all still sealed in that original packaging is your guarantee that the coins are just as fresh and beautiful as the day they were struck.
Save up to $400!
The 2014 U.S. Mint Proof Set sells for around $50. But our exclusive 40 Years of U.S. Proof Sets collection brings you 40 classic U.S. Proof Sets - 259 of the best of the best in American coins - all preserved in original government packaging for up to four decades, for an astounding price of only $14.99 per set. That's only $2.31 per coin!
If you purchased all 40 of the Proof Sets in this collection individually, you could expect to pay as much as $999. But if you act quickly, we will guarantee you 40 years of the finest quality Proof Sets at an exclusive price that saves you up to $400!
Simple Auto Delivery Makes Owning this Collection
Easy By locking in your 40 Years of U.S. Proof Sets order today, you can build your collection in 12 easy auto deliveries for only $49.95 per month (plus s/h). Remember, that's only $2.31 per coin! Each month, your next delivery containing either 3 or 4 Proof Sets will arrive at your door, accompanied by fascinating facts about your particular Proof Sets, and other bonus gifts such as storage cases to house your collection. With your final delivery, we'll even enclose a 1/4 oz silver govmint.com ingot. It's just our way of congratulating you on completing a 40 Year U.S. Proof Set collection that only a select few people will ever be able to own! Best of all, by calling today, your price is absolutely LOCKED IN and cannot change for any of your future deliveries, regardless of what may happen in future coin market prices!
No Obligation - Cancel Anytime
Of course, you are under no obligation. You may cancel future deliveries at any time, for any reason. Plus, your collection comes with our hassle free 30-day guarantee, so you can inspect each and every one of your U.S. Proof Sets for a full 30 days without risk! You have absolutely nothing to lose - and a spectacular American coin collection to gain!
These Proof Sets are the U.S. Mint's finest legacy to all Americans; an enduring guarantee that these coins are America's 'Best of the Best.' They are sure to be the key coins in your collection, and they make exceptional gifts for young and old. Imagine your family's surprise and delight when each monthly package arrives at your door. Lock in your sets now! Call 1-888-201-7067 for complete details.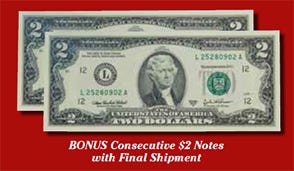 Sincerely,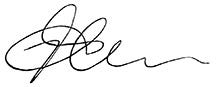 Bill Gale
Founder, GovMint.com
P.S. This exclusive locked in price is available for only a limited time while supplies last. Due to the age and scarcity of many of these official U.S. Proof sets, orders will be taken on a strict first-come, first-served basis. Limit 10 orders per household. If you don't wish to build your collection through our convenient auto delivery programs, NO PROBLEM! A limited number of complete 40 Years of U.S. Proof Sets collections are available now. Just call our toll-free order line at 1-888-201-7067 to secure your own before they're all gone!

Prices and availability subject to change without notice. Past performance is not a predictor of future performance. NOTE: GovMint.com® is a private distributor of worldwide government coin and currency issues and privately issued licensed collectibles and is not affiliated with the United States government. Facts and figures deemed accurate as of April 2014. ©2014 GovMint.com.

Prices quoted do not include applicable taxes or shipping and handling of $6.95 per delivery. By ordering your 40 Years of U.S. Proof Sets and enrolling in our convenient automatic delivery program, you are agreeing to a 12-month standing automatic delivery order, which will begin approximately 2-4 weeks after your order is placed. This means that, each month, you will receive between 3 - 4 U.S. Proof Sets (years our choice); and that the credit card you provide to us with your initial order will conveniently be charged $49.95 each month (plus s/h) per set. Checks, cash and money orders are not accepted, unless a complete set is purchased at one time, in which case you may contact us to make such payment arrangements. If for any reason you are not satisfied with your product, you may return it within 30 days of its receipt for a full return of the purchase price. If returning, the entire shipment must be returned complete, in its original packaging, and in saleable condition. Returning any product will automatically terminate your enrollment in the automatic delivery program. Otherwise, you may cancel your enrollment in the program at any time. Complete details may be found here or by calling 1-888-201-7067. GovMint.com reserves the right to change or cancel this offer at any time. All other GovMint.com terms and conditions apply.