1969-2019 APOLLO 11 50TH ANNIVERSARY ROBBINS MEDALS
1969-2019 Apollo 11 50th Anniversary
Robbins Medal 1 oz Silver-Plated
Antiqued Medal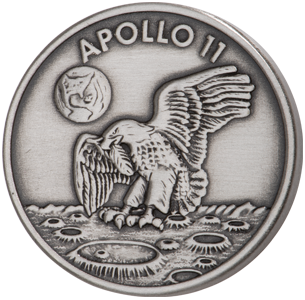 1969-2019 Apollo 11 50th Anniversary
Robbins Medal 1 oz Copper
Antiqued Medal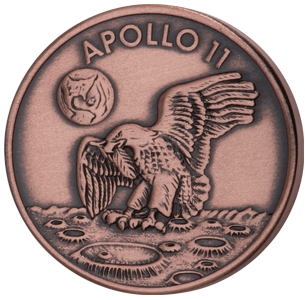 1969-2019 Apollo 11 50th Anniversary
Robbins Medal 1 oz Silver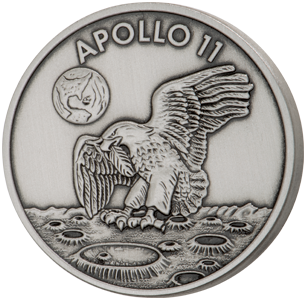 2019 marks the 50th anniversary of man's first steps on the moon! To celebrate that historic moment when
Neil Armstrong set foot on the lunar surface, GovMint.com has partnered with members of the Armstrong family t
o offer commemoratives
of the Apollo 11 Robbins Medallions that traveled into space alongside the astronauts.
NOW AVAILABLE: 1 OZ SILVER MEDALS WITH SPACE ALLOY
For the first time, 1 oz. Silver Apollo 11 50th Anniversary Robbins Medals are available with space-flown material!
A new release,
each of these collectible medals include actual material that has flown on an Apollo mission.
This Metal was carefully filtered of any impurities and was included in the minting process for each 50th Anniversary Robbins Medal Commemorative with space-flown alloy.
While inventory lasts, a special 3-coin set is now available giving you the opportunity to take home
all three special releases with one purchase.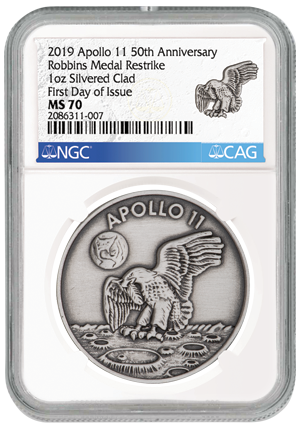 1969-2019 Apollo 11 50th Anniversary Robbins Medal 1-oz Copper Silver-Plated NGC MS70 FDI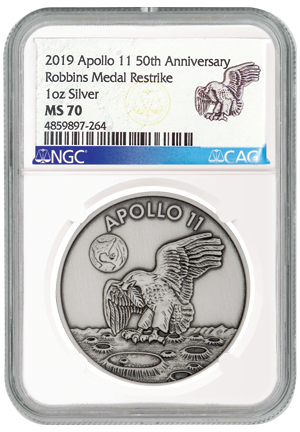 1969-2019 Apollo 11 50th Anniversary Robbins Medal
1 oz Silver
with Space Alloy NGC MS70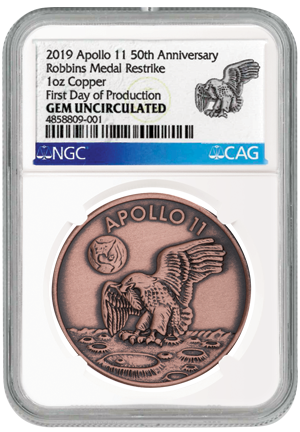 1969-2019 Apollo 11 50th Anniversary Robbins Medal 1-oz Copper NGC MS70 FDP
ABOUT THE ORIGINAL ROBBINS MEDALS
Robbins Medals are medallions made exclusively for NASA astronauts. The Robbins Company, a jewelry manufacturer, was commissioned by NASA to work with the astronauts on the design of the medals for each mission into space, beginning with Apollo 7. Only 100 to 450 medals were created per mission, and they were only available for purchase by the NASA astronauts and members of the Astronaut Flight Office (AFO). Once created, the Robbins Medals traveled aboard the astronauts' missions into space.
WHAT ARE THE APOLLO 11 COMMEMORATIVE ROBBINS MEDALS?
GovMint.com has partnered with members of the Armstrong family to create commemorative medals with the same design as the original Apollo 11 Robbins Medallions. These non-legal tender commemoratives are now available in various metals and price ranges. Celebrate the 50th anniversary of the historic event when Neil Armstrong became the first man to step foot on the moon by ordering one today!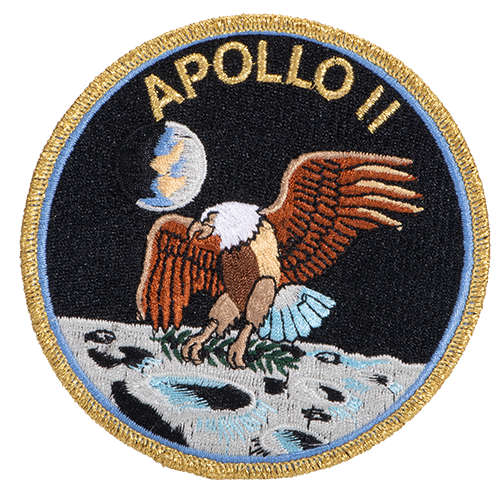 ROBBINS MEDAL PRODUCTION AND AUCTION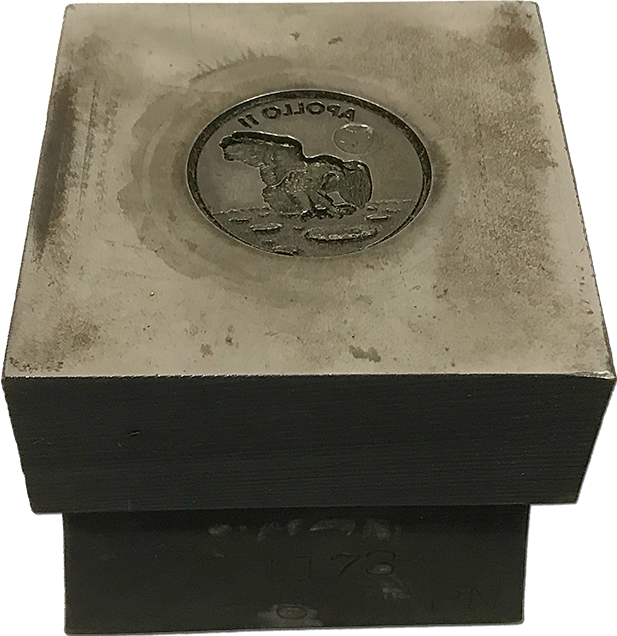 GovMint.com, the sponsor of the commemorative program, is proud to support charitable organizations that are important to the astronauts' families.
References herein to the Apollo 11 astronauts is not intended to state or imply an endorsement, recommendation or approval by the astronauts, their families or their representatives, of the Robbins Medals commemorative program.