THE END OF A LEGACY
2021 marks the 35th year of issue for the United States Mint's premier bullion coin, the Gold American Eagle. However, this 2021 release is the FINAL year that this coin will feature Miley Busiek's iconic "Family of Eagles" reverse design until the new reverse design is issued and released later in the year - making it your last chance to own the original timeless design!
OWN THE LAST ORIGINAL DESIGN IN MINT CONDITION!
Call GovMint.com now and this shiny gold coin will arrive certified by Numismatic Guaranty Corporation (NGC) in flawless Mint State-70 condition. This distinction that means these perfectly-graded coins have no post-production imperfections at 5x magnification.
Choose from an assortment of four 2021 American Gold Eagle sizes - gold to fit any budget!
Call 1-888-201-7640 now to receive your 2021 American Gold Eagle in Mint condition with FREE domestic shipping on orders over $149 and our 30-Day Money-Back Guarantee.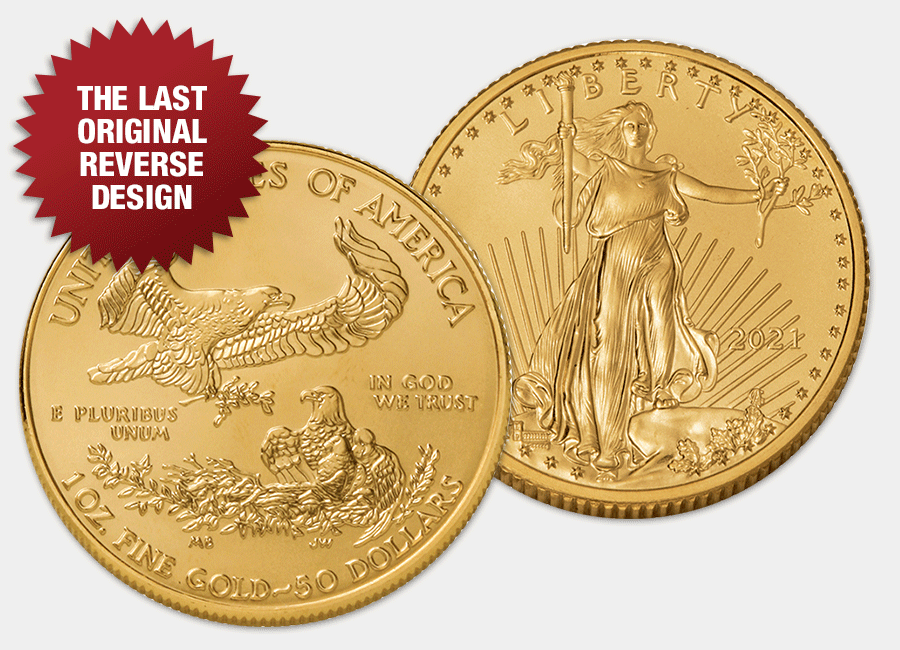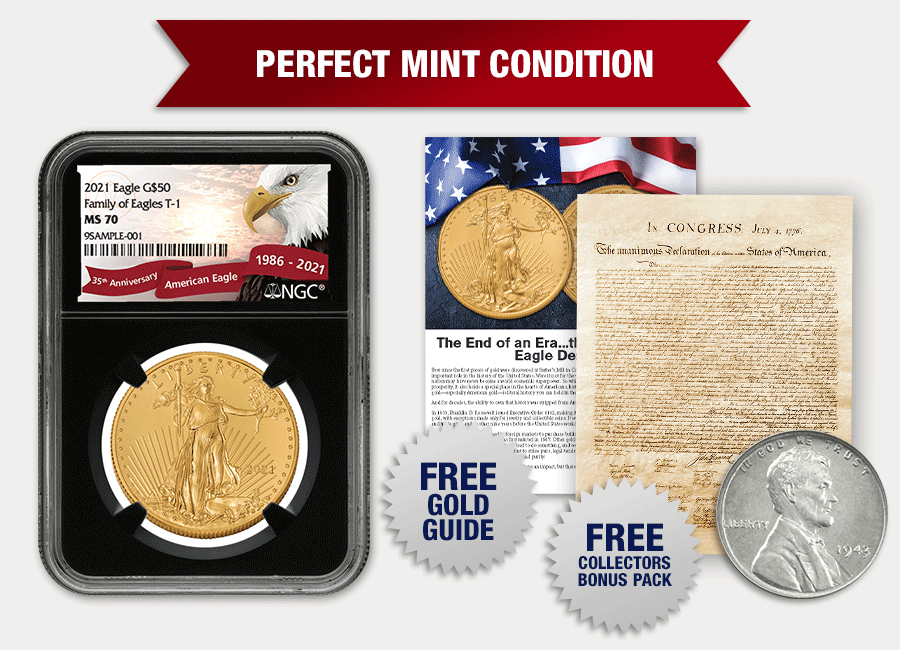 HONOR REAGAN'S LEGACY
In 1985, President Ronald Reagan signed the American Eagle Coin Program into law and gave us the best-selling bullion coin series in the world. This is the final release of the original eagle reverse design loved for over 35 years that has captured Reagan's legacy, American values, optimism, and Cold War victory.
Don't miss the final chance to hold this piece of American history!
FREE GOLD GUIDE AND COLLECTOR'S BONUS PACK, JUST FOR CALLING!
Call 1-888-201-7640 now and we'll give you the 2021 Gold American Eagle Guide and Collector's Bonus Pack absolutely FREE!
Find helpful information in our Gold Eagle Guide such as:
Detailed information about the iconic Gold American Eagle design
Informational charts such as the spot price of gold over time
The Collector's Bonus Pack includes:
Commemorative Declaration of Independence
Actual Steel Lincoln Penny