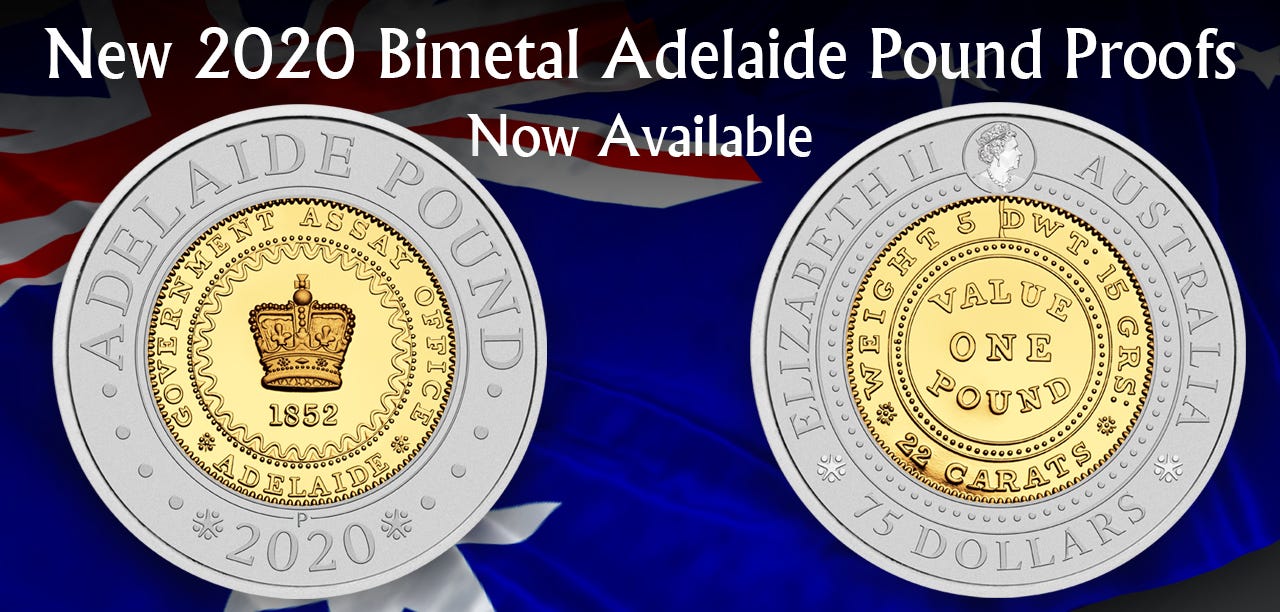 Australia's First and Most Valuable Gold Coin Returns…With a Touch of Silver
America is not the only nation to experience a Gold Rush in the 1800s. Around the same time that thousands of Americans were heading West to seek their fortune, another Gold Rush was taking place in Australia!
Just like in the United States, new coins were created as a way to manage the new influx of gold. For Australia, that coin was the Adelaide Pound—Australia's first gold coin. Now a national treasure, the original 1852 Type I Adelaide Pound coin is more than a historic "first"—it's also the nation's most valuable coin!
It's estimated that fewer than 50 of the original Type I Adelaide Pound coins are believed to have survived due to one of the original dies cracking. Now extremely rare, examples of these coins have sold at auction for $100,000 as recently as 2016.
Now, Australia's Perth Mint is honoring the original with the nation's first-ever official Bimetal Adelaide Pound Proof!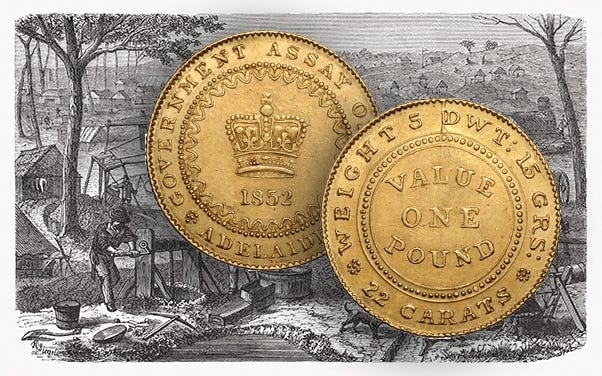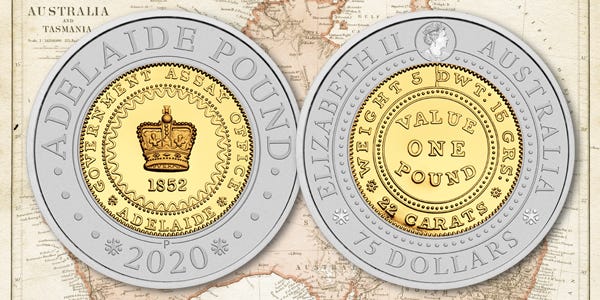 An Authorized Restrike…With a Twist
This fantastic piece recreates the original 1852 Type I Adelaide Pound in exact detail, struck in 0.75 ounces of gold. The exciting twist is that set around the restrike is a ring struck in 0.75 ounces of silver! This allows the original design to remain untouched, while the exterior ring presents the modern-day date and legal-tender value.
Pure Precious Metal, Official Legal Tender
This special Bimetal Adelaide Proof contains 91.67% pure (22 karat) gold and 99.99% fine silver. Minted with a Proof finish, the coin features frosty devices and mirrored fields.
In a stunning first, this coin is $75 Australia legal tender. Of course, Perth Mint has struck legal tender coinage before—but this is the first-ever official restrike with official legal-tender status! Combine that first-ever pedigree with the famous quality of Perth Mint's products, and you have a history-making piece that you'll be examining for decades to come.
Certified Flawless and First Day of Issue (FDI) by NGC
You can secure one of these historic 2020 Bimetal Adelaide Pound Proofs certified and graded by Numismatic Guaranty Corporation (NGC) as flawless Proof 70 Ultra Cameo condition. In addition, NGC has bestowed upon this coin the special First Day of Issue (FDI) designation, certifying that it was secured from the mint on the very first day of the mintage's release.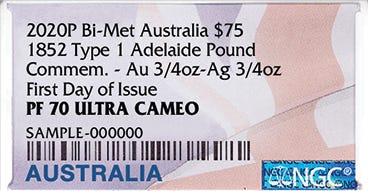 Limited Availability
Only a limited number of 2020 Bimetal Adelaide Pound Proofs have been authorized by the Australian government and Perth Mint. Even fewer have been submitted for grading and returned with a flawless grade of PF70 UC and an FDI designation.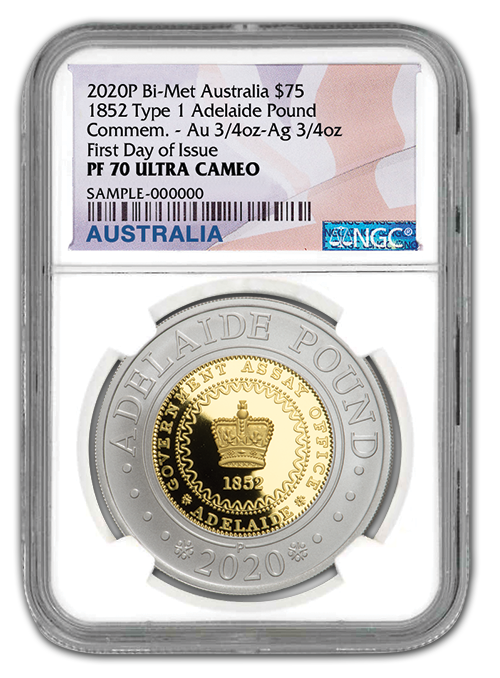 2020 Australia 1.5-Ounce Gold & Silver Bimetal Adelaide Pound Proof
Official Restrike of Historic 1852 Adelaide Pound

.75 Ounces of 91.67% Pure Gold

.75 Ounces of 99.99% Fine Silver

$75 Official Legal Tender

Original Design Surrounded by a Modern Silver Ring

Available Graded by NGC as Proof 70 Ultra Cameo

Certified as First Day of Issue (FDI)

Official Smithsonian® Release

Limited Availability
The original 1852 Type I Adelaide Pound is Australia's first gold coin, as well as its most valuable. Without $100,000 on hand, you're unlikely to ever see it in your collection. But with this historic release, you can secure an authorized restrike that exactly recreates the original design in 22 karat gold, surrounded by an additional ring of 99.99% fine silver. Share the story of Australia's first gold coin and secure yours now! Call 888-870-6339 now!