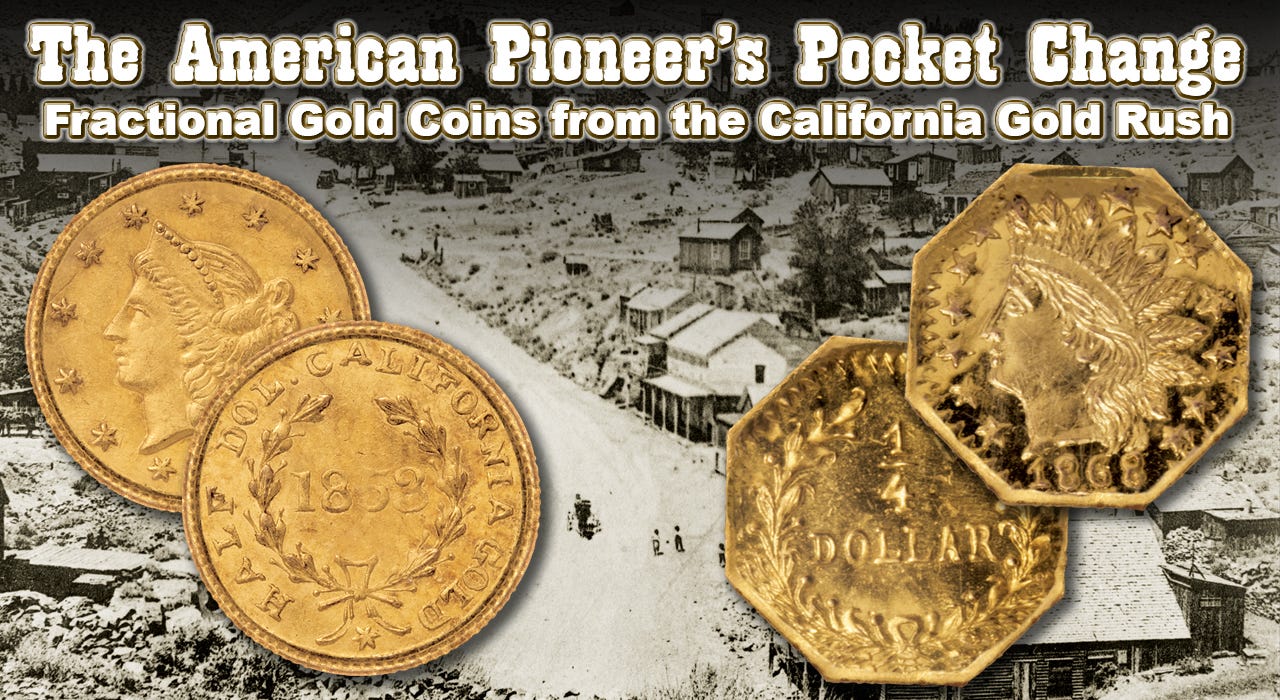 In 1848, the discovery of gold at Sutter's Mill in California resulted in thousands of people heading West to seek their fortune. But when it came time to secure more prospecting equipment, there was no money to be used! No branch of the U.S. Mint existed out West, and many towns in Northern California functioned off of a barter system. But once the Gold Rush was on, that simply wouldn't do.
Once the gold started coming in, trading began by taking a "pinch" of gold dust or a small gold nugget as payment. As you can imagine, it wasn't unusual to see the man in town with the largest hands collecting payment at the local saloon! Unimpressed with this clearly flawed system, local businesses and jewelers decided to take matters into their own hands and struck their very own gold coins for local circulation.


These "California Fractional Gold" pieces, known to collectors as Cal Fracs, became the coins that rattled in saddlebags across the Northwestern United States well into the late 1850s. Though technically illegal, these coins were struck into the early 1880s!
Eventually, most Cal Fracs were turned into jewelry, lost, melted, or simply worn down. Today, all Cal Fracs are considered scarce. Which is what made this discovery so incredible!
Genuine California Gold Rush Coins
Each coin in this hoard is a genuine piece of California Gold Rush history, struck by local businesses and jewelers for circulation in the prospecting towns of the Old West. Minted in octagonal or round shapes, and in a variety of weights and thickness, these coins featured motifs that collectors of vintage U.S. gold will find very familiar. Designs included Indian Head and Liberty designs surrounded by stars, and might include dates, denominations, and even eagles!

Clearly, these coins were meant to imitate the U.S. gold that was circulating in the Eastern part of the country—except for the word "California" often displayed on their reverse.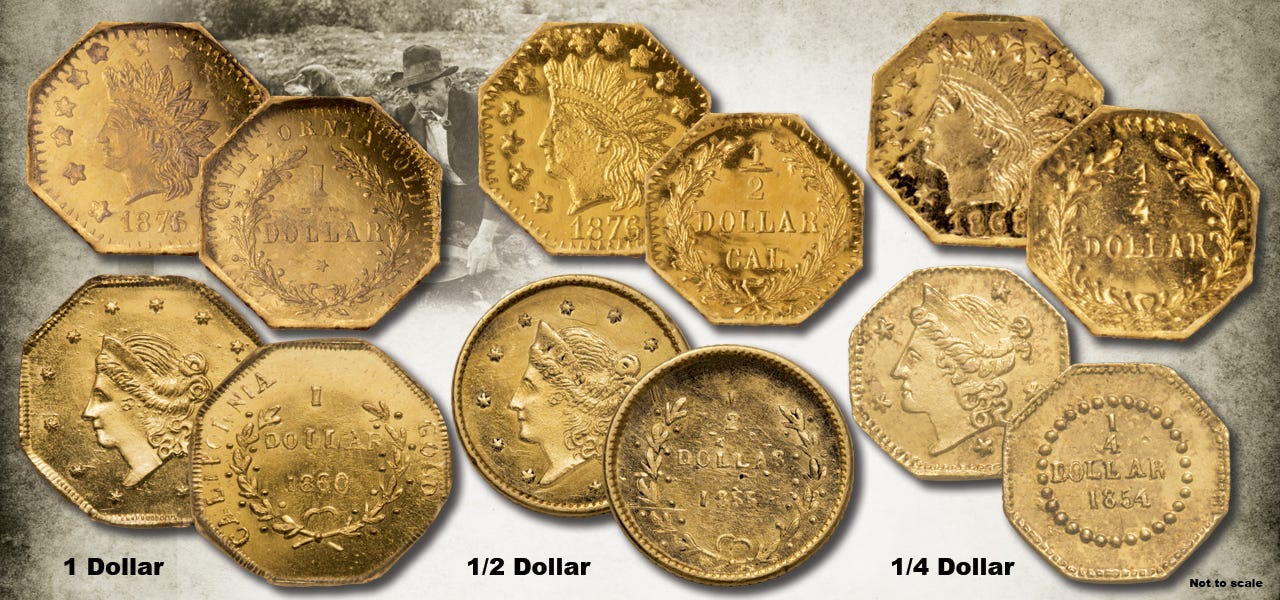 Multiple Denominations, Grades and Designations
Within this hoard are Cal Fracs struck between 1852 and 1881 with face values of 25 cents, 50 cents and one dollar. The collector who assembled them took great care in finding some of the finest coins available, certified and graded by Professional Coin Grading Service (PCGS) and Numismatic Guaranty Corporation (NGC), the top third-party grading services in the world.

While our limited supply lasts, you can secure coins from this hoard in grades that range from About Uncirculated-50 (AU-50) to incredible Mint State-68 (MS68) condition. Coins are graded on a scale of one to 70, with 70 representing perfection even under magnification. To discover a Cal Frac that grades as MS68 is astonishing!
Own Some of the Finest Known Cal Fracs in the World!
What's even more astonishing is that many of these coins have been certified as Prooflike (PL) and Deep Mirror Prooflike (DPL) in addition to their impressive grades. These are coins that present incredibly sharp strikes and blazing luster that tend to only come when a piece is struck with the freshest of dies. They're some of the finest examples of any mintage.
These coins are so fine, in fact, that some of them stand proudly as the single highest graded by NGC or PCGS, and thus the finest known of their date and type in the world! Others are tied for the highest graded and finest known.
These coins are not only important pieces of American history—they're incredibly fine gold coins that any collector would love to call their own.
Limited Availability
As you might imagine, only a limited number of these beautiful Gold Rush-era California Fractional Gold pieces are available. Don't wait for the finest pieces to disappear into someone else's private collection. Secure your very own piece of American Gold Rush history now!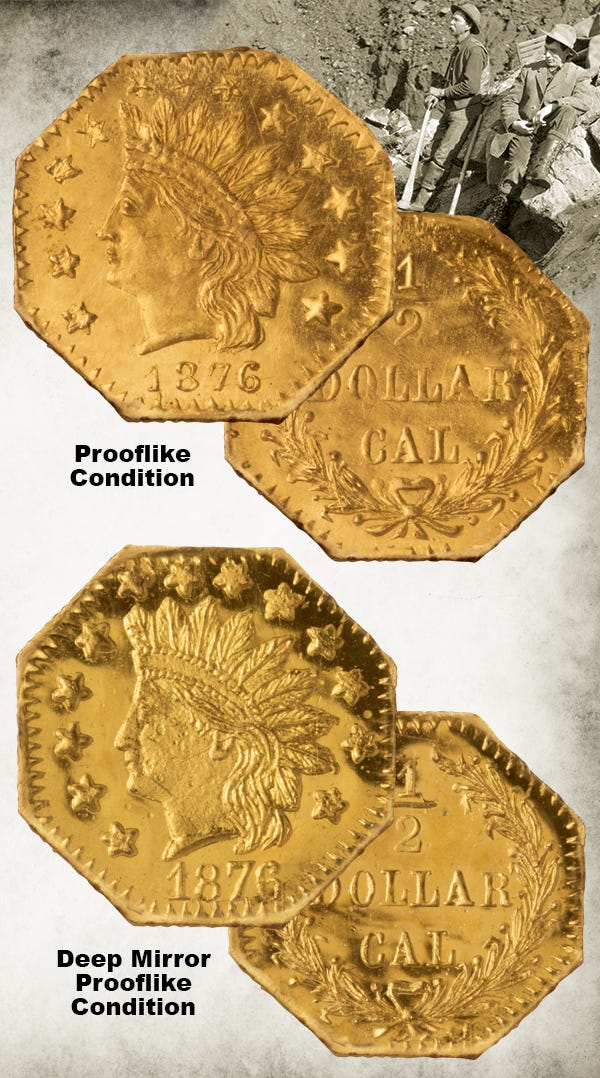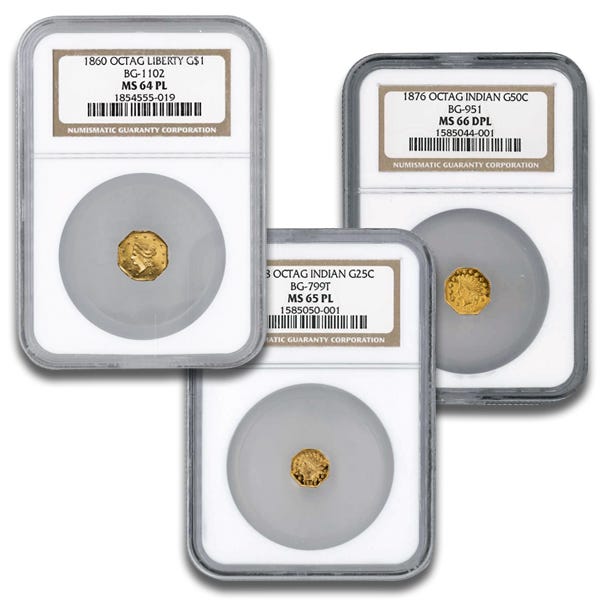 1852-1881 Cal Fracs
Authentic California Gold Rush Fractional Gold Coins

Privately Struck by California Jewelers

25-Cent, 50-Cent and $1 Coins Available

Multiple Designs Available

Certified by NGC or PCGS

Date Range 1852-1881

Limited Availability
Right now, you have the chance to hold in your hands the very same coins that traveled the dusty hills of California in the pockets and saddlebags of the men and women who helped turn our nation into the thriving economic powerhouse it is today. This "free" money, pulled straight from the California soil, is what set the USA on the road to becoming a global superpower. And you can hold a part of that legacy in your own hands!
Don't wait for this exciting opportunity to pass you by. Call and secure your genuine Gold Rush-era California Fractional Gold pieces today.
Call 888-870-6339 now!