Classic styling.
Timeless quality.
A Canadian Silver Maple Leaf is a collector's mainstay. The 2018 releases add poise and polish to a timeless classic, with a unique incuse design and MINTSHIELD ™ protective treatment. Whether you're completing a new collection or keeping your cache stocked with the latest releases, GovMint offers a wide range of top-quality, hard-to-find editions.
Shop Now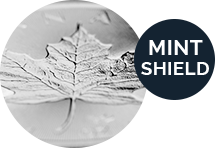 Brilliant Shine
To protect against milk spots, the Royal Canadian Mint applied MINTSHIELD ™ to all 2018 Silver Maple Leafs. This new standard guarantees years of exceptional shine.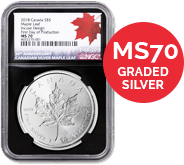 Precious & Pristine
GovMint provides the highest quality MS70 graded Silver Maple Leaf coins, as well as hard-to-find First Day of Issues and BU versions.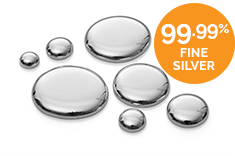 Shimmering Silver
Struck from 99.99% fine silver, Silver Maple Leafs are legal tender. Each coin adds brilliance and value to your collection.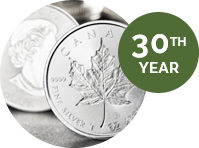 Artistry & Heritage
To commemorate its 30th year, the 2018 releases now include an incuse design. The emblem is impressed into the surface rather than raised, for a memorable and distinctive style.
Grow your collection.
From top-quality uncirculated editions, to hard-to-find scarcities, GovMint is your signature source for Silver Maple Leafs.
Shop Now