---
Since 1988, the Royal Canadian Mint has annually released one of the world's most beloved coins: The Silver Maple Leaf. Through their constant innovation and dynamic presentation of the Maple Leaf Series, the Royal Canadian Mint continues to thrill collectors around the world with a timeless treasure that will continue to catch people's eyes for years to come.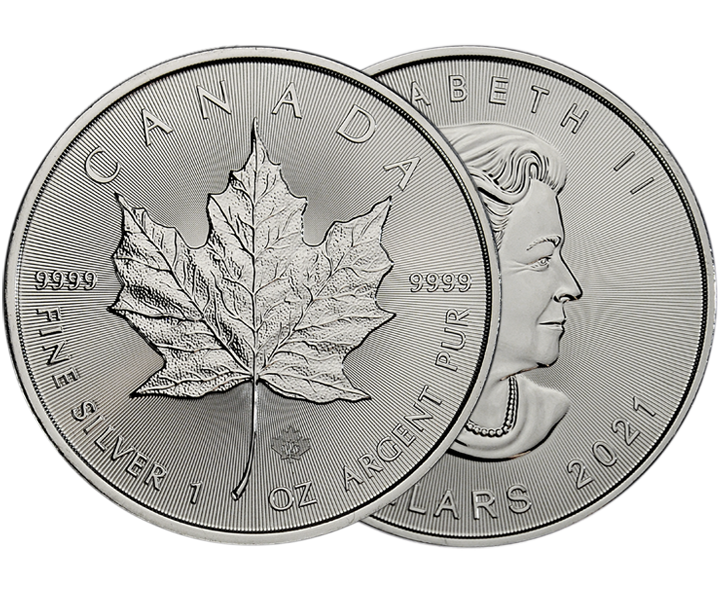 Classic Styling
Timeless Quality
Each year, this highly sought-after annual release adds poise and polish to a timeless classic with an iconic design, high-quality silver content, and MINTSHIELD™ protective treatment. Crafted from brilliant .9999 fine silver, the Silver Maple Leaf is sure to be the shining star in any collection.
Whether you're completing a new collection or keeping your assortment stocked with the latest releases, GovMint.com offers a wide range of Silver Maple Leaf coins including exclusive options only available here.
GovMint.com is proud to offer the highly anticipated 2021 1 oz Silver Maple Leafs in Brilliant Uncirculated condition!
Each Silver Maple Leaf is available certified by Numismatic Guaranty Corporation in Mint State 70 and Mint State 69 condition. Additionally, certified options are available in a variety of designations, including the prestigious First Releases and Early Releases. Designated First Releases and Early Releases will include an exclusive Canada Label.
Take this exciting opportunity to add one of Canada's best and brightest to your collection – secure yours today!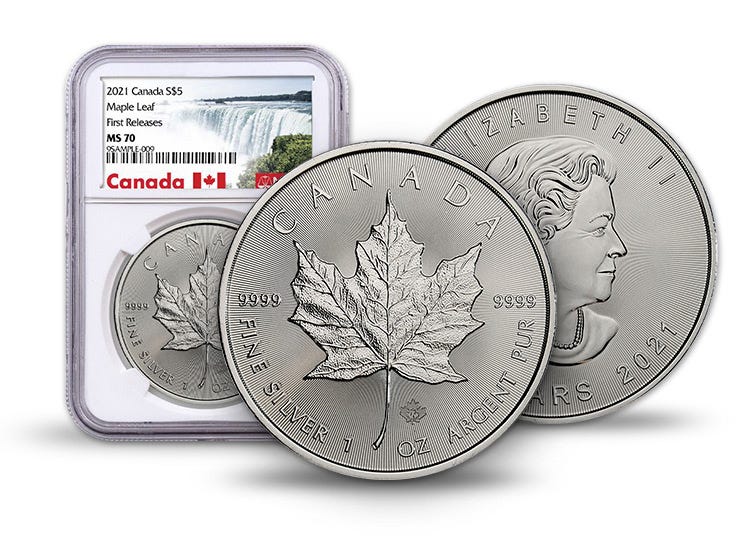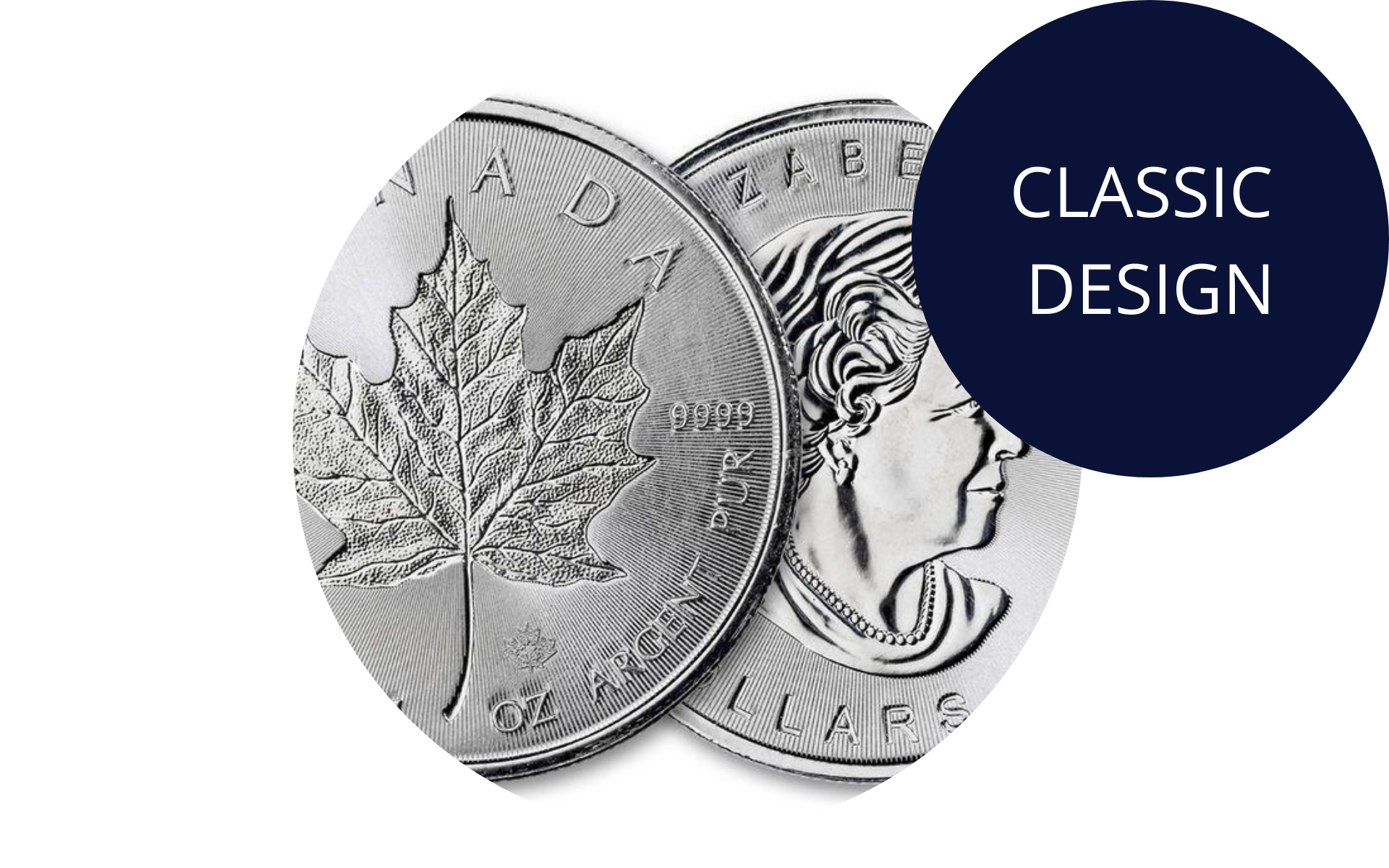 Timeless Design
Unlike no other, this beloved annual series features the iconic sugar maple leaf on its reverse, representative of the Canadian nation, and an effigy of Queen Elizabeth II on the obverse.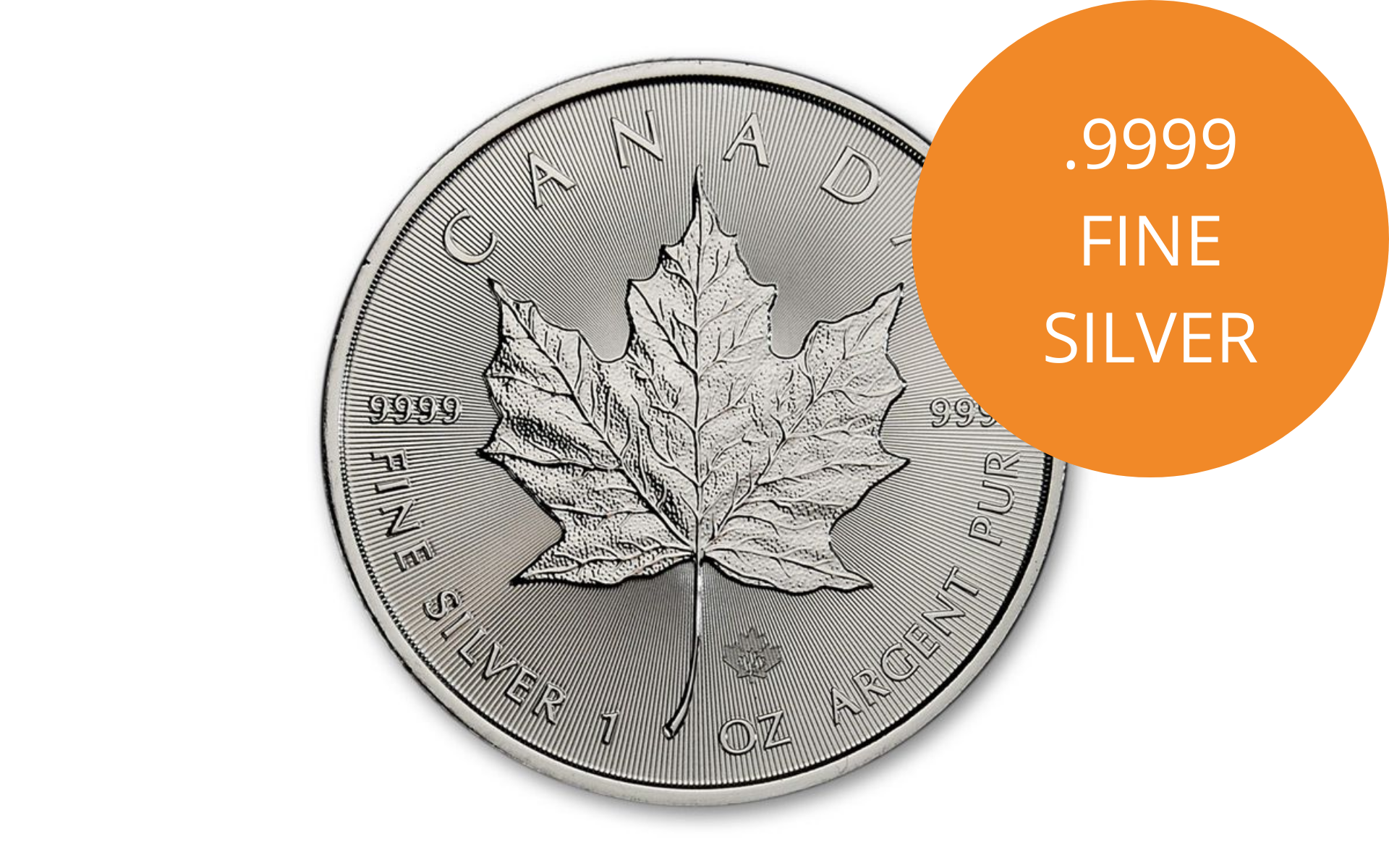 Shimmering Silver
Each release is struck from .9999 fine silver, creating bullion of exceptional quality. Each carefully crafted Silver Maple will add something special to your collection for years to come.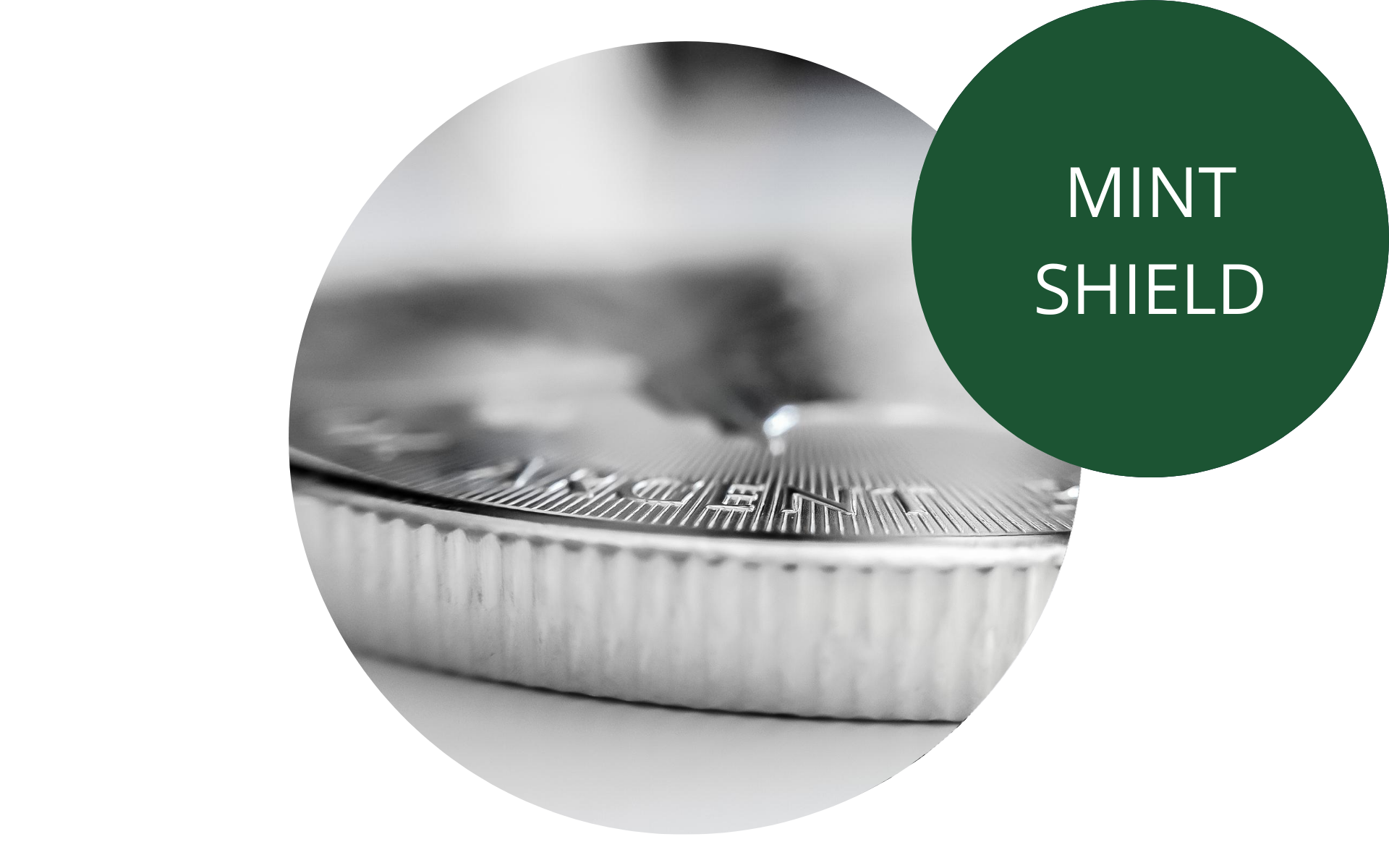 Brilliant Shine
To protect against milk spots, the Royal Canadian Mint introduced MINTSHIELD™ technology and has incorporated it into Silver Maple Leafs dated 2018 or later. This new standard guarantees years of exceptional shine.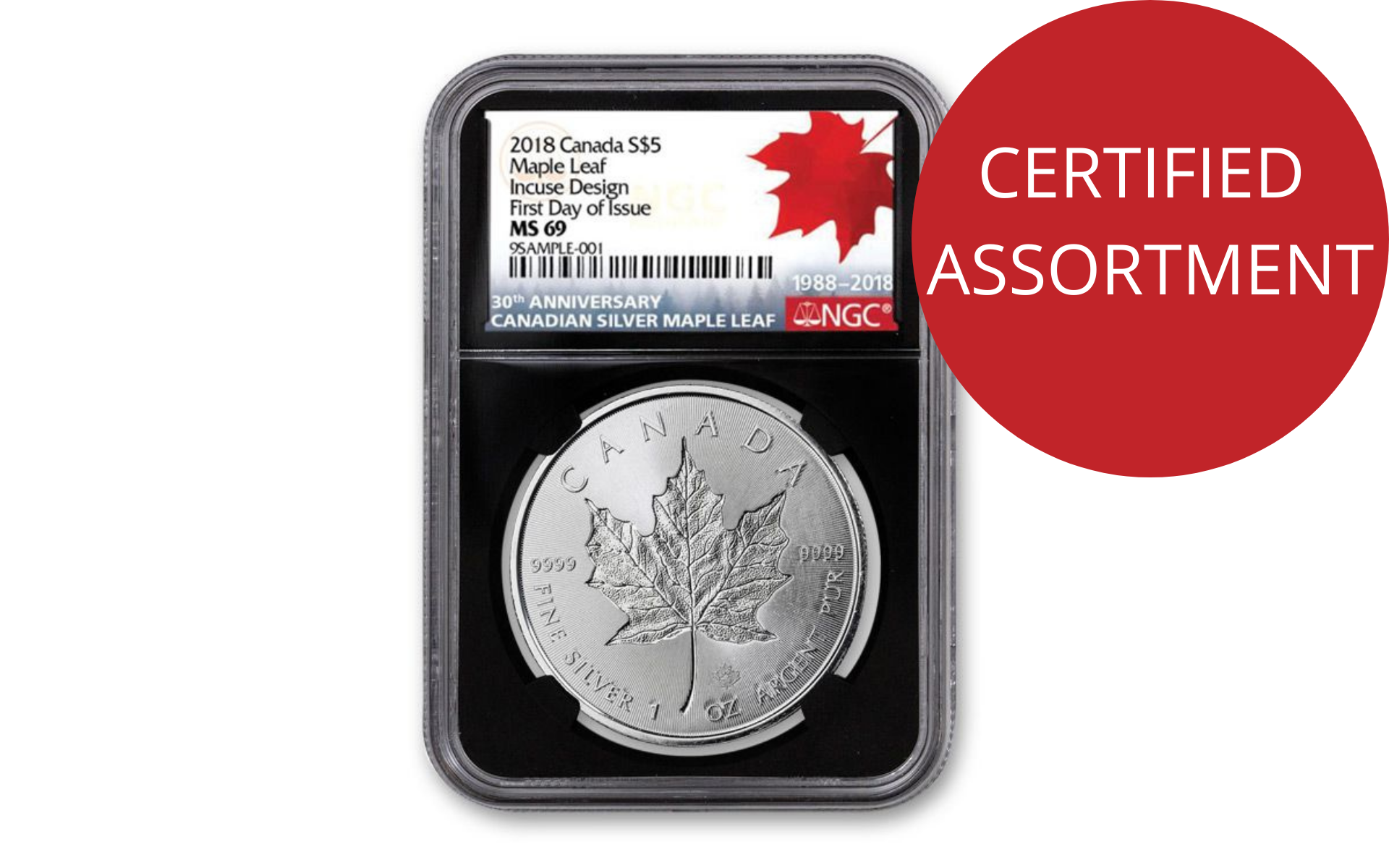 Precious & Pristine
GovMint.com is proud to offer an assortment of high-quality, certified, and designated Silver Maple Leaf coins for those wishing to enhance their desired selection.
Grow your Collection
From ungraded coins straight from the Mint, to certified releases paired with exclusive labels, GovMint.com is your source for Silver Maple Leafs. Shop our assortment of Silver Maple Leafs - including the latest 2021 addition!