Adolph Weinman: Master Sculptor and Medallic Artist
Posted:
September 04, 2019
|
Every collector of 20th century U.S. coins is familiar with perennially popular Winged Liberty dime and the legendary Walking Liberty half dollar, both of which are among the most widely collected coin series to this day.
Both coins debuted in 1916 – as military conflict was exploding in Europe amid growing calls for the U.S. to enter the Great War and economic disruption in the U.S. marked by huge inflationary pressures. Both coins also appealed to the American spirit of optimism and patriotism and were issued the year before the U.S. entered the war, which cemented its role as a global power.
Most collectors also know that these celebrated designs are the work of Adolph Weinman, a German-American artist and sculptor who rose to prominence in the early 20th century. To better appreciate Weinman's numismatic and medallic creations, not to mention his architectural sculpture in breathtaking works on display in many U.S. cities and states, it is useful to review the highlights of his life and work.
Weinman's life and career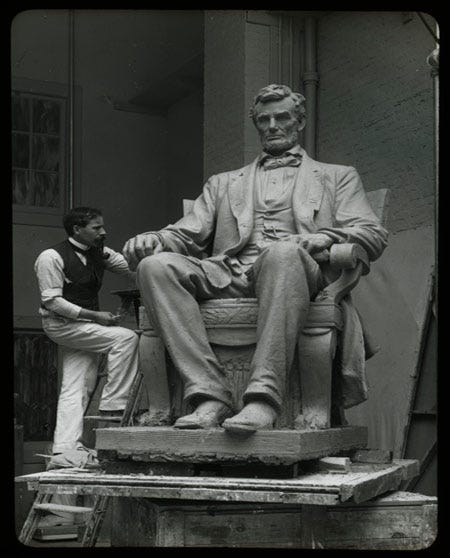 Born in German in 1870, Weinman lived until 1952. He, his mother, and brother moved to the U.S. when he was ten, the same year his father, a shoemaker, passed away. The young Weinman soon developed an impressive talent for engraving, carving, sculpting and drawing, and eventually began working with many famous sculptors.
At age 15 he become an apprentice to Frederick Kaldenberg, a collaborator of the greatest American sculptor and medallic artist of this period – Augustus Saint-Gaudens. After a year Weinman also joined the New York City Cooper Union, where he was first exposed to sculpture, and the Arts Students League, where he would later study under Saint-Gaudens until 1898 when Saint-Gaudens moved to Paris.
Weinman then worked with popular medallist Charles H. Neihaus for five years, becoming increasingly skillful in his artistic craft. He later worked as an assistant to Daniel Chester French – best-known for his massive sculpture of Abraham Lincoln at the Lincoln Memorial in Washington.
Weinman opened his own studio in 1904 and began receiving important commissions such as a medal that was given to participants at the 1904 Louisiana Purchase Exposition in St. Louis, which was struck by the U.S. Mint in Philadelphia and which features a walking liberty design that was a predecessor to his half dollar design. He also created a monumental sculpture called The Destiny of the Red Man for the exposition.
In 1905 Weinman again collaborated with Saint-Gaudens to produce a medal for President Theodore Roosevelt's inauguration. Because Saint-Gaudens was ailing and wanted to complete other works for Roosevelt before passing away, he suggested that Weinman do the modelling work. This experience was critical for Weinman moving closer to working directly with the U.S. Mint.
Weinman considered himself first and foremost an architectural sculptor and then a medallic artist. However, his legacy is both areas is truly remarkable and includes works such as a large eagle at the National Zoo in Washington, D.C., other sculptural works for state capitol buildings in Wisconsin, Louisiana and Missouri, a statue of Lincoln in Kentucky, and other works in DC such at the Jefferson Memorial and U.S. Supreme Court. His medallic work was also very prolific and included medals for the U.S. Military, including reverse designs for medals for various military campaigns.
Winged Liberty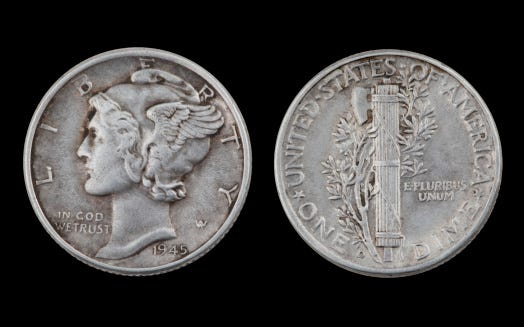 In 1916, amid growing calls from the New York Numismatic Club to change the designs of existing silver coins, the Commission on Fine Arts, which selected the designs that appeared on U.S. coins and on which Weinman had served, invited Weinman and two other artists to submit designs. At the time the existing coins designed by Charles Barber were very unpopular, especially when compared to the impressive artistry of the recently redesigned cent, nickel, and gold coins. Weinman designs for the dime and half were selected, as was MacNeil's for the quarter.
It is widely believed, although not certain, that the design of both of Weinman's famous coins was inspired by a woman named Elsie Kachel Stevens, wife of the poet Wallace Stevens, who rented an apartment from Weinman in New York City. Weinman had sculpted a bust of this woman in 1913. The hair, expression and facial features of the Liberty design on the dime do seem very reminiscent of Stevens, "though similar Liberty images predate what has been presumed to be a portrait of Stevens," according to Cornelius Vermeule.
The Winged Liberty dime, often referred to the Mercury dime, features on its obverse a side-profile that some people mistakenly think resembles the Roman god Mercury. It is actually a design of a young woman wearing a Phrygian cap that represents freedom and liberty. The cap was worn by slaves freed from the Roman Empire and appeared on several 18th and 19th century American coins. For Weinman the wings represented "liberty of thought." As Vermeule notes, the wings are also there probably because Weinman, like Saint-Gaudens, was fond of motifs like feathers that required relief, as also seen on his half dollar design.
The reverse of the dime, which was issued from 1916 until 1945, featured fasces (a bundle of rods with a projecting axel blade first used in the ancient Etruscan civilization and then in ancient Rome and symbolizing justice) set off by olive branches of peace.
Walking Liberty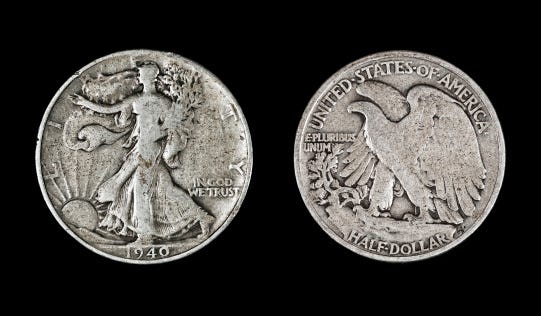 Weinman's most well-known coin design is the Walking Liberty half dollar issued from 1916 until 1947, whose obverse was reprised in 1986 for the obverse of the American Silver Eagle (and also issued in gold in 2016, as were the Liberty dime and Standing Liberty quarter).
The half dollar's obverse shows Lady Liberty draped in the U.S. flag as she strides with confidence toward the rising sun and the dawn of a new day while carrying laurel and oak branches. This optimistic motif "signifies the peaceful intentions of the United States (the olive branch) while simultaneously issuing a warning to a Europe that was embroiled in World War I," as Jeff Ambio wrote in 2010. The reverse shows an eagle with wings unfolded perched on a rocky mountain crag as it clutches a pine branch in its right talon.
This beautiful design has often been said to have been inspired by the iconic French Sower (a French farm girl sowing seeds) created by French sculptor Oscar Roty, who probably did have an influence on Weinman. However, Weinman's son Robert (also a sculptor) has said that while it is impossible to say if French design was an inspiration, his father's creation is "distinctly American in appearance." Moreover, the now iconic design, undoubtedly one of the greatest ever to appear on a coin, manages to combine neo-classicism and modernity, which may part of the reason its appeal is timeless. 
American Palladium Eagles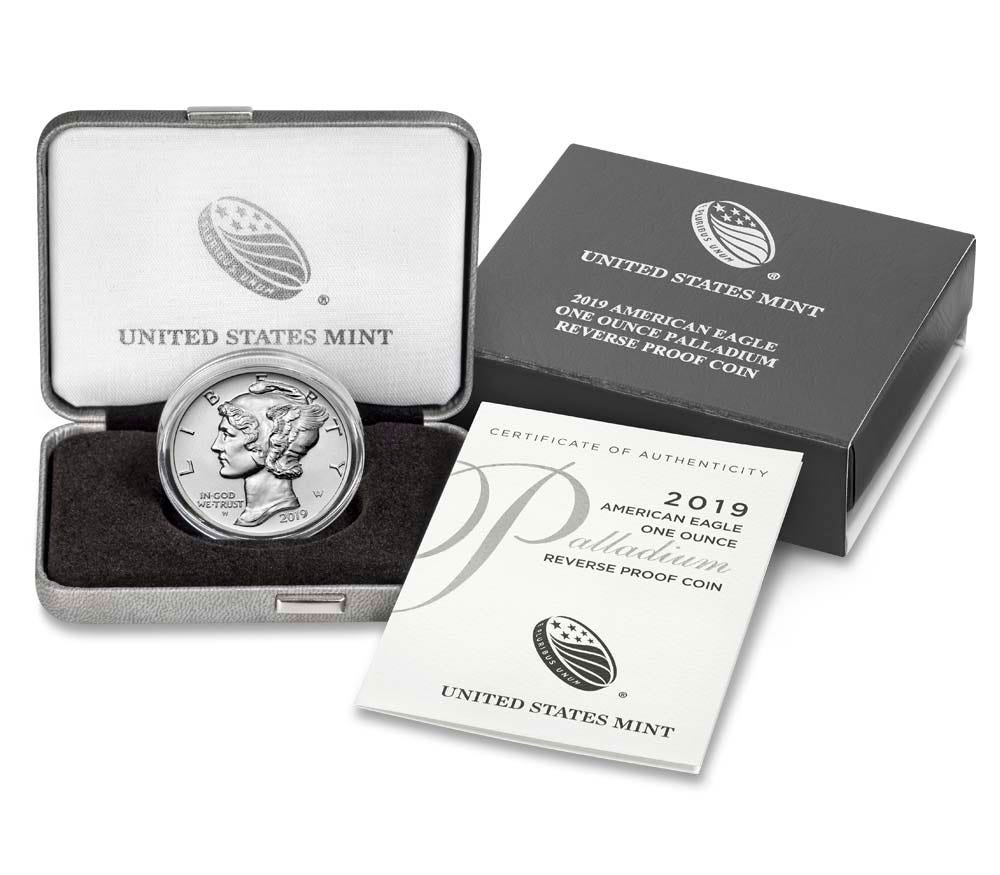 Weinman's designs look even better with the use of modern coin minting technology after being reborn when the American Palladium Eagle coin series which debuted in 2017 with a bullion coin. In 2018 gorgeous a Proof followed, and after that, a stunning Reverse Proof in 2019.
On September 24, 2020, the United States Mint is releasing an Uncirculated finish American Palladium Eagle, allowing Weinman's stunning designs to be appreciated in an entirely new light. The 2020 issue boasts a low mintage of just 10,000 pieces, which is the lowest mintage of the entire series to-date
As required by the law that created the program, the palladium coin features an obverse based on the Liberty dime obverse using digital recreations of Weinman's original plaster models and struck in stunning high relief. The reverse reprises a design very reminiscent of that on the reverse of the Walking Liberty half dollar that was created for the reverse of a medal Weinman was commissioned to create in 1907 for the American Institute of Architect's highest award. That design features an eagle standing on a rock with its wings facing left as it plucks a branch of laurel in the rock with its beak. It has never appeared on a coin until 2017. 
As is clear from the fact that his designs continue to grace American Silver and Palladium Eagles, the numismatic art of Adolph Weinman clearly never goes out of style and will continue to inspire and delight generations of collectors.
Sources:   
"Adolph Weinman," www.usacoinbook.com
Jeff Ambio, "Learning to Walk'," Coin Values, March 2010, pages 29-33
Eric Brothers, "The Sower and Walking Liberty," The Numismatist, January 2017, page 32
Gerald Tebben, "Weinman's Masterpiece," Coin World, October 2016
Cornelius Vermeule, Numismatic Art in America (Whitman, 2007)
  "GovMint.com® is a retail distributor of coin and currency issues and is not affiliated with the U.S. government. The collectible coin market is unregulated, highly speculative and involves risk.  GOVMINT.COM MAKES NO WARRANTIES, REPRESENTATIONS, OR PROMISES AS TO ITS PRODUCTS EXCEPT THOSE SET FORTH IN ITS TERMS AND CONDITIONS, AND NO IMPLIED WARRANTIES OF MERCHANTABILITY OR FITNESS ARE MADE. Prices, facts, figures and populations deemed accurate as of the date of publication but may change significantly over time.   © 2019 GovMint.com. All rights reserved."
Copyright 2020 GovMint. All Rights Reserved. GovMint.com does not sell coins and numismatics as investments, but rather as collectibles. Please review GovMint's Terms and Conditions, Terms of Use and Privacy Policy before using this website and prior to purchasing from GovMint. All website content is for reference use only and does not constitute investment, legal or financial advice. We encourage the sharing and linking of our information but reproduction of our news and articles without express permission is prohibited. Instead of reproducing, please provide the link to the original article or use the share buttons provided.