U.S. Presidents and Numismatics
Posted:
February 14, 2019
|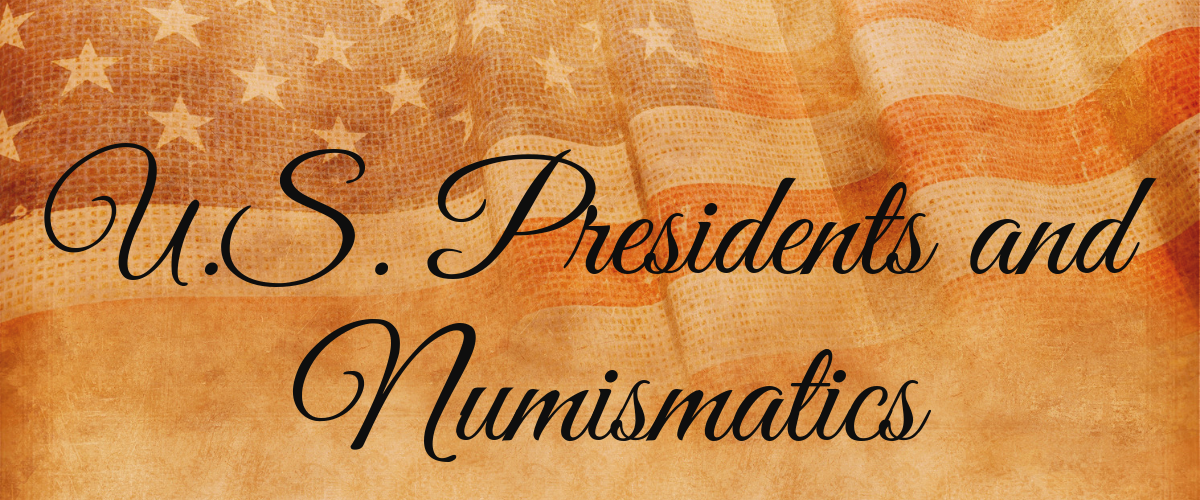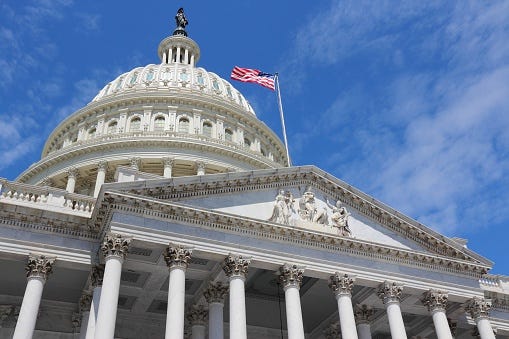 Under the U.S. system of government, the president, who has extensive powers in areas such as national security, does not usually play a major role in shaping our coinage. The most prominent exceptions, include presidents who had an interest in, and who took the initiative to get involved in, numismatics, especially President Theodore Roosevelt, whose influence over early 20th century coinage is legendary.
The main numismatic role of a president is signing coinage legislation into law after it has been passed by the House of Representatives and the Senate. The powers of the executive in this area are mostly delegated to officials the President appoints, and others who serve in their administration. Chief among them is the U.S. Treasury Secretary, who oversees the U.S. Mint and makes the final selection of designs that appear on all U.S. coins and medals and who oversees the Bureau of Printing and Engraving, which produces our paper currency, as well as the Director of the U.S. Mint.
The U.S. Congress shapes American coinage by passing legislation for commemorative, circulating, bullion coinage and medals. It also holds hearings on the numismatic industry, which has in the past helped lead to the creation of programs like the State quarters issued from 1999 until 2009, and the American Platinum Eagle series that debuted in 1997. The U.S. Congress in the past several years has also attempted to ensure that the U.S. Mint take more steps to make its precious metal coins harder to counterfeit and to work with customs and border enforcement officials to seize counterfeit coins that enter the U.S.
Coin Industry Regulation
Individual states impose their own rules and regulations, such as whether sales taxes are imposed on coin sales. Certain specific types of bullion products, such as some silver bars, require dealers to file a police report to ensure the items are not stolen. In addition, a number of states have already passed, or are considering, laws that make gold and silver legal tender, or that change or end state-level capital gains taxes on precious metals.
When it comes to federal regulation, the Internal Revenue Service sets the rates at which capital gains on the sale of bullion and numismatic items are taxed, which is currently a maximum of 28% (or less if your marginal tax rate is less than that) for both types of coins.  If the items are held for less than a year, they are taxed as ordinary income.
The other important area is specific IRS reporting requirements that exist when certain quantities of bullion gold coins, or total sales on the same day above certain amounts, are made to dealers, who must obtain the buyer's social security number and report the information to the IRS. Other regulations include the 1973 Hobby Protection Act, which deals with imitation numismatic items, which are required to be labeled as replicas or copies.
In 2011, following news reports of buyers who were overcharged for coins they purchased, or steered away from low-premium bullion towards graded items with much-higher premiums, the Federal Trade Commission issued some information for consumers who are thinking of investing in either collectible or bullion coins.   
Gold Ownership and the Gold Standard
U.S. Presidents have also taken major actions impacting the gold market and gold ownership by American citizens.
On April 3, 1933, during the Great Depression, President Franklin D. Roosevelt issued executive order 6102, which made it illegal for U.S. citizens to own more than $100 face value of gold coins and required them to voluntarily convert any gold above that amount into paper currency.  In the aftermath of the numerous bank failures during the Great depression that began in 1929, many Americans began to hoard gold. Roosevelt was concerned that hoarding of gold was contributing to the weakness of the economy.
In addition to making private ownership of gold illegal, Roosevelt also increased the official gold price from $20 to $35, which substantially increased the value of U.S. gold reserves, and which devalued the dollar and inflated the money supply. On June 5, 1933 the U.S. officially went off the gold standard that had been in effect since 1879.
Prohibition on the private ownership of gold was finally ended on the last day of 1974, when President Gerald Ford signed into law legislation that once again made it legal for Americans to buy, sell, and own gold and gold coins, paving the way for the resumption of a gold coin market within the U.S.
In 1981 President Ronald Reagan formed a Commission on the Gold Standard that that examined the feasibility of returning to the gold standard. The commission did not support that move, but a minority report was issued called "The Case for Gold" in 1982.
There have been presidents who made initiatives or helped inspire major accomplishments that were later commemorated on coins, such as President John F. Kennedy, who in 1961 gave a speech announcing that the nation should put a man on the moon by the end of the decade. The new U.S. Apollo 11 coins pay tribute to the 50th anniversary of that accomplishment, which involved thousands of people from different walks of life.
Teddy Roosevelt's Coinage Renaissance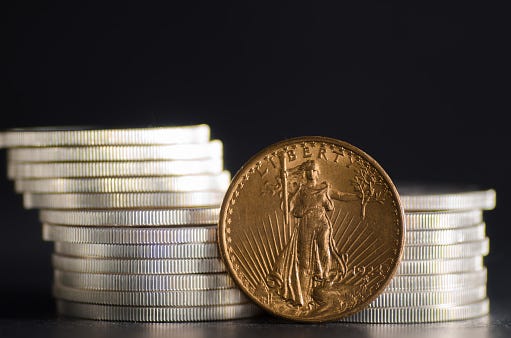 There are also a couple of past U.S. Presidents or administrations that were directly involved in the promotion of specific coins or numismatic programs.
The first was the famous partnership between President Teddy Roosevelt (who served from 1901 to 1909) and renowned sculptor Augustus Saint-Gaudens to make American coins as beautiful as those of ancient Greece. Known as the renaissance of American coinage, these efforts began in 1905, continued after Roosevelt was no longer in office and ended in 1921 with the Peace dollar's debut.
The most notable result was the Saint-Gaudens $20 gold coin that is widely considered the most beautiful American coin ever issued, especially in the ultra-high-relief version produced in 1907. Only a small number of those coins were made because of extensive difficulties during production, but in 2007 then U.S. Mint Director Edmund C. Moy directed the Mint to recreate the 1907 masterpiece using modern minting techniques.
Because Saint-Gaudens died in 1907, the redesign of other coins such as $2.50 and $5 gold coins was done by other artists such as Bela Pratt Lyon (who had been a student of Saint-Gaudens) and the three Liberty-themed coins (dime, quarter and half dollar) that debuted in 1916.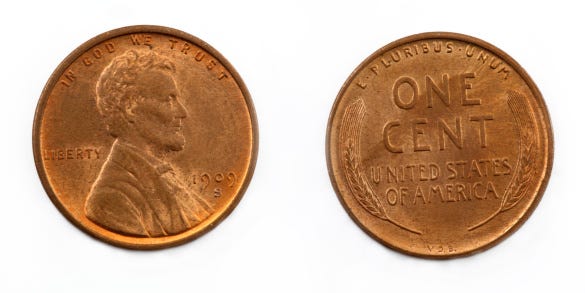 In 1908 Roosevelt considered the forthcoming centennial of Lincoln's birth the coming year and thought it would be a good idea to issue a coin bearing his likeness, which would become the first U.S. circulating coin honoring a president. In 1907 Victor David Brenner, a prominent artist and member of the numismatic community, created a medal and plaque of Lincoln that he showed to Roosevelt, which led to the birth of the idea of the Lincoln cent. Brenner later created the designs for both sides of that coin.
In addition, Roosevelt was a conservationist who signed into law the first national parks, many national monuments, national forests and bird reserves.  The park system he initiated has been honored since 2010 with a set of clad quarters and 5 oz silver coins for each part or historic site in the country, including the Roosevelt National Park in North Dakota that had its own coin in 2016.
Kennedy half dollar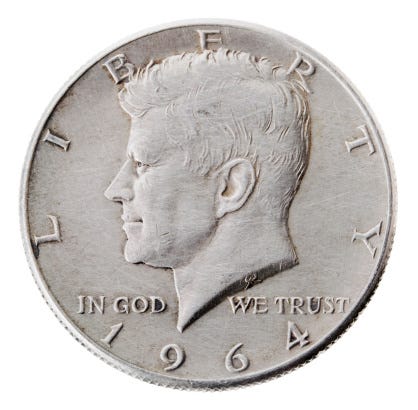 Another important case is the Johnson administration, which following the assassination of President Kennedy on November 22, 1963 and the enormous outpouring of national grief for the slain leader, quickly put into effect plans for a circulating half dollar honoring JFK. In fact, Mint Director Ava Adams called Chief Engraver Gilroy Roberts the very same day JFK died to say plans were being considered to put Kennedy on a coin. Mrs. Kennedy's preference was for it to be a half dollar. To speed things up, they decided to have Gilroy Roberts use the 1961 inaugural medal he designed as the basis for the obverse, and Frank Gasparro's heraldic eagle that was on the reverse of a 1961 medal he created, so that dies could be made quickly.  
Reagan administration and American Silver Eagles
The other notable case of presidential involvement in U.S. coinage was the Reagan administration, which provided the initial impetus for what would become the American Silver Eagle program. In June 1981 the Congress, which had misgivings about doing this because it would likely depress silver prices, approved a request from the Reagan administration to start selling some of the government's silver stockpiles to help balance the budget. This eventually led to legislation enacted in 1985 that accomplished this goal in a way that overcome congressional resistance by a program in which the silver would be turned into coins sold at a premium to their melt value.
Presidents on coins
From the time the U.S. Mint was founded in 1792 until 1948 (and then again starting in 1986 on bullion issues) most U.S. coins featured allegorical depictions of Lady Liberty on their obverse and an American eagle on their reverse as required by the Coinage Act of 1792. According to the U.S. Mint: "The elected representatives knew that they could more effectively strengthen the democratic principles on which the nation was formed by stamping coins with designs of Liberty rather than an image of President George Washington."
But as the nation continued to grow, our coinage finally started to pay tribute to our founding fathers and most revered leaders. This began with the Lincoln cent that debuted in 1909, the Washington quarter in 1932 and the Jefferson nickel in 1938. Then came the Franklin Roosevelt dime in 1946, the Kennedy half dollar in 1964 and Eisenhower dollar in 1971. From 2007 to 2016 there was a Presidential $1-coin series with one release for every deceased U.S. President ending with the coin for Ronald Reagan.

There were several commemorative coins from the classic period, including the 1900 Lafayette dollar, which depicts both French General Lafayette and George Washington -- the first coin to ever to depict a U.S. President. The 1918 Lincoln half is also very popular. In the modern era commemorative coins have been issued honoring Presidents Jefferson, Eisenhower, Franklin Roosevelt, Madison, and Washington as well as Mount Rushmore.
Sources
:
American Silver Eagle, US Mint (https://www.usmint.gov/learn/coin-and-medal-programs/american-eagle)
Q. David Bower, "The Controversial 1909 VDB Lincoln Cent," www.pcgs.com (https://www.pcgs.com/news/the-controversial-1909-vdb-lincoln-cent)
"Can I Buy & Sell Gold Without Paying Taxes? (2018 IRS Reporting)," www.goldsilver.com (https://goldsilver.com/blog/irs-1099-gold-reporting-private-gold-private-silver-bullion/)
FTC consumer information on collector coins (https://www.consumer.ftc.gov/articles/0136-investing-collectible-coins) and bullion coins (https://www.consumer.ftc.gov/articles/0135-investing-bullion-and-bullion-coins)
Executive Order 6102, Presidency (https://www.presidency.ucsb.edu/documents/executive-order-6102-requiring-gold-coin-gold-bullion-and-gold-certificates-be-delivered)
"History of Presidents on Our Coins," U.S. Mint, July 2006 (https://www.usmint.gov/learn/history/historical-documents/history-of-presidents-on-our-coins)
Kennedy half dollar, KennedyHalfDollars (https://kennedyhalfdollars.net/)