U.S. Mint to Issue 2019-W Lincoln Cents as Bonus to Set Collectors!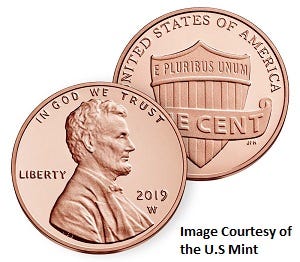 To mark the 110th anniversary of the perennially-popular Lincoln cent, the U.S. Mint is issuing the first pennies that carry a "W" Mint mark, indicating that they were struck at the iconic West Point Mint. However, the 2019-W pennies will not be the first ones ever struck at the West Point Mint, since business strike cents were produced there from 1974 to 1986 to supplement production of the coin at the Philadelphia Mint at a time when billions were being struck each year. Those cents made in Philadelphia did not have a Mint mark, which is an important difference for collectors. 
An Intriguing Trend
There will be three 2019 numismatic products that include versions of the 2019-W cent, including a standard proof coin that will be included separately along with the 2019 Proof set "in a clear United States Mint" plastic wrap. A reverse proof 2019-W penny will be part of the 2019 Silver Proof set – also in separate packaging from the rest of the set -- and will also be the second ever reverse proof cent after the 2018-S cent that was part of the 2018-S San Francisco Mint 50th Anniversary Reverse Proof set. The cent will feature the inconic "W" Mint mark and will boast a lovely reverse proof finish. Finally, the 2019 Uncirculated Mint set will include a 21st coin beyond the usual 20 coins, an uncirculated version of the Lincoln Cent bearing the "W" Mint mark.
Lincoln cents -- the most popular classic U.S. coin of the 20th century that is still issued today – are ones that generations of U.S. coin enthusiasts have collected to one degree or another.  Even if you are not a specialist in the series, you probably have plenty of them in your proof and mint set collections, your type set of U.S. coins, die variety collection, or even in your pocket!
History of Lincoln cent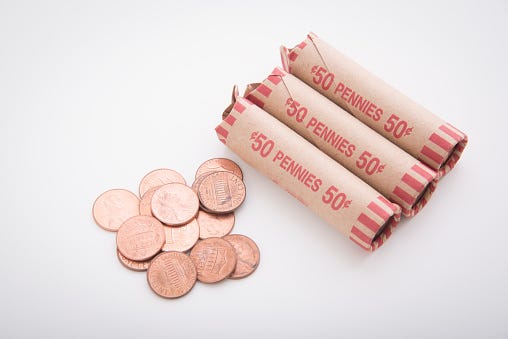 The Lincoln cent was designed by renowned sculptor Victor David Brenner to celebrate the 100th anniversary of the birth of Abraham Lincoln – arguably our most popular president – in 1809. They were created at the request of President Theodore Roosevelt as part of his historic early-20th century renaissance of American coinage. It was this period that produced the most beloved and widely collected coins of the century such as the Buffalo nickel, Winged Liberty dime, Standing Liberty quarter and Walking Liberty half dollar.
Cents have been produced at the mints in Philadelphia and San Francisco since the first year of issuance in 1909 and since 1911 at the Denver Mint. The coins produced at the Philadelphia Mint, unlike those from the Denver and San Francisco Mints, have not carried a Mint mark with the sole exception of the 2017-P coin that was issued to mark the 225th anniversary of the United States Mint that year. The Mint did not announce that coin in advance, and collectors started finding them in change early in the year. That coin was also included in the 2017 Uncirculated Mint set.
The widespread appeal and enormous popularity of Lincoln cents has a lot to do with the popularity of the slain president, who was assassinated on April 14, 1865 in Ford's Theater in Washington, DC. Plus, it is the first coin that many people collected, frequently starting out while they were children, and often led them to collect other coins and become more involved in the hobby.
Anyone can start building a basic set from circulation, especially of the coins issued since 1959 when the reverse side was changed from Brenner's design of two wheat stalks surrounding the denomination and country inscription, to Frank Gasparro's reverse of the Lincoln memorial. That reverse continued to be used until 2009, when one-year only special coins were issued to mark Lincoln's 200th birthday. Those coins feature a reverse with a Union shield and four different obverses that focus on different periods in Lincoln's life (his birth in a log cabin, his formative years in Indiana, his professional life in Illinois as a young lawyer, and his presidency).  Since then the Union shield has remained on the reverse.   
Lincoln cents were made from 95% copper and 5% zinc until 1982, except for 1943, when zinc-plated steel cents were issued because copper was in short supply and needed for American efforts in World War II. Since 1982 they have been made of 97.5% zinc and just 2.5% copper.
A Collector's Cent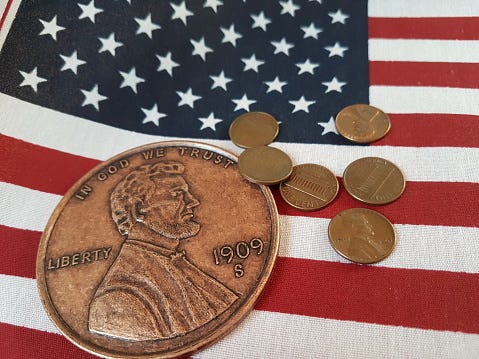 The 2019-W pennies are a special treat for collectors as the first coins of the series that carry the "W' Mint mark and the first produced there in over 30 years. The Mint has not announced if this will be a one-year only issue, or if it will become a regular issue. So far, the 2019-W proof Lincoln set, released in the U.S Proof set, as well as the 2019-W reverse proof Lincoln cent, released in the Silver Proof set issued on 4/17, have been released to the fanfare of Numismatic enthusiasts. 
For those who collect graded coins, NGC will be offering a special attribution and label for 2019-W Lincoln cents submitted for grading.
Collectors who post on coin forums have noted that they are intrigued by the special penny and that its inclusion in 2019 annual coin sets may likely increase sales of those products. The new pennies will be needed by Lincoln Cent enthusiasts who are building complete sets. These first ever penny releases should also help stimulate more interest in collecting U.S. coins.
Sources
Paul Gilkes, "West Point striking here special 2019-W Lincoln cents, Coin World, Feb. 25, 2019
"NGC celebrates first 2019-W cent," www.ngc.com
Joshua McMorrow-Hernandez, "2019-W Proof Lincoln Cent Excites Collectors," Greysheet blog, Feb. 28, 2019