A First-Ever Numismatic Collaboration: 2019 Pride of Two Nations 2-Coin Set
By Louis Golino
This year American coin collectors will be able to celebrate July 4 – the day of American independence – with a new, limited-edition two-coin set that will be released the day before.  Canadians will also have a great way to mark Canada Day -- the July 1 holiday that used to be called Dominion Day. That is when the country became a self-governing dominion of Great Britain and a federation of four provinces: Nova Scotia, New Brunswick, Ontario and Quebec.
Called Pride of Two Nations, the set is the first-ever joint numismatic release between the United States Mint and the Royal Canadian Mint. It will commemorate their legacy of close relations and longstanding friendship as well as the rich history of both nations with a set that will include the first-ever enhanced Reverse Proof American Silver Eagle and first-ever Silver Maple Leaf with a Modified Proof finish.
The U.S. Mint has set a mintage and product limit of 100,000 sets and a household limit of 5 sets, while the RCM will sell up to 10,000 additional sets. This will also be the first set to include a bilingual Certificate of Authenticity with text in English and French and will be packaged in a blue leatherette presentation case that includes a colorful depiction of the flags of both countries.
The $1 silver eagle will be struck at the West Point Mint and carry a "W" mint mark, while the $5 Maple Leaf will be produced at the Ottawa Mint and will not feature a mint mark. The reverse of the Canadian coin uses the original maple leaf design created by Walter Ott along with a background with radial lines and a pattern of stars and maple leaves on the perimeter. The obverse of that coin will feature the Susana Blunt effigy of Queen Elizabeth II also with the radial line background and border of stars and maple leaves. This coin is the first to use those design elements along the perimeter. 
Why so special?
A First-Ever Finish-American Silver Eagle
Collectors are excited about this unique product for several reasons. First, it has been six years since a silver eagle with a new finish has been issued (that was when the enhanced uncirculated coin appeared in 2013 as part of West Point anniversary set) or since any special silver eagle set was released.
Many are curious as to what exactly an enhanced Reverse Proof coin is. The finish, which has only been used one other time on the 2019-S Kennedy half dollar that is part of Apollo 11 50th anniversary half dollar set, combines the finish of Reverse Proof coins which have mirrored design devices and a frosted background (the opposite of a regular proof) with the varying degrees of laser frosting of an enhanced coin. This results in parts of the design such as the folds in Liberty's gown having different finishes and creates a distinctive appearance that collectors will enjoy.
It is also worth remembering that apart from the regular bullion coins and the burnished uncirculated pieces with a "W" mint mark issued since 2006, there are not very many coins in the series with special finishes – just four Reverse Proofs and one enhanced uncirculated coin. That means this will be only the 6th coin with a special finish in a series that from 1986 to present has a total of 90 coins, including the forthcoming 2019-S Proof, or 91 with the 2008-W Reverse of 2007 coin (which has an estimated mintage of about 47,000 coins).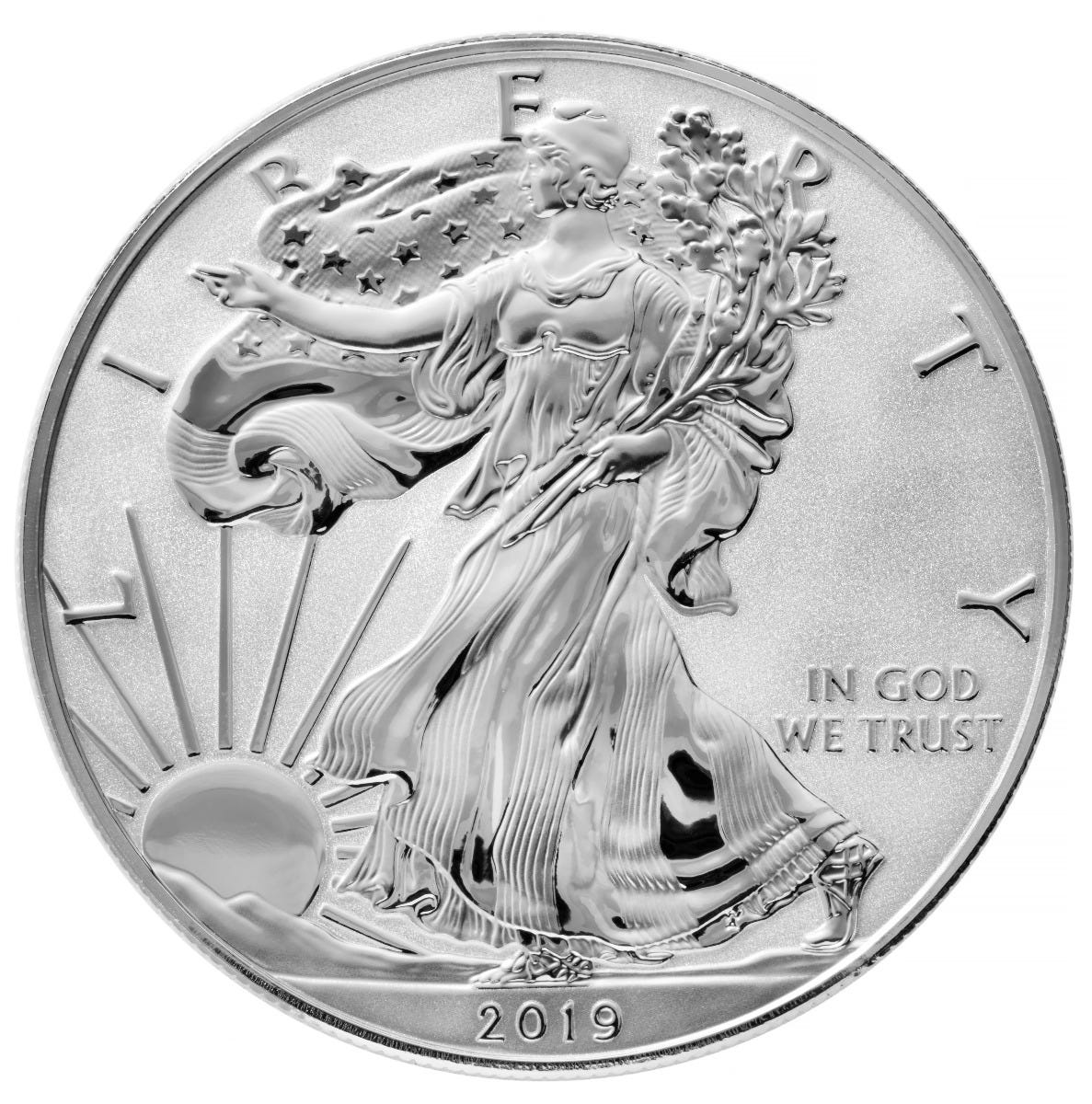 Second, the new silver eagle will become the 4th-lowest mintage coin of the series with a mintage of 110,000 coins. That is only 10,118 more than the two coins tied as third-lowest mintage coins, the 2011-P Reverse Proof and 2011-S burnished uncirculated coin, which were part of the 25th anniversary American Silver Eagle set and both have mintages of 99,882 coins. Both of those issues continue to command a solid premium over issue price, especially in examples graded 70.
The key date of the series is the 1995-W Proof, while the second lowest is the 2008-W Reverse of 2007 burnished uncirculated issue.
Just consider the frenzy two years ago over the 2017-S Proof silver eagle to put things in context. That coin was first offered in that year's congratulations set and then later in the 2017 Limited Edition Silver Proof set. It was exciting as the first Proof issued at the San Francisco Mint in many years and as a lower-mintage eagle but did not have either a new finish or a mintage as low as the eagle being issued in the new set.
Third, while a modern coin with a mintage of 110,000 is not low for some series such as modern commemoratives, for a silver eagle it is, especially since millions of collectors (including many in foreign countries) are building sets of the most popular and widely traded modern silver coin in the world.
A First-Ever Finish-Canadian Silver Maple Leaf
Plus, the Silver Maple Leaf is the second best-selling silver bullion coin in the world that is also widely collected as a numismatic coin too. The Royal Canadian Mint normally issues either regular bullion coins, Reverse Proofs, or coins with special features such as the recent incuse issues and has never issued one with a Modified Proof finish.
In response to an inquiry, the Royal Canadian Mint said of the new finish: "The textbook definition of a Proof finish consists of a frosted central motif, with frosted inscriptions over a mirror field. This is the way we strike our annual Proof Silver Dollar for example [sold in annual Proof sets].  In the Pride of Two Nations Limited Edition Two-Coin Set, our inscriptions have the same natural shine as the field instead of a frosted appearance, creating a coin with a modified proof finish."
Out of millions of collectors for both iconic coin series, only a small fraction less than 110,000 (since many buyers will purchase more than one) will be able to have a complete set.
Collaborating with World Mints
In addition, the Pride of Two Nations set is the second collaborative program involving the U.S. Mint and a foreign mint with the first being the two-coin set recently issued with the Royal Australian Mint that is about to hit the market. Other coins and sets issued in conjunction with foreign mints are coming too, including a set with the Royal Mint in 2020 as part of the celebration of the 400th anniversary of the Mayflower landing and others that may include sets with coins from the mints of Italy, Spain and the Vatican and others.
This new chapter in US-world mint projects is an initiative of current U.S. Mint Director David J. Ryder, who previously worked with a firm that helped the Royal Mint develop anti-counterfeiting measures for its coins and who has travelled the world extensively.
The Pride of Two Nations is an elegant collectible numismatic product that collectors will enjoy for years. While there are no guarantees in life or numismatics, it also has very good potential for a quick sellout. This release is one you will want to keep a close eye on.
Sources:
A Guide Book of United States Coins 2020 (Whitman, 2019)
 GovMint.com® is a retail distributor of coin and currency issues and is not affiliated with the U.S. government. The collectible coin market is unregulated, highly speculative and involves risk.  GOVMINT.COM MAKES NO WARRANTIES, REPRESENTATIONS, OR PROMISES AS TO ITS PRODUCTS EXCEPT THOSE SET FORTH IN ITS TERMS AND CONDITIONS, AND NO IMPLIED WARRANTIES OF MERCHANTABILITY OR FITNESS ARE MADE. Prices, facts, figures and populations deemed accurate as of the date of publication but may change significantly over time.   © 2019 GovMint.com. All rights reserved.
Copyright 2020 GovMint. All Rights Reserved. GovMint.com does not sell coins and numismatics as investments, but rather as collectibles. Please review GovMint's Terms and Conditions, Terms of Use and Privacy Policy before using this website and prior to purchasing from GovMint. All website content is for reference use only and does not constitute investment, legal or financial advice. We encourage the sharing and linking of our information but reproduction of our news and articles without express permission is prohibited. Instead of reproducing, please provide the link to the original article or use the share buttons provided.