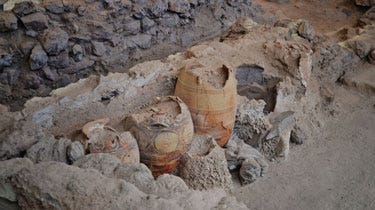 Buried Coins May Reveal a Hidden History
As the old saying goes, dead men tell no tales. The same cannot be said of coins, especially those discovered from places and times, about which, relatively little is known. In fact, a pot of coins found recently during excavations near Vianen, Netherlands may tell researchers more about the area during the time period from which they date than is otherwise known.
The Dutch city of Hagestein suffered a siege and ultimately fell in 1405. As is often the case with such circumstances, historians know relatively little about the city during the century that followed. Recently, however, waterworks employees came across a red-baked earthenware pot that was full of textiles and a hoard of approximately 500 coins, twelve of which were gold and the rest were silver. Now, researchers are pouring over the pieces in hopes of learning more about them, why they were stored that way and what that might tell them about the area during that period.
The coins date mostly to the 1470s and 1480s, roughly in the middle of the Renaissance. They illustrate a strong Catholic influence over the area at the time. Among the many coins are pieces that feature a pair of Catholic leaders, Pope Paul II and David of Burgundy, the Bishop of Utrecht. Some others depicted Henry VI of England and part of France, one of the last Catholic monarchs to rule over England before the divorce of Henry VIII in the following century
Peter de Boer, an archaeologist involved in the initial review of the coins on behalf of the Regional Environment Agency Utrecht (ODRU), offered context on just how much the coins may reveal. "Every gentleman gave out his 'business card' by way of a coin, and therefore there is a lot to discover. Stories over power relations, religion and a lot of symbolism." Given that, the fact that so many coins were found together itself could prove a central part of the story, as the large number of coins found in one place indicates that the individual, or perhaps even institution, storing them was well connected and well off.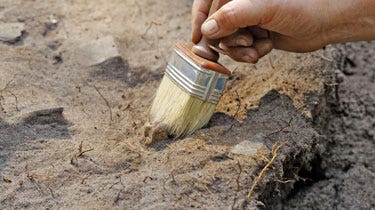 Among the coins found was at least one gold Salut D'or, a coin of Henry VI. The coin is prized by the few collectors who own one, with its design indicating just how strong the power of the Catholic Church remained in England and France at the time, and how shocking the formation of the Church of England would have been. On the obverse, the Angel Gabriel faces the Blessed Mother, who has a halo above her head. The French coat of arms is under Mary complete with three fleurs-de-lis, while a quartered arms with two sections of fleurs-de-lis for France and two sections of the English lions, is under the Angel. The reverse shows a Latin cross with a fleur-de-lis to the left and the English lion to the right.
Another coin of which there is at least one example is a silver piece with an image of an enthroned Pope Paul II. The Pontiff holds a cruciform scepter in his left hand and holds his right hand up in benediction. The reverse features his coat of arms.
While Pope Paul II is often overlooked in studies of history, his legacy continues to have ripple effects to this day. One important part of that was the approval and introduction of printing in the Papal States. This ensured that more people, ordained and lay, had access to books and documents that were previously only available to a handful of people. He also had a reputation for fighting bribery.
David of Burgundy also appeared on several of the coins. One of the most powerful bishops in the world during his tenure, he played a leading role in the First and Second Utrecht Civil Wars. He was also a prominent figure in bringing about long-term stability to the region.
All of the coins that were discovered have already been cleaned. The next step will be having a specialist from De Nederlandsche Bank examine them.
For archaeologists, historians and numismatists, a find like this is a rare treat. Many other finds serve to provide additional information and context about cities, civilizations and time periods that were well known. Far fewer serve as virtual starting points for study, offering first light, rather than new light, on times and places. What stories these coins will tell remains to be seen. What we do know, however, is that they are sure to prove fascinating not only for those who study them but also for anyone else who has an interest in the area. Whatever comes of further investigation, these coins will be prized by those who hold them for centuries to come.