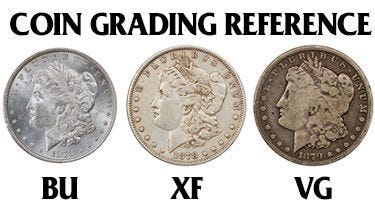 Conditions of Coins
The condition of a coin is the key to its value. As location is to the real estate market, quality is paramount in the coin collecting market. Each step on the grading scale means a more perfect coin.

When attempting to differentiate between Mint State (Uncirculated) and Proof coins, it's important to note that Proofs are specially-made specimens. They are struck with polished dies several times under great pressure. In addition, they are produced on specially-made planchets (blanks). These steps give Proof coins a deep, mirrored surface with razor-sharp edges and imagery. More importantly, Proof coins are not intended for circulation. They are coins struck and packaged specifically for consumers as collectibles.

Coins struck for general circulation are not usually struck using special dies or planchets. While a freshly-minted coin may have the initial appearance of being a Proof issue, closer scrutiny will show that the surfaces lack the mirrored background and sharp strike that Proofs enjoy. And, while general circulation coins are meant to be handled, Proofs should only be handled while wearing gloves to avoid damaging the coin with the oils from your skin.

Essential Elements of the ANA Grading System
Once a coin is determined to be authentic, an accurate grade must be given in order to value the piece properly. What's so important about an accurate determination of a coin's grade? Simple. Depending on the type of coin, minute differences in grade can sometimes mean thousands of dollars difference in a coin's market value. The following are the essential elements of the American Numismatic Association (ANA) grading system:

PROOF - (PF/PR)
A specially made coin distinguished by sharpness of detail and usually with a mirror-like surface. Proof refers to the method of manufacture and is not a condition. Proof coins are struck on specially-made planchets using polished dies. Proof coins are minted primarily for collectors and are not released for general circulation.

MINT STATE
The terms Mint State (MS) and Uncirculated (UNC) are interchangeably used to describe coins showing no trace of wear. Such coins may vary to some degree because of blemishes, toning or slight imperfections as described below.

PERFECT UNCIRCULATED (MS-70)
Perfectly new condition showing no trace of wear. The finest quality possible with no evidence of scratches, handling or contact with other coins. Very few regular-issue coins are ever found in this condition.

GEM UNCIRCULATED (MS-65 to MS69)
An Uncirculated coin with high eye appeal. It may still display light toning and a few contact marks on the surface or rim.

CHOICE UNCIRCULATED (MS-63 to MS64)
An above average Uncirculated coin which may be brilliant or lightly toned and has very few contact marks on the surface or rim.

UNCIRCULATED (MS-60 to MS62)
Has no trace of wear but may show contact marks, and the surface may be spotted or lack some luster.

CHOICE ABOUT UNCIRCULATED (AU-55 TO AU58)
Barest of evidence of light wear on only the highest points of the design. Most of the mint luster remains.

ABOUT UNCIRCULATED (AU-50 TO AU53)
Has trace of light wear on many of the high points. At least half of the mint luster is still present.

CHOICE EXTREMELY FINE (XF-45 or EF-45)
Light overall wear shows on highest points. All design details are still clear. Minor mint luster is evident.

EXTREMELY FINE (XF-40 or EF-40)
Design is lightly worn throughout, but all features are clear and well-defined. Traces of luster may show.

CHOICE VERY FINE (VF-30 to VF-35)
Light, even wear on the surface and highest parts of the design. All lettering and major features are visible though not sharp.

VERY FINE (VF-20 top VF-25)
Shows moderate wear on high points of design. All major details are visible but not sharp.

FINE (F-12 to F-15)
Moderate to considerable even wear. Entire design is still visible, but quite worn.

VERY GOOD (VG-8 to VG-10)
Well worn with main features clear

Professional, Third-Party Grading Companies
There are two primary independent services for grading U.S. coins, The Numismatic Guaranty Corporation of America (NGC) and Professional Coin Grading Service (PCGS). These two services are the most widely accepted in the marketplace. They offer an independent and unbiased judgment as to the condition or grade of each coin. This puts collectors at ease and increases the liquidity of the individual item.