Gold Makes History: All-Time High of $2,000 an Ounce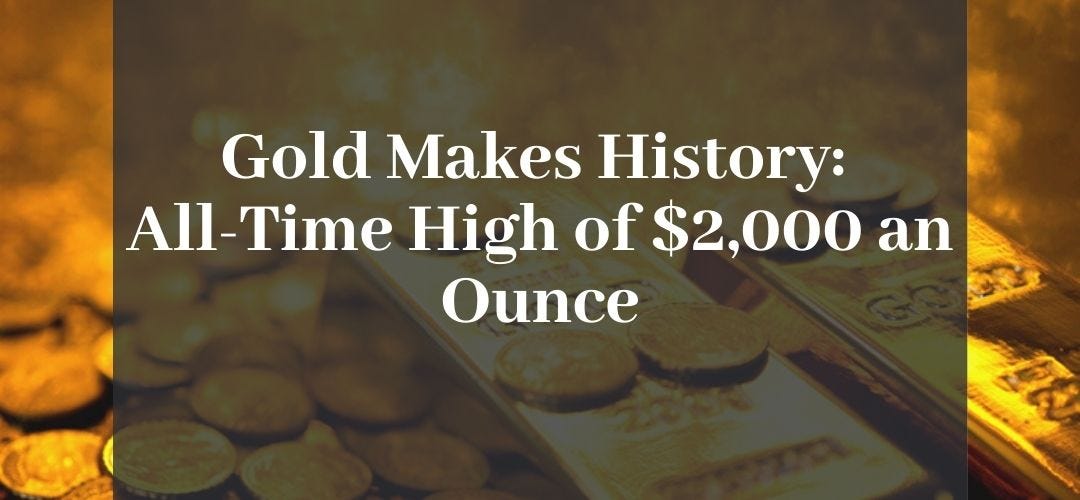 Any information provided on GovMint.com regarding the coin and collectibles industry, or the products the Company sells, whether authored by the Company itself or republished from third-party sources, is for reference use only, and does not constitute the rendering of investment, legal, financial, or professional advice. The retail prices of the products the Company sells are not to be used as a definitive guide to value for a product, nor should any comparable value statement provided in Company communications be construed as an indication that your purchase will perform similarly. The market for collectible coins, metals, and numismatics is highly speculative and involves substantial risk. These risks include, but are not limited to, price volatility, fluctuations in supply and demand, changing grading standards, and fluctuating populations. It is impossible to forecast accurately whether or to what extent these factors (or other factors) will affect market prices.

GovMint.com does not sell coins or numismatics as investments, but rather as collectibles. The Company expresses no opinion regarding the soundness of any collectible coin, metal, or other numismatic product as an investment. You agree and acknowledge that: (a) neither GovMint.com nor any of its employees or representatives acts as your agent or fiduciary; and (b) GovMint.com employees are not licensed investment advisors and are not making any specific recommendations regarding any forms of investment. GovMint.com does not and cannot guarantee that you will be able to sell any products you purchase from the Company for a profit in the future.
Copyright 2020 GovMint. All Rights Reserved. GovMint.com does not sell coins and numismatics as investments, but rather as collectibles. Please review GovMint's Terms and Conditions, Terms of Use and Privacy Policy before using this website and prior to purchasing from GovMint. All website content is for reference use only and does not constitute investment, legal or financial advice. We encourage the sharing and linking of our information but reproduction of our news and articles without express permission is prohibited. Instead of reproducing, please provide the link to the original article or use the share buttons provided.