Platinum and Palladium Prices in 2018 So Far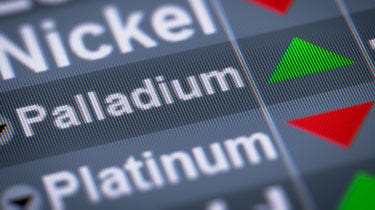 Platinum and Palladium Prices in 2018 So Far
In the precious metals market, many of us tend to focus solely on gold and silver. While the majority of us are aware of platinum and palladium, there are far fewer products on the market made from these metals. The result of this is that we don't pay as much attention to them.
The American Platinum Eagle is an excellent example. These coins are primarily seen as something that's of interest to collectors as opposed to something for bullion stackers. Remember that these coins were introduced as a bullion series.
However, more platinum and palladium products seem to be making their way to the market. Let's take a look at how these two precious metals have fared in 2018 so far.
Platinum Prices in 2018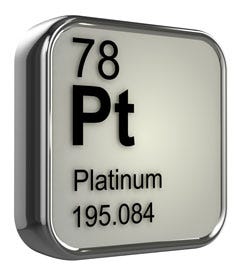 The spot price of platinum on January 1 started at $928. Within the period of time we're examining, it didn't take long for the price to jump. Over the next two weeks or so, the spot price of platinum crossed the $1,000 mark. At the time of this writing, in mid-March, platinum is back around $950 per oz. These figures are still quite far from this metal's all-time high, but that doesn't mean it should be ignored by savvy stackers.
If you aren't familiar with what drives the price of platinum, it has a number of industrial applications. Perhaps its most well-known use is in the auto industry for producing catalytic converters. Far more platinum is purchased by companies for industrial applications than by individuals for luxury and hobby purposes. Basically, the more platinum that is bought by large corporations the higher the spot price goes. While platinum jewelry is more common than it once was, even jewelry only makes up a small percentage of overall platinum use.
Palladium Prices in 2018
Palladium could be considered a cousin of platinum. It is one of the Platinum Group Metals, along with rhodium, platinum, ruthenium, iridium, and osmium. Palladium shares a number of qualities with platinum and is also used for some of the same industrial purposes.
The spot price of palladium in 2018 started at $1,053. By January 15 it was well over $1,100. In fact, it nearly broke $1,130. Like other precious metals the price continues to rise and fall with demand. It actually dropped to about $970 on February 9 and then rose back to about $1,060 by the end of the month. At the time of this writing, palladium is sitting around $991. This is pretty intriguing when you consider that the spot price of palladium was well below $500 about two years ago. This article isn't investment advice, but if you haven't gotten familiar with palladium yet, you might want to start watching it.
U.S. Platinum and Palladium Products
While there aren't an abundance of platinum and palladium products available on the market, there are options. Let's take a look at a few of them.
Of course there is always the American Platinum Eagle. These coins are struck by the U.S. Mint and have been in production since 1997. Like the majority of platinum products on the market, they sport a fineness of .9995. The standard bullion Platinum Eagle was struck in 4 sizes, but the last time fractional sizes were offered for this version was 10 years ago. The 1 oz. Platinum Eagle is reasonably easy to find if you're on the hunt for one.
In 2017 we saw the introduction of the American Palladium Eagle. These are 1 oz. coins made of .9995 fine palladium. They didn't last long at the Mint. There were only 15,000 of these struck and they were quickly snagged by collectors. Currently, the only Palladium Eagle on the U.S. Mint's product schedule for 2018 is a proof version.
The U.S. Mint doesn't offer a wide variety of platinum or palladium coins. However, other options are struck by Mints around the world. The Royal Canadian Mint is a good example and there's no question about the quality of their coins and bullion.
Other Platinum and Palladium Products
The Platinum Maple Leaf is offered by Canada, it has the same weight and purity as the American Platinum Eagle. These coins have a longer history, they were first struck in 1988. The other Maple Leaf bullion coins are already well-known around the world. The platinum version brings the same level of quality we have come to expect from its counterparts and can often be found with a reasonable premium. Palladium Maple Leaf coins were struck for a short time as well, they are no longer in production.
Before we move on to products from private Mints, Australia is worth noting as well. Platinum Koalas and Palladium Emus can still be found with a bit of effort. Additionally, the British Royal Mint is striking Britannias in platinum for the first time in 2018. A 1/10 oz. version is being produced if you're looking for something small to start with.
Many of the platinum and palladium bullion products on the market are bars. These bars are struck by private Mints such as PAMP Suisse and Valcambi. Typically these are standard 1 oz. bars with the same purity that you would see in a sovereign bullion coin. In this case, that's .9995. Bars from Johnson Matthey and Engelhard can be found, but they aren't as readily available as those from the private Swiss Mints.
Conclusion
The use of platinum and palladium in industrial applications is among the largest factors that drive the price of these metals. The first few months of 2018 have been interesting for these precious metals. If you haven't been watching, you should start checking in on platinum and palladium prices.
There aren't a huge number of options on the market if you want to own these precious metals, but there are enough. The most readily available platinum and palladium products are being struck by private Mints as well as the Royal Canadian Mint. Remember to keep an eye out for the 2018 Platinum Britannia as well. They're one of the few platinum coins with a fractional option available. So, keep an eye on platinum and palladium prices and see what appeals to you.
Copyright 2020 GovMint. All Rights Reserved. GovMint.com does not sell coins and numismatics as investments, but rather as collectibles. Please review GovMint's Terms and Conditions, Terms of Use and Privacy Policy before using this website and prior to purchasing from GovMint. All website content is for reference use only and does not constitute investment, legal or financial advice. We encourage the sharing and linking of our information but reproduction of our news and articles without express permission is prohibited. Instead of reproducing, please provide the link to the original article or use the share buttons provided.