Should I Collect Vintage or Modern Coins?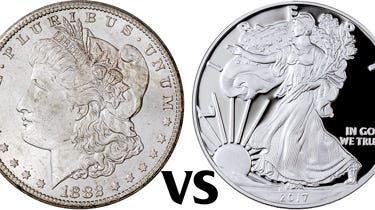 One of the most common questions I'm asked by new collectors is, "What should I collect?" People tell me they've developed an interest in numismatics, but they're not sure how to get started.
So Many Options for Collectors
Choosing an area of interest can be quite difficult for some. The great thing about coin collecting is that numismatics can fit just about any budget. Kids can find coins of interest in circulation, while the billionaire can pursue the rarest of the rare issues.
The biggest danger is that once you get started collecting a series or issues, it can be quite compulsive. The thrill of the search is usually more important than the destination—a complete set!
Modern Issues for the Modern Numismatist
Many new collectors are drawn to modern issues. Perhaps an advertisement by the U.S. Mint sparked interest, or a new State Quarter from your home state ignited your collecting instincts.
Every year, the U.S. Mint strikes a parade of new coins. Some are long-term series and incredibly popular, such as the Silver Eagles, which were first struck in 1986. Thousands collect the American Silver Eagles by date, often with an emphasis on quality. The First Strike, Early Releases, and First Releases American Silver Eagles in MS69 and MS70 are probably one of the most sought-after modern numismatic issues.
The State Quarter program that first launched in 1999 was probably the most successful numismatic issues of all time. Millions of Americans discovered coin collecting as a result of the State Quarter program, and have moved on to more advanced areas of the market. World Mints also produce an interesting array of issues every year. Coins from China, Australia, England, South Africa, and many others are highly sought-after by collectors around the world.
Classic Issues for Vintage Collectors
One of the important reasons modern coins have become so popular is their availability. This may seem at odds in a field where scarcity is so desired. Remember, demand is one of the biggest contributing factors to a coin's value. Assembling a set of modern-issue coins can be doable for many series. Vintage issues, while wonderful in their own right, can be almost impossible to complete in Gem condition. Many issues, such as some date Liberty Half Eagles (1838-1907) do not even exist in Mint condition.
Over the years, I have had many clients who start by collecting a series only to give up when they could only locate a coin they needed every six months or more. The need to collect must be met to fuel continued interest. If you prefer vintage issues, be sure to be realistic with your collecting goals.
Often the debate of what to collect is based on budget. One of the soundest pieces of advice ever given in collecting (regardless of the field) is to purchase the best quality you can afford. This works with oil paintings, antique cars, pocket watches, Barbie dolls—you name it.
In the long run, quality will always be desired and in demand. If you can afford a Choice set of Indian Head 1908-1929 costing $50,000 or more, you will most certainly be rewarded. For smaller budgets, a complete set of a recent Mint issue might be of greater interest. Remember, everything was a modern issue at one time!
The desirability of many scarce coins is based on their history and interesting stories attached to them. Many very interesting and rare coins have been produced in the late 20th century.
The number-one coin on the list has yet to be determined, but one candidate is the 1969-S Double Die Lincoln Cent. The obverse exhibits strong doubling and the issue is very rare, with some examples having sold in excess of $100,000. One of the most exciting elements of the 1969-S Double Die is that two examples have been found in the last two years in uncirculated rolls of 1969-SLincolnCents.
Image the excitement of finding a $100,000 coin in roll of coins that cost five dollars!