The "Hand of God" Roman Bronze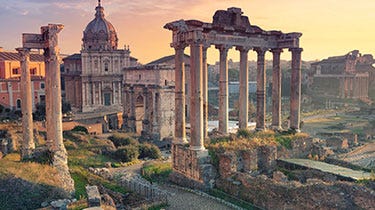 Among all the ancient coins of the Roman Empire, there is one legendary bronze that literally bears "the Hand of God." That's right, when Emperor Constantine the Great died in 337 AD, his sons decreed that posthumous bronze coins be struck that clearly depict Constantine being flown up to heaven in a Roman chariot called a Quadriga. The Quadriga was a chariot drawn by four animals, usually horses, which was the customary vehicle for triumphant processions to honor the victorious, as well as being used in the funeral ceremony of an Emperor's consecration.
The Story Behind God's Hand
On this particular bronze of Constantine the Great, however, the truly amazing thing is that the right hand of God, Himself, is shown descending from heaven to welcome the great Emperor home! This is significant in that it represents the first depiction of the Christian God on a Roman coin. Known examples of this amazing coin bear dates from 337 – 340 BC. The obverse of this coin contains the veiled head portrait of the deified Emperor Constantine.
Now over 1,600 years old, this "Hand of God" Roman bronze coin of Constantine the Great is an ancient heirloom that can be found in museum archives and some private collections around the world.
Copyright 2020 GovMint. All Rights Reserved. GovMint.com does not sell coins and numismatics as investments, but rather as collectibles. Please review GovMint's Terms and Conditions, Terms of Use and Privacy Policy before using this website and prior to purchasing from GovMint. All website content is for reference use only and does not constitute investment, legal or financial advice. We encourage the sharing and linking of our information but reproduction of our news and articles without express permission is prohibited. Instead of reproducing, please provide the link to the original article or use the share buttons provided.