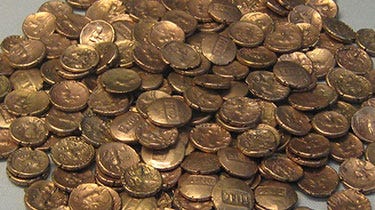 For most people, the term "hoard" infers a large quantity of something a person has gathered over a long period of time. Often, what the "hoarder" is passionate about is a valued collectible.
In the world of numismatics, hoards can take on many forms. It may be a shoebox full of 19th century currency notes, rolls of $10 gold pieces or 1,000-piece bags of vintage silver dollars. Many times the stories behind the hoards are even more exciting than the collectibles themselves. Consider two of the great Silver Dollars hoards of the last 50 years:
Redfield Silver Dollar Hoard
LeVere Redfield was a shrewd (and stingy) investor who amassed between 500,000 and 600,000 vintage silver dollars by the 1970s. After his death, they were discovered hidden behind a wall in his basement!
Binion Silver Dollar Hoard
Ted Binion, a Las Vegas casino tycoon and playboy, was found dead in his Nevada mansion in 1998. In the wake of his death, authorities discovered a 12-foot deep hidden vault in the desert that Binion used to house over six tons of silver bullion. Among the bullion were more than 100,000 vintage silver dollars.
Today, coins from these hoards are prized by collectors not only for their quality, but also for the personalities and lifestyles of the men who amassed them. Because of this, coins which bear a certified hoard pedigree are among the most highly sought after.
McClaren Silver Dollar Collection
A few years ago, GovMint.com was offered another exciting silver dollar hoard, a hoard as unique in flavor and size as those of Redfield or Binion. It's called The McClaren Collection. Hoard owner Gerald "Jerry" Forsythe is a spirited Midwestern entrepreneur whose investment portfolio has included everything from power plants and farmland to wine vineyards and automotive racing teams. But Jerry also collected coins - a lot of them!
Over the past 30 years, Jerry amassed hoards that include tens of thousands of Buffalo nickels, Walking Liberty half dollars, and vintage silver dollars, to name a few. He made his pristine, mint-fresh Morgan and Peace Dollars available to First Federal. It's the latter that he recently made available to First Federal: pristine, mint-fresh Morgan and Peace dollars. His McClaren Collection pedigree (a name derived from his Mercedes SLR McLaren super sports car) adorns the PCGS label for each coin. Like those of other great hoards, this pedigree does more than substantiate ties to an important numismatic release. It also serves as the title to a collector's story, a story as rich and colorful as the coins themselves.
It's these stories that make coins from hoards such as the McClaren Collection so exciting to today's collectors. Collectors always enjoy sharing the tale of an exciting "acquisition" with a friend or family member.
To learn more about the McClaren Silver Dollar Collection, please call 1-888-324-2089.