Trump and Biden Coins Mark the 2020 Presidential Election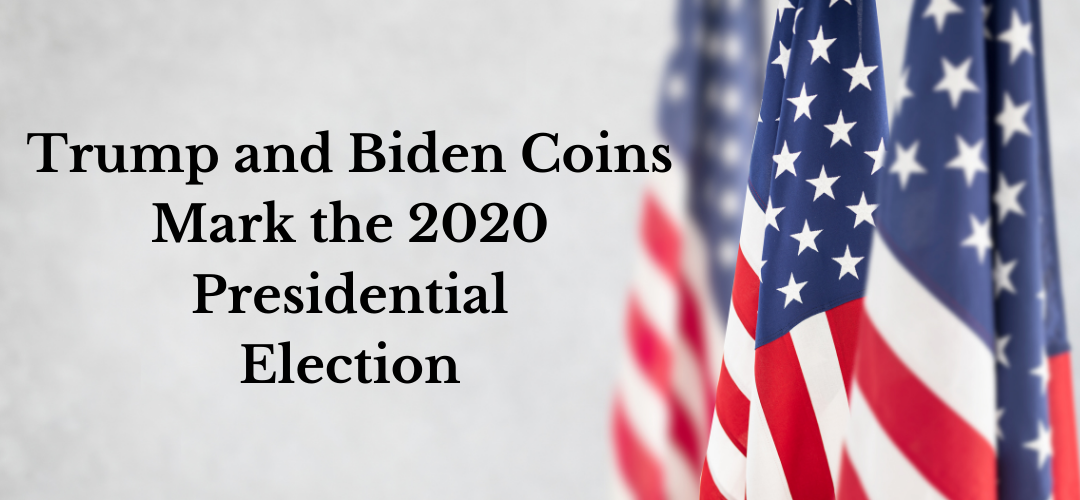 Mark the 2020 Presidential Election with Trump and Biden Coins and Rounds
The 2020 election is shaping up to a significant moment in American history. Americans will choose not only their President for the next four years but also who will control both houses of Congress. For all the down-ballot action, the Presidential race, as usual, takes center stage. Incumbent President Donald Trump faces Democratic former Vice President Joe Biden in a contrast of styles and politics.
Fortunately for collectors, options abound for those looking for ways to mark and remember this once in a lifetime election.
Presidential "Flip Coins" featuring Donald Trump and Joe Biden

The largest of the bunch is a 5 oz Silver Presidential "Flip Coin." Technically a round since it is not government-issued, this piece plays upon the tradition of flipping a coin before a game begins.
Each "Flip Coin" features President Trump and former Vice President Biden. The men look off into the distance on opposite faces of the issue. Each candidate's name, "JOE BIDEN," and "DONALD TRUMP," is inscribed above his respective image. "2020" and "5 OZ. .999 SILVER" are also inscribed along the rim on both faces.
These "flip coins" are the perfect choice to commemorate a lively election year, the outcome of which may go either way. Heads or tails, Biden, or Trump? This product is available exclusively from MCM and its partners.
1 oz. silver Presidential "Flip Coins" boasting a symbolic mintage of 2,020 are also waiting to be added to your collection!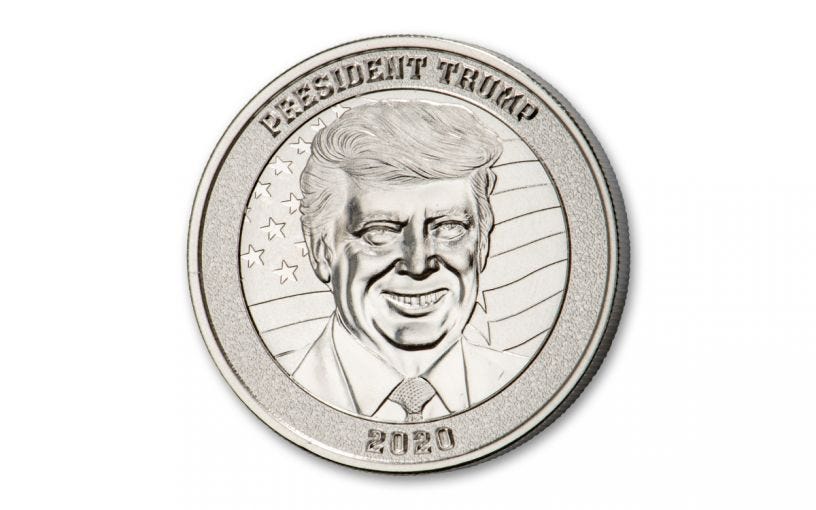 Donald Trump Acquittal Medals
Before the coronavirus shut the world down in March, President Donald Trump became the third President of the United States to be undergo impeachment proceedings.
Republicans argued that the President was conducting business as usual. Democrats said that he abused the authority of his office. All can agree, though, that a President being impeached for just the third time in American history was significant. Ultimately, the President was acquitted of all charges, and accordingly, a medal was issued to mark the occasion.
Each Acquital Medal was struck from 1 oz of .999 fine silver, and just 10,000 were minted. On the obverse is a portrait of President Donald Trump against an American flag backdrop. "PRESIDENT TRUMP" and "2020" are inscribed on the rim frame. An eagle spreads its wings and flies high in the sky on the reverse. Inscriptions include "1 OZ. .999 FINE SILVER," "45TH PRESIDENT OF THE UNITED STATES," "ACQUITTED," and "EXONERATED."
Donald Trump 24 Karat Gold Playing Cards
Donald Trump was famous, among other things, for his many business ventures before becoming President. Those ventures included owning and operating several casinos.
This deck of Donald Trump Playing Cards consists of durably constructed cards. Each deck comes in an acrylic box that features a colorful picture of the President. That picture also appears on each card.
The cards are 24-karat gold foil and make an ideal gift for any Trump supporter. The deck consists of 52 cards plus two jokers. They are the standard size or playing cards, 2 1/2" x 3 1/2," and will arrive in mirror-like Uncirculated condition.
Silver Eagles with Trump and Biden Labels
What collection of patriotic offerings would be complete without the historic American Silver Eagle? Since 1986, Silver Eagles have taken American pride to the world in stunning beauty. This beloved bullion coin features Adolph Weinman's iconic Walking Liberty design on the obverse and an adaptation of the Great Seal of the United States on the reverse.
While the coin's designs have not significantly changed since their debut in 1986 – something set to change at some point in 2021 – some of the 2020 issues have been encased with labels celebrating the presidential candidates.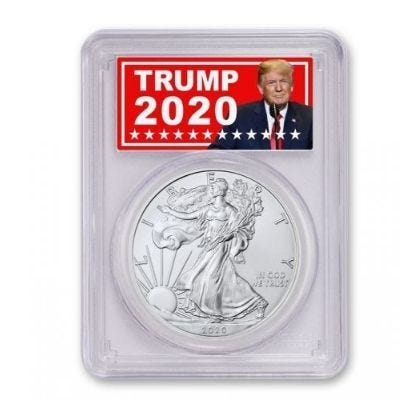 For the incumbent, third-party certified Silver Eagles have been placed in white cores and paired with colorful Trump 2020 labels. These certification labels are red, include the phrase, "Trump 2020", twelve stars, and a picture of the President.
The Democratic nominee, former Vice President Joe Biden's certification label parallels the Trump label. Joe Biden is depicted on a blue label and twelve stars and the phrase "Biden 2020."
These Trump and Biden-themed certification labels allow you to represent the 2020 election in your collection!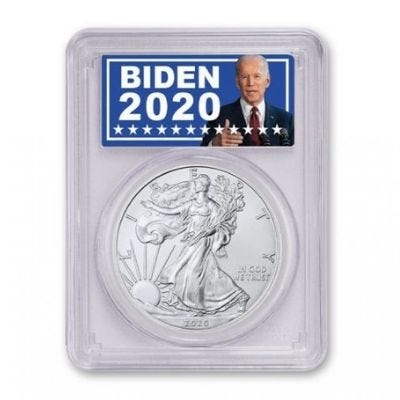 Americans have already begun making their historic choice. Will America – and the world – be led by the same man who has guided us through the past four years, or will the country choose a new course? Either way, many patriotic collectors may want at least one piece in their collection to mark this pivotal event in American history.
Copyright 2020 GovMint. All Rights Reserved. GovMint.com does not sell coins and numismatics as investments, but rather as collectibles. Please review GovMint's Terms and Conditions, Terms of Use and Privacy Policy before using this website and prior to purchasing from GovMint. All website content is for reference use only and does not constitute investment, legal or financial advice. We encourage the sharing and linking of our information but reproduction of our news and articles without express permission is prohibited. Instead of reproducing, please provide the link to the original article or use the share buttons provided.