Unique Silver Bars and Silver Rounds to Grow Your Collection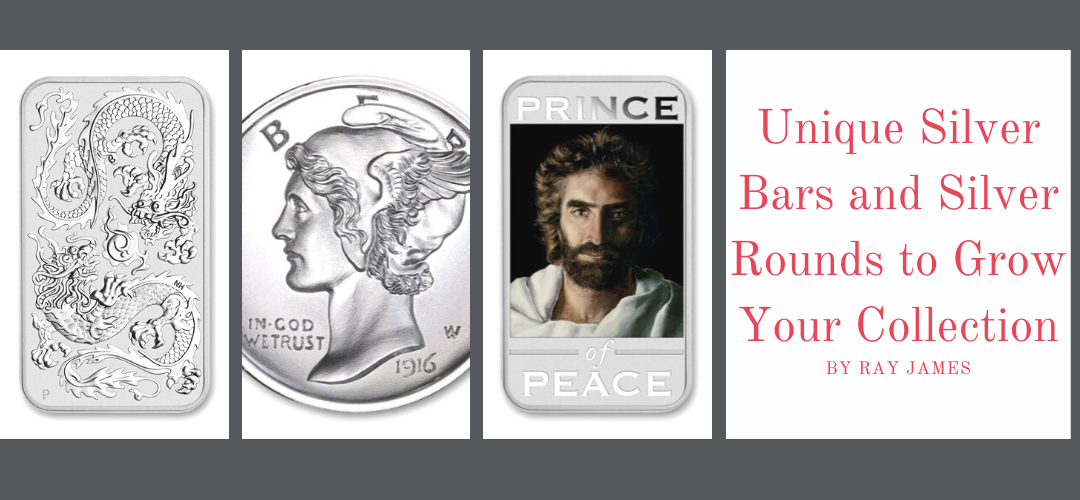 The most exceptional and noteworthy collections and silver bullion stacks have a unifying theme or concept that captures the imagination or tells a story or at least part of one. Here, we highlight some of the unique silver rounds and bars we have in our inventory, as well as a few different strategies for growing your collection or building your stack.
Classic Designs Envisioned as Unique Rounds
A great way to celebrate unique silver bullion rounds is to honor the past by including the iconic Numismatic designs from yesteryear. The 2 oz. American Coin Treasures series does just that, int the form of .999 fine silver bullion.
2 oz. Silver American Coin Treasures Buffalo Nickel
It is fair to say that the humble Buffalo Nickel is an American Icon of numismatic design. It was brought to fruition by artist James Earle Fraser. This design has inspired generations of coin collectors. The obverse of the issue features the composite image of three different Native American models. The reverse features the image of Black Diamond, the famous bison-in-residence from the NYC Zoo in 1913. The design has been issued on the highly collectible American Gold Buffalo series and the sought after 2001 Smithsonian National Museum of the American Indian Silver Dollar issues from the United States Mint.
Now you can bring this classic design home in the form of a 2 oz. .999 fine replica that has never circulated!
2 oz. Silver American Coin Treasures Mercury Dime
Equally iconic is the fabled "Mercury" or Winged Liberty Head dime, which was designed by Adolph A. Weinman. This timeless design is another that launched a passion for coins among countless collectors, young and old. The obverse of the coin features the portrait of Lady Liberty wearing a winged Phrygian or "liberty" cap. The wings represent freedom of thought, according to Weinman himself. The reverse features a fasces, an ax with bound rods for a handle. This symbol reminds us that we are stronger together.
This classic American coin design is also available as an American Coin Treasures replica round, allowing you to bring both the iconic design and 2 ounces of .999 fine silver home to your collection.
2 oz. Silver American Coin Treasures Walking Liberty Half Dollar
Mr. Weinman's other contribution to iconic American Numismatic designs is the Walking Liberty half dollar, which is also availble as a 2 oz. silver round. This coin is widely regarded as the most beautiful silver design ever struck in the United States. Liberty is featured sharing symbols of strength and prosperity as she steadfastly traverses rough terrain. This obverse is struck on the American Silver Eagle series. The reverse features an American Bald Eagle is he is about to take flight from a rocky outcrop. This design is rarely seen on issues larger than the original half dollar.
Shop our American Coin Treasures 2 oz. Walking Liberty Half Dollar Tribute round here.
Unique Silver Rounds and Bars from World Mints
Another brilliant collection idea is to celebrate a country or a specific mint. In addition to annual bullion releases, when you shop by mint, you can sometimes come across intriguing pieces you were not aware of before. The Perth Mint in Australia, for example, has a long tradition of striking some of the most beautiful, innovative and sought-after issues and series in the world today. The two 1 oz silver bars mentioned here are rectangular, legal tender coins, that would be interesting conversation pieces for any collection.
2020 Australia 1 oz. Silver Dragon Bar
The 2020 Australia 1 oz. silver dragon bar is struck in .9999 pure silver by the Perth Mint. It features the Jody Clark "Fifth Portrait" of Queen Elizabeth II on the obverse. The reverse celebrates an icon of Chinese culture: the Dragon. Dragons are often depicted in pursuit of a flaming pearl as these two dragons are. The pearl represents wisdom or energy. The dragon is one of the stars of the Chinese Lunar Calendar, which is the subject of one of the Perth Mint's worldwide success stories.
In addition to its exceptional design, this piece is particularly intriguing because while it is a "bar" in shape and name, it is also technically a coin that carries a face value of $1AUS.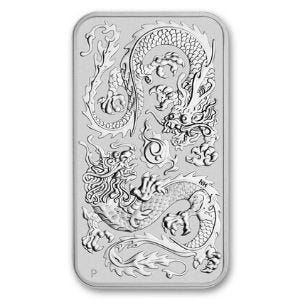 2019 Akiane Prince of Peace Bar
One of the more unique silver bars is the 2019 Akiane Prince of Peace bar. It features the Ian Rank-Broadley "Fourth Portrait of Queen Elizabeth II on the obverse. The reverse features the portrait of Jesus, as realized by child prodigy Akiane Kramarik in her famous painting titled Prince of Peace, that she created when she was just eight years old. A moving piece that reveals Kramarik's unbelievable talent, the image has been painstakingly recreated on 1 oz. of .9999 fine silver. Like the Dragon bar above, this is a legal tender coin that carries a face value of $1 in Tuvalu, the country of issue.
This spectacular piece celebrates Faith and would be a fantastic addition to any collection or as a pocket piece. For further reading on the artist, Akiane Kramarik, and her groundbreaking work, read this Coin Authority article.
Themed Rounds and Bars

Another way to have a noteworthy collection is to collect along a theme. A wide vareity of silver bars and rounds from both private and sovereign Mints are waiting to be added to your collection. So many in fact, it can sometimes be hard to choose which one you want to buy next. Collecting along a theme, be it historical coins, dragon-themed coins, or a particular franchise you love, is one way to build your collection. Some rounds even allow you to celebrate your beliefs and show your gratitude.
American Flag Red Line Themed Bars
For example, we have .999 silver bars made by Silvertowne that have the American Flag represented on one side and the weight and purity noted on the reverse. These quality silver bars feature a Crimson Red Stripe to honor firefighters, who run toward danger as the rest of us have the luxury of departing from it.
Another silver issue that would be a poignant addition to any collection of this nature would be the 1 oz. .999 fine silver 45 caliber bullet which also features a blue line to honor law enforcement.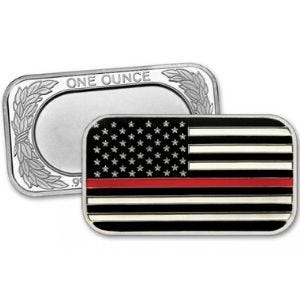 As we buy silver bullion as a store of value, we can also celebrate culture, particular Mints of interest, and history. The key to enjoying your collection is to have it reflect you, the collector, and your interests. Collections and stacks don't have to be limited to a single focal area. These areas of interest may also serve to explain or discuss your collection with loved ones and other collectors.
Copyright 2020 GovMint. All Rights Reserved. GovMint.com does not sell coins and numismatics as investments, but rather as collectibles. Please review GovMint's Terms and Conditions, Terms of Use and Privacy Policy before using this website and prior to purchasing from GovMint. All website content is for reference use only and does not constitute investment, legal or financial advice. We encourage the sharing and linking of our information but reproduction of our news and articles without express permission is prohibited. Instead of reproducing, please provide the link to the original article or use the share buttons provided.