What to Consider When Selling Your Coins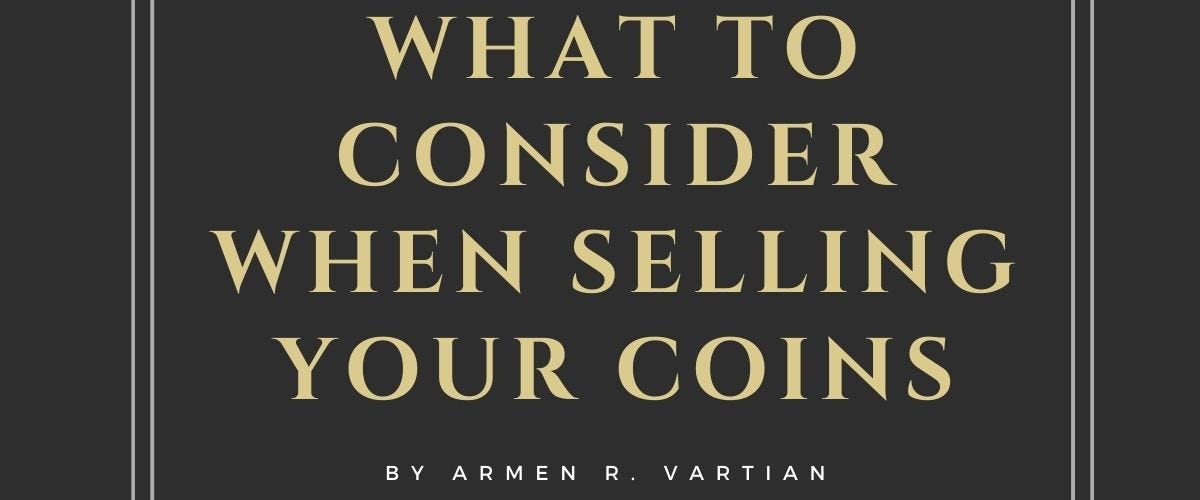 By: Armen R. Vartian[1]
In my over 35 years representing coin collectors, I'm often approached by a collector asking how to sell his or her collection. There's no one-size-fits-all answer, and a lot depends upon (1) what coins are in the collection and (2) what the collector's timetable is. Anyone interested in selling their coins should keep these two criteria in mind.
Going to a local coin shop with coins you bought from a national retailer or at a coin auction can be a costly mistake. Local dealers, however well-intentioned, need to make a profit on the coins they buy for inventory, and if they don't have a ready customer for your coins, they'll inevitably pay you less than a bigger company that always has customers for that type of coin. Approaching another dealer or auction house that hasn't seen your coins also adds steps to the process, as that dealer generally will require you to send your coins to them, or allow one of their representatives to visit you at your home or bank to see the coins. For some collectors, that's an imposition, and typically wouldn't be required when selling back to the dealer who originally sold you the coins.
You should at least make an effort to find a dealer that handles the types of coins you own. You wouldn't sell U.S. coins through a dealer that handles primarily foreign or ancient coins, or vice versa. If you have bullion coins, any reputable dealer will give you a fair price, as the values of the coins are based upon international "spot" prices that are available to everyone in real time. Rare coins present greater opportunities when selling, but also some risks that you'll sell yourself short. Smaller dealers won't be versed in many different types of coins, and will treat even truly rare collector coins as simply bullion, and offer you prices to match. One way to find a good dealer is by consulting the PNG (Professional Numismatists Guild) directory. PNG is an organization of the foremost dealers in the U.S. and abroad, who are elected to membership by their peers and are bound to a strict Code of Ethics.
Collectors often hear about selling collections at public auctions, and a great many coin collections are sold that way every year. There are several large national auction houses that specialize in rare coins but the process takes time to scout out, to list your coins at the right time and be paid assuming the coin sells. There's also the cost of auctioning coins. Auction houses sometimes charge seller's commissions, calculated as a percentage of the coins' "hammer price", although these often are waived for sizable collections. But all auction houses charge a buyer's premium to buyers, ranging from 10% to as high as 20%. Although this is charged to buyers and not to sellers, buyers nevertheless factor the buyer's premium into their bids, and as a result the collector will get a lower net payment than had he or she sold directly to the winning bidder. Auctions are a trade-off – you get the opportunity to show your coins to multiple potential buyers who bid for them, in exchange for waiting awhile and paying commissions.
My second criterion has to do with when a collector needs to sell. Like any asset, there are good times and not so good times to sell. If a collector comes to me and wants to sell coins, I always ask what their timetable is. This impacts not only whether to sell through a dealer or auction house, but might result in me recommending that the coins not be sold at all, or that only parts of the collection are sold. Over the long term, rare coins historically have appreciated in value, and anyone who is looking to recover what they paid for coins – or maybe even turn a profit – is best off putting as much time as possible between the initial purchase and the resale. Coins generally are purchased at "retail" and sold at "wholesale", meaning the retail markup the collector paid when purchasing the coins originally must be made up before profits can be achieved. It generally doesn't hurt to wait, and sometimes waiting is absolutely the right move. Collectors should think about how soon they want the funds from their sales before starting the process.
There are many sources of information for collectors interested in selling coins. Some are the auction houses themselves, which often provide information on a no-obligation basis. For coins certified by major grading services such as PCGS and NGC, those companies offer Price Guides on their respective websites. In addition, organizations such as the American Numismatic Association (www.money.org) have free information to assist collectors with getting appraisals and, if appropriate, selling their coins. It's always best to be an informed seller, and I hope this article has helped you toward that goal.
[1] Armen R. Vartian is an attorney specializing in matters involving collectibles and art.
About the Author
This editorial has been prepared by Armen Vartian. This document is for informational and thought-provoking purposes only and does not purport to predict or forecast actual results. It is not, and should not be regarded as investment, financial or legal advice, or as a recommendation regarding any particular security, commodity or course of action. Opinions expressed herein are current opinions as of the date appearing in this editorial only and are subject to change without notice. Reasonable people may disagree about the opinions expressed herein. In the event any of the assumptions used herein do not prove to be true, results are likely to vary substantially. No part of this editorial may be reproduced in any manner, in whole or in part, without the prior written permission of Armen Vartian. This information is provided with the understanding with respect to the opinions provided herein, you will make your own independent decision with respect to any course of action in connection herewith and as to whether such course of action is appropriate or proper based on your own judgment, and that you are capable of understanding and assessing the merits of a course of action. You should consult your advisors with respect to these areas.
Please note that market conditions, as well as supply and demand, are constantly changing. GovMint.com's ability to make an offer is based on current needs. In some cases, we may decline making an offer if the item(s) is/are not something we wish to stock or already have an ample supply. We assess and purchase at our own discretion with no commitment to buy, even if the item(s) was purchased from us (www.govmint.com/terms-conditions). Offers made, if any, are based on wholesale values at the time the offer is made. For more information, email customerexperience@govmint.com.
Copyright 2020 GovMint. All Rights Reserved. GovMint.com does not sell coins and numismatics as investments, but rather as collectibles. Please review GovMint's Terms and Conditions, Terms of Use and Privacy Policy before using this website and prior to purchasing from GovMint. All website content is for reference use only and does not constitute investment, legal or financial advice. We encourage the sharing and linking of our information but reproduction of our news and articles without express permission is prohibited. Instead of reproducing, please provide the link to the original article or use the share buttons provided.