World's Oldest and Largest Coin Market is the Newest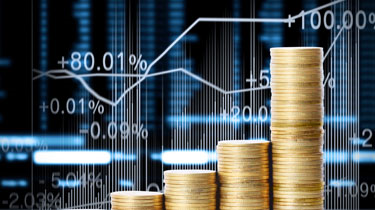 It may seem hard to imagine, but the world's most exciting and dynamic coin market is not here in the U.S., but in China! The Chinese know about money. They practically invented it around 3,000 years ago. They also invented paper money and experienced the huge inflation and the destruction of value that can be wrought by the massive printing of it. This occurred hundreds of years before Europeans learned about paper money.
China's Interest in Coins
China came to love precious metal coins during the era of trade with Europe, following huge discoveries of silver and gold in the New World. Chinese merchants carefully examined each coin that passed through their hands. If the coin met their standards for weight and purity, the merchant would stamp the coin with their private "chop" mark. Over the years, some coins were chopmarked so many times that their designs all but disappeared!

In the 1800s, Americans seeking to conduct business with China discovered that their U.S. government silver dollars were considered inferior. The weight of a standard U.S. silver dollar was less than contemporary Spanish coins. So, in 1873 our government began producing a new, heavier silver dollar specifically to remedy the problem. These "Trade Dollars" were popular, so the majority surviving in collectors hands today bear one or more Chinese merchant chopmarks.

With the end of imperial China after WWII, the communists formed a new government in 1949. By 1950, ownership of silver and gold were banned. China isolated itself from the West for decades, but in 1972 a historic visit and negotiation by President Nixon and his Secretary of State, Henry Kissinger, opened a door that led to new trade agreements with America.

By 1980 China was looking for ways to expand their commerce with the West. One idea was to mint gold and silver coins for profitable export. The China Mint chose the beloved panda as the design theme for a new series of silver and gold bullion coins. They also selected the popular Eastern lunar calendar for a series of collector coins commemorating the animal of each year.

The Silver and Gold Lunar Coin Series was launched in 1981, followed by the Silver and Gold Panda Coin Series in 1982. Because ownership of silver and gold continued to be illegal, 100% of the mintages were exported out of the country. No Chinese citizen could legally own them.
Pandamania!
Pandas became immediate hits worldwide. With the opening of China, the world fell in love with pandas- pandamania! China had sent two pandas, Ling-Ling and Hsing-Hsing, to visit America and live at the National Zoo in Washinton D.C. The new Gold and Silver Panda coins also became enormously popular!

Several factors contributed to the popularity of panda coins:
They were struck in a very fine, .999 gold, and by 1989, .999 silver. This compared favorably with the American standards established on the American Gold Eagle, .9167 fine gold, and American Silver Eagle, .999 fine silver, in 1986.
China immediately implemented a changing reverse design on their new panda series. Every year, the coins boast a new design of a panda, or a group of pandas. Not only does this make the next years' release a bit more exciting, but it makes the series an exciting one to collect!
Pandas are produced in convenient (and now unique!) weights. Until 2016, the gold coins were typically were minted in 1 Kilo, 5 oz., 1 oz., ½ oz., ¼ oz. and 1/10 oz. size, and silver coins were minted in 1 Kilo, 5 oz. and 1 oz. sizes. In 2016, however, the China Mint switched to the metric system! Every coin that was previously a fractional weight, now became the nearest whole gram weight.
The China Mint went to extremes to produce the highest quality bullion coins the world has ever seen. Every panda is minted with a "prooflike" finish, featuring a frosty design on a polished, mirror-like background. Instead of packing the coins together in bags or bulk rolls, each coin was individually packaged in its own protective plastic pouch.
The China Mint's panda coin quality is so high that they resorted to adding the letter "P" to Proof Pandas. This addition is meant to help collectors distinguish between regular mass-production coins and the limited, double-struck collector edition coins it also minted.
2004: Silver and Gold Legalized
Because these silver and gold (and eventually platinum) coins were being struck solely for export, mintages were relatively small. Imagine if all-new U.S. silver and gold coins were sold only in overseas markets, with none - zero - sold to Americans! Even if the coins were popular outside the U.S., sales still would be a fraction of what they'd be if Americans could buy them.

That all changed in 2004 when China legalized the ownership of silver and gold. Since then, China has become the largest consumer of gold in the world. In 2011 alone, the central bank of China bought 428 tons of gold.

Since 2004 the Chinese people have become the largest consumers of their own silver and gold coins. Even though mintage numbers are on the rise, fewer and fewer China coins are making their way outside China to the rest of the world. Instead, the Chinese are eagerly buying back the coins its government sold to the West before 2004.

"That giant sucking sound you hear is of coins traveling to China." - Peter Anthony, China Pricepedia

Consider the mintage figures for the most popular panda coin, the silver 1 oz., for the first five years (when they were illegal in China) compared to mintages of the 2008-2012, when they were legal:
1983: 10,000
1984: 10,000
1985: 10,000
1986: none
1987: 31,000
2008: 600,000
2009: 600,000
2010: 1,500,000
2011: 6,000,000
2012: 8,000,000
I realize that the 2012 mintage of 8 million may seem large, but let's put this into perspective. In 2011 the U.S. issued 38.8 million Silver Eagles. And this came from a country less than a quarter the size of China.
Giant Pandas
When it comes to the larger size China coins, things really get interesting. Mintages usually are small, and sometimes tiny. China struck its first coin larger than 1 oz. in 1984, a 12 oz. coin bearing a denomination of 1,000 Yuan. A mere 250 pieces were minted. Like all precious metal coins from the pre-2004 era, all of them were shipped out of China.

Mintages can get even lower in these big coins. For the 1993 12 oz. gold panda just 99 pieces were made! Five oz. gold coins also have been minted. All are .999 fine, virtually pure gold.

In silver, the first of the big coins was the 1987 five oz. panda. The five oz. coins are a great series to collect and are becoming very popular in China. 12 oz. silver coins also were minted commencing in 1988. They are truly spectacular. For the first year just 5,000 coins were made.

China also minted one kilo coins in silver and gold. Yet doubtless, the most spectacular of all coins ever minted by China are the gigantic 10 kilo gold coins produced for the 2008 Beijing Olympics. It is believed that just 12 pieces were minted, with only one of them reaching North America- the coin our firm sold.

If this weren't enough, the China Mint produced bimetallic coins containing both silver and gold. In 1995 it released a coin with a center of five oz. of gold surrounded by a ring containing two oz. of silver. Just 199 were struck for the entire world!

Already, three different giant gold China coins have sold for $1 million or more at auction:
1991 Gold 5 Kilo Panda - $1,567,190
2000 Gold 10 Kilo Commemorative - $1,000,000
1992 Gold 1 Kilo Commemorative - $1,298,000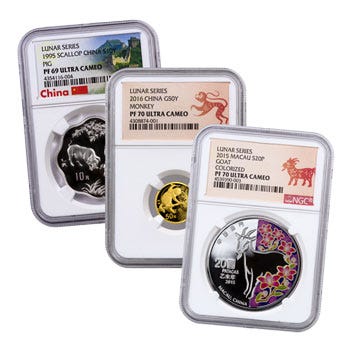 Authorized vs. Minted
Collectors are attempting to sort out the actual production figures for Chinese coins. That's because normally the China Mint will publish the number of coins it has been authorized to mint, but not the number it actually produces. Because of this, sometimes the actual mintage of a coin is much lower than was originally thought.

For example, in 1997 the authorized mintage for the one oz. gold panda was 125,000. However, the actual number produced by the Mint was 30,457- 76% less! This kind of discrepancy happened quite frequently during the pre-legalization period (before 2004).

Many ways to collect
Although the modern coins of China only spans about 30 years, there are lots of ways to build an important collection that would become highly sought after in the marketplace. Of course, the "core" series are the pandas. Because the designs change virtually every year, there is lots of variety. Within the pandas, you can collect silver, gold, platinum and even bimetallic silver/gold coins. Like the U.S. Silver Eagles, the one oz. silver panda is the single most collected coin, so any scarce or top grade 1 oz. pandas will have the most demand pressure.

Platinum pandas were struck from 1990 to 1997. Most all their mintages are small, so all of them are sought-after today.

Beyond the pandas, the other continuing series is the Lunar New Year coins. They actually began before the pandas, in 1981. They are enormously popular in China. Each annual design consists of the animal associated with the lunar calendar year (2012 was the year of the dragon).

Other multi-year programs from the China Mint include the Inventions & Discoveries series, the History of China series and the Unicorn series. A complete set of any of these would be highly prized by collectors.

Gold Sets Scarce and Coveted
Gold proof sets were issued from 1886 to 1993. Proofs can be identified by the letter "P" struck into the coin. Mintages of the proofs were less than for the regular uncirculated gold pandas, so they are on many collectors "most wanted lists."

In addition, the government releases annual gold panda mint sets, known as Prestige Sets. They are issued in a special presentation case together with an exclusive China Mint medal and a numbered certificate of authenticity. Typically production is limited to 1,000 sets. This is the only official gold panda set being produced today. What most collectors have yet to become aware of, due to prior distribution agreements virtually all of these sets are still sold outside China. When the China market becomes aware of this situation, owners of these sets could be sitting pretty.

Importance of Grading
In real estate it is said the three most important factors in the value of a property are "location, location and location." In coins, the equivalent wisdom is "condition, condition and condition."

Numerical grading of coins on a 0-70 scale (70 being perfection) was commercialized in the U.S. during the 1970s and implemented through independent third party grading services such as the Professional Coin Grading Service (PCGS) and Numismatic Guaranty Corporation (NGC) in the 1990s. However, numerical and independent grading is new to China. This creates an opportunity for collectors with foresight, because demand for China coins independently graded likely has yet to have the impact on prices that it has had on U.S. coins.

Although the China Mint sets a high standard for producing its precious metal coins, top graded coins should not be taken for granted. Aside from the usual concerns about handling and the quality of the strike (full details at the coin's highest points), there can be problems with the alloy, which shows up as small spots on the surface of the coin. Also, some coins were housed in hard plastic capsules that rubbed the high points of the coins. These and other factors may contribute to a coin earning less than a flawless 70 or near-flawless 69 grade.

Collectors mindful of the future value of their China coins always should aim for the highest grade they can afford, or the highest grade available. Usually this means grade 70 or 69, unless the coin is unavailable or prohibitively rare in those grades.

Authentication and First Strikes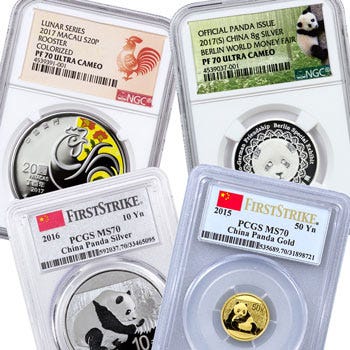 The most important reason to have your coins encapsulated by NGC or PCGS is for authenticity. Unfortunately, China is a hotbed for counterfeit merchandise and coins are no exception. Many counterfeits are good enough to fool anyone except the experts. Of course, all these counterfeits are sold as "bargains" by sellers who pretend they don't know what they have. Buyers of these "bargains" will live to regret their decisions when they find out their coins are essentially worthless.

Aside from grading, PCGS and NGC provide absolute guarantees of authenticity. I cannot overstate how important this is. This is why we pre-certify most of the coins we sell to our customers. It is not because we are worried that our coins are not authentic (since we get them direct from the China Mint). Rather, it is to make sure our customers can easily sell their coins in the marketplace later on.

Another innovation made possible by the independent grading services is the certification of "First Strike" or "Early Release" coins. Collectors know that the earliest coins off the minting dies usually are the best quality coins, as die wear is minimal. Also, the first of anything is more desirable to a collector.

If a coin can be proven to be one from the early production of an issue, then the grading service will certify it as such. The problem is, it can be very difficult to identify and obtain the proof required in order for a grading service to award the First Strike/Early Releases certifications. Governments normally don't identify which coins are the first, so collectors have to be clever to figure this out.

Certified First Strikes are popular in the U.S. and the market commands a significant premium over their non-First Strike counterparts. For example, a 2006-W 20th Anniversary American Eagle silver dollar in PR70 grade currently lists in value guides for $185, while the same coin with "First Strike" certification brings $250.

Only a mere handful of the earliest China panda coins have been certified as First Strikes, so transactions are rare. Yet already we can see premium prices popping up in the market. For example, a 2008 silver panda in top MS70 grade sells for about $400. Add the desirable "First Strike" certification and the price jumps to $650- a 63% premium!

Fortunately, GovMint has negotiated an exclusive with the China Mint to certify in writing their earliest coins minted. This documentation has allowed us to obtain independently certified First Strike/Early Release China coins that would otherwise be extremely difficult, if not impossible, to obtain.

The Future Looks Bright
In summary, there are many reasons why today may be the best time ever to get into the China coin market:
It is rapidly growing to become the largest market for silver and gold coins in the world.
The Chinese have a deeply embedded cultural affinity for silver and gold.
Not only has the government legalized silver and gold ownership, it actually promotes such ownership.
China depends upon the U.S. and Europe for its past China coins. There is strong demand from China for all Chinese coins held in America.
Mintages of many modern China coins are small or even tiny. It will take very little growth in demand to spike prices. Already, these low-mintage coins are setting record prices, with several exceeding the $1 million mark.
China coins are beautiful and high quality. Most are minted in .999 silver or gold and are struck to high standards. They compare very well to coins of other countries such as the U.S.
As demand has switched from outside China to inside, the availability of China coins is declining. The China Mint is rationing its production to the rest of the world, making the coins even scarcer.
Independent point-grading and encapsulation is just catching on to China, so it's likely the price differentials of the highest graded coins is still to come. First Strikes/Early Releases also are very new to the China market.
China collectors are mostly unaware of the gold Panda Prestige Set. When they become aware it could have a dramatic impact on.
Take a look at what Chinese coins are currently available at GovMint!