The GovMint.com "Coins for Class" Scholarship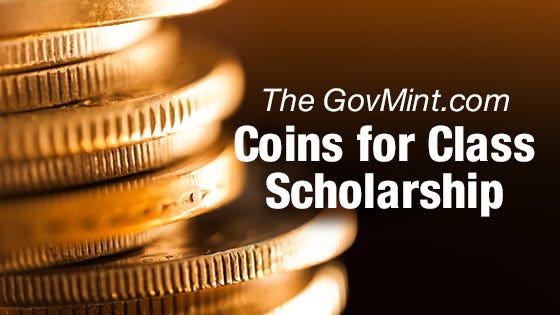 As Your One Best Source For Coins Worldwide®, we at GovMint.com® deal with money every day - giving our customers the best in coins and currency from around the globe. The details and historical context of coins and paper money are what drive collectors, and we like to spark that interest in new customers every day. So we're offering a scholarship that does just that, with a nice incentive to get your passion running.

Beginning on January 1, 2017, GovMint.com is offering its Coins for Class™ scholarship to current high school, college, university, and trade school students.

GovMint.com will award two $1,000 scholarships – one each to the two essay writers that best illustrate this year's theme 'Coins are History You Hold in Your Hand.'
When you hold a particular coin that you cherish, what do you imagine? Do you see it as an historic token of the past?
Do you imagine the people that used it or kept it before?
Do you have a more personal memory of a family member or a friend?
With this year's essay, we want you to explore what you imagine and remember when you hold that coin and what it means to you!

How to Enter
In order to apply for this scholarship, you must meet these criteria.
Entrants must be 18 years or older at the time of entry, and a legal resident of the 50 United States or District of Columbia.
Entrants must be currently enrolled at a high school, college, university, community college, or trade school.
Students must have a current minimum GPA of 2.8.
Essays should be 500 words or less and cover the essay theme. Make sure your essay adheres to the submission requirements and that you have edited it carefully for any spelling and grammar issues. The best essays will be creative as well as historically and artistically grounded and accurate.

In addition to your essay, please include your first and last name, mailing address, email address, and phone number with your submission. Send both your submission and essay to scholarship@govmint.com. You can include both as Word and/or PDF attachments.

Applications can be submitted starting January 1, 2017, and will be accepted until June 1, 2017, 11:59 p.m. CST or when 100 eligible applicants have applied, whichever comes first. Once the entry cap has been reached or the deadline passes, submissions will no longer be accepted.

Scholarship Details
GovMint.com will choose two winning essays and award two scholarships on or after June 30, 2017.

Each winning entrant will receive $1,000 from GovMint.com to be used for higher educational purposes. We'll send a check directly to you to give to your school.

Winners will be notified by mail, and will be required at that time to provide a copy of their most recent school transcript for proof of school and minimum G.P.A. requirements.
---

Official Rules of Entry
NO PURCHASE NECESSARY. VOID WHERE PROHIBITED OR RESTRICTED BY LAW. A PURCHASE WILL NOT INCREASE YOUR CHANCES OF WINNING.
Employees of GovMint.com and its respective affiliates, (and their immediate families and those living in their same households, whether or not related) are not eligible to enter.

By participating, Entrants agree to be bound by these Official Rules and the decisions of GovMint.com, which are binding and final on matters relating to the Coins for Class™ scholarship (the "Contest").

Contest is subject to all applicable federal, state, and local laws.

Limit one (1) entry per household. Entries submitted beyond the first entry will be void.

Once submitted, entries become the exclusive property of GovMint.com.

As a condition of entry, you acknowledge and agree that:
(a) GovMint.com and other participants and members of the general public have access to and/or may create materials, ideas and concepts which coincidentally may be similar or identical to your Entry, ideas and/or concepts;
(b) you will not be entitled to any compensation or other consideration because of the coincidental use by GovMint.com, or any of the Released Parties (defined as GovMint.com, and its employees, agents, directors, officers, or members, and those of its parent and affiliated entities) or any other participant of such similar or identical material, ideas and/or concepts; and
(c) GovMint.com's, Released Party's or other participant's coincidental use of material containing elements similar to or identical with those contained in your Entry shall not obligate GovMint.com to negotiate with you nor entitle you to any compensation or other claim.

By submitting an Entry, you warrant and represent that:
(a) you have all rights, including, without limitation, rights of copyright, trademark and other intellectual property rights, to your Entry in accordance with these Official Rules;
(b) your Entry does not infringe upon the copyrights, trademarks, rights of privacy, publicity or other intellectual property or other rights of any person or entity,
(c) that publication or other use by GovMint.com of the Entry via various media including, without limitation, online posting, will not infringe on the rights of any third party rights;
(d) Your Entry otherwise complies with these Official Rules.
You will indemnify and hold Released Parties (as defined below) harmless from and against any and all claims to the contrary and any demands, actions, causes of action, damages, costs or expenses brought against or suffered or incurred by the Released Parties, or any of them arising out of or in connection with your participation in this Contest, or the use, in whole or in part, by any Released Party of your Entry (or portion thereof) submitted by you in this Contest.

Winning entries will be judged by GovMint.com, in its sole discretion, using the stated criteria. All decisions by judges are final and non-appealable.

Potential winners will be notified by mail as supplied by the Entrant and may be required to execute and return an affidavit of eligibility, a liability release and, where lawful, a publicity release within seven (7) days of date of receipt. If such documents are not returned within the specified time period, prize notification is returned as undeliverable, or such potential winner is not in compliance with these rules, prize will be forfeited and, at GovMint.com's discretion, an alternate winner selected.

Each winner, by acceptance of prize, except where legally prohibited, grants permission for GovMint.com and its designees to use his/her name, Entry, address (city and state), photograph, voice and/or other likeness and prize information for advertising, trade and promotional purposes without further compensation, in all media now known or hereafter discovered, worldwide in perpetuity, without notice, review or approval.

Released Parties are not responsible for Entries that may be lost, late, incomplete, damaged, destroyed, inaccurate, stolen, delayed, misdirected, undelivered, illegible, or postage-due mail or for whatever cause or other errors whether human, mechanical, electronic, computer, network, typographical, printing, or otherwise relating to or in connection with the Contest. Released Parties are also not responsible for any incorrect or inaccurate information, tampering, hacking, or by any equipment or programming associated with or utilized in the Contest.

GovMint.com reserves the right at its sole discretion to suspend, modify or terminate the Contest and, if terminated, at its discretion, select the potential winners from all eligible, non-suspect Entries received on or before the date of termination.

Issues concerning the construction, validity, interpretation, and enforceability of these Official Rules shall be governed by the laws of the State of Minnesota, without regard to any principles of conflict of laws. All disputes arising out of or connected with this Contest will be resolved individually, by binding arbitration to be conducted in Hennepin County, Minnesota, and without resort to class action. Should there be a conflict between the laws of the State of Minnesota and any other laws, the conflict will be resolved in favor of the laws of the State of Minnesota. To the extent permitted by applicable law, all judgments or awards shall be limited to actual out-of-pocket damages (excluding attorneys' fees) associated with participation in this Contest and shall not include any indirect, punitive, incidental and/or consequential damages.

If any provision(s) of these Official Rules are held to be invalid or unenforceable, all remaining provisions hereof will remain in full force and effect.

The information you provide will only be collected and used in accordance with GovMint.com's privacy policy available at http://www.govmint.com/privacy.

For the names of the winners (available after June 30, 2017) or an additional copy of the Official Rules, send a request for such information in a self-addressed postage paid #10 envelope to: Coins for Class™ Contest, 14101 Southcross Drive W, Burnsville, MN 55337 , for receipt no later than December 31, 2017. Residents of VT need not include postage.