New First-Year "Emperor's Gold" Explodes in Demand Overseas
A new emperor sits at the Chrysanthemum Throne in Japan.
For the first time in more than 200 years, the Emperor of Japan abdicated the throne and retired. Akihito, 125th Emperor of Japan, stepped down on April 30, 2019. His son, Naruhito, was enthroned the following day.
Now, to honor that transition and mark this historic occasion, the Japan Mint has issued a special, extremely limited two-coin set. And demand is exploding.
Domestic Demand Overwhelms Japan Mint!
Just a scarce 30,000 2-proof sets (including the gold coin along with a 7-gram copper-nickel coin with a different design) were made available to domestic markets.
When the similar final coins of Emperor Akihito were released, the domestic demand was 15 times that of the mint's supply. Similarly, these first coins of Emperor Naruhito saw astronomical demand—instead of a "first come, first served" approach, the Japan Mint took thousands upon thousands of applications, with an official drawing system being used in Asian markets to determine who would get the chance to secure these coins for their collection.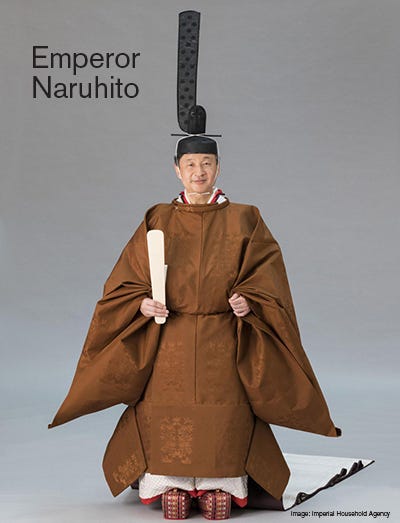 What Makes This Such a Monumental Release?
It all comes down to the abdication of Emperor Akihito and the Enthronement of his son, Naruhito. This event is akin to the passing of the crown from one British ruler to another—think of how massive a global event it will be when Queen Elizabeth II's son, the future King Charles, receives his crown!—but in the case of Akihito, it was known exactly when his reign would end and when the reign of Naruhito, would begin. It's not just historic that a new emperor took the throne—it's also the first time in more than 200 years that the world knew ahead of time exactly when it would happen!
The Foreign Markets Get Their Chance
Luckily for you, the Japan Mint set aside 3,000 of these sets for worldwide distribution outside of Japan. Coins from Japan are notoriously difficult to come by in today's market, but we managed to secure a small number of this limited mintage. Securing coins of this cultural and historical importance is incredible!
Take Home the Throne
This 2-coin set contains a 10,000 Yen, 99.9% pure gold coin and a 500 Yen Copper-Nickel coin, both struck in Proof condition with shimmering fields and frosty devices.
The gold coin depicts a powerful phoenix, representing the emperor. Unlike coins struck in other cultures, Japanese coins do not depict an image of the emperor or empress, as putting their face on coinage is deemed disrespectful.
The copper-nickel coin displays the Imperial Throne for the Emperor, also known as the Chrysanthemum Throne. The reverse of both coins depicts the Imperial Crest of the Chrysanthemum—an image that has graced Japanese coins for centuries.

Certified First Day of Issue by NGC
Both coins in this set have been match-graded as flawless Proof-70 Ultra Cameo (PF70 UC) by respected third-party grading service Numismatic Guaranty Corporation (NGC) and certified as First Day of Issue. To receive this coveted designation, coins must be received for grading within 24 hours of release.
Each coin will arrive sealed in a protective acrylic display holder with a custom Japan-themed label denoting its contents, grade and exclusive First Day of Issue designation. Your set will arrive in a deluxe wooden presentation case with a mint certificate of authenticity. The original mint packaging will also be included.
Extremely Limited Release
As we've said, this is an extremely limited and coveted release. Just 3,000 sets were authorized for worldwide distribution outside of Japan.
2019 Japan Emperor Naruhito Enthronement 2-Coin Proof Set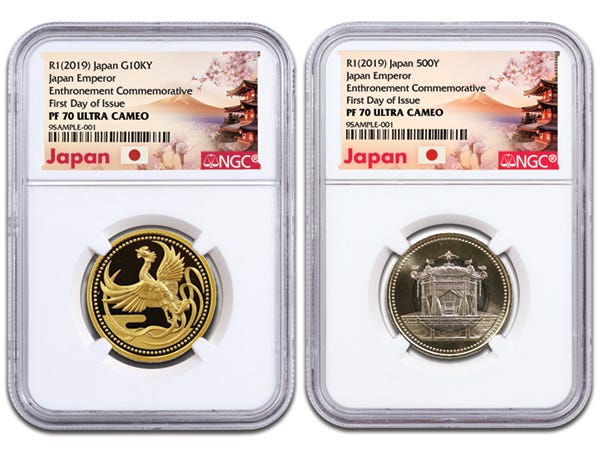 The First Coins Commemorating Emperor Naruhito's Reign
Two-Coin Set:

20-Gram, 99.9% Gold
7-Gram Copper-Nickel

Imperial Designs
10,000 Yen and 500 Yen Legal Tender
Graded by NGC
Certified as

First Day of Issue

Custom Japan-Themed Label
30 years ago, His Majesty the Emperor Akihito acceded to the throne. In April of 2019, he left it forever. These are the first coins commemorating the reign of his son, Naruhito, the 126th Emperor of Japan. Domestic demand for these coins overwhelmed the Japan Mint—there's no telling how long our limited supply will last. Hurry and secure this historic set now!
Call 888-870-6339 now!