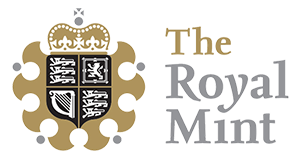 The Falcon of the Plantagenets Takes Flight
New Queen's Beasts release soars in pure gold and silver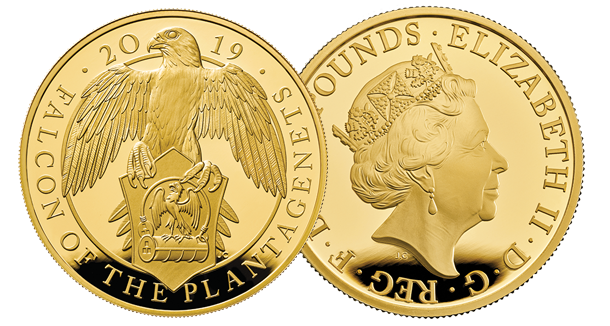 Unlocking the Path to the Throne
This latest release of the Queen's Beasts series features the Falcon of Plantagenet. Chosen by King Edward III of house Plantagenet for his love of hawking, the Falcon was given as an emblem to two of Edward's sons. In these depictions, they were shown standing on a closed fetterlock—perhaps signifying that they had no claim to the throne. In contrast, Edward's grandson Richard was given an emblem of a white falcon standing on an unlocked and open fetterlock. Richard succeeded Edward as King Richard II.
Jody Clark Design
This addition to the Queen's Beast series was designed and sculpted by Royal Mint engraver Jody Clark. Creator of every Queen's Beast design to date, Clark is best known for creating the most recent official effigy of Queen Elizabeth II used on British coinage.
Multiple Options Available
You can secure the 2019 Queen's Beasts Falcon Proof struck in a variety of weights and metals, including: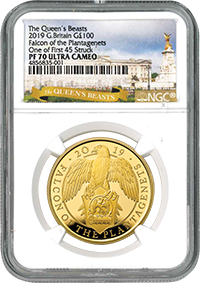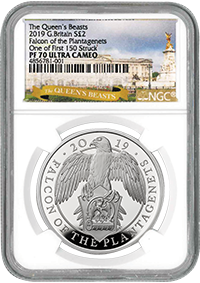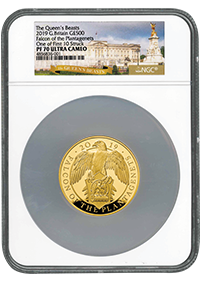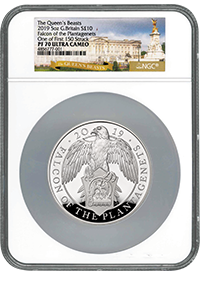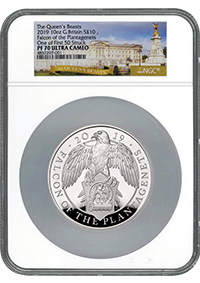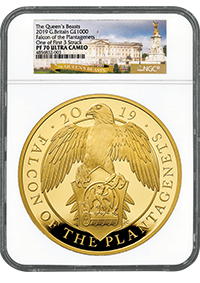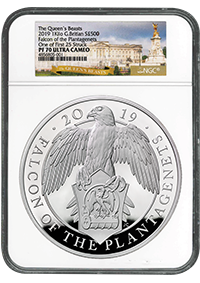 NGC Certified as One of First Struck
Each 2019 Queen's Beasts Falcon Proof has been graded by Numismatic Guaranty Corporation (NGC), one of the world's leading third-party grading services, and then sealed in a protective acrylic display holder to preserve its provenance. Each holder bears a label identifying the coin as "One of First Struck." Coins with this designation are coveted among collectors for their greater perceived luster and sharpness of detail.
Though we have secured the "First Struck" Queen's Beasts Falcon Proofs, mintages are limited, with some weights having only three coins certified as "One of First Struck." Considering the immense popularity of this series among our customers, there's no telling when our limited supply will run out.