5-Ounce Gold Krugerrand Proof
50 years ago, the very first One-Ounce Gold Krugerrand was introduced to the world. Now for 2017, another brand-new Krugerrand is making its mark on the numismatic world—the first ever Five-Ounce Gold Krugerrand Proof!
Struck in 22 karat gold, this proof has a diameter of 50 mm and weighs in at 169.65 grams. It's a beautiful presentation of the timeless Krugerrand design, with President Paul Kruger on the obverse and the Springbok Antelope on the reverse.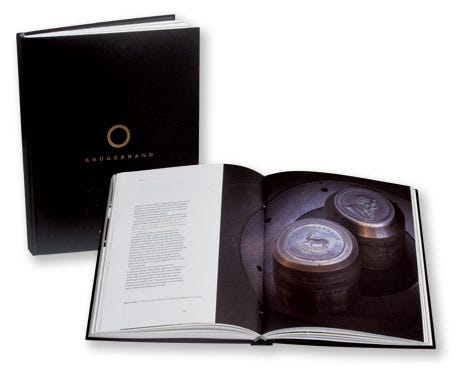 Due to an extremely limited U.S. allocation of these all-new 50th anniversary proofs, only those who call right away will get a chance to add one or more to their collection!
Every one of these first-year Five-Ounce Gold Krugerrand Proofs will arrive in beautiful, elaborate mint packaging to help you show it off as a prominent part of your collection. You'll also receive an individually numbered certificate of authenticity and an official South African Mint book with over 200 pages of mint history!
50-Ounce Gold Krugerrand Proof
This is it! The largest, most impressive way to add a 2017 Gold Krugerrand Proof to your collection. Struck in a whopping 50 ounces of 22 karat gold, this first-year proof is the absolute peak of what the Krugerrand series has to offer. No other legal-tender coin gives you such a clear view of the immaculately struck design, hovering over the mirror-like reverse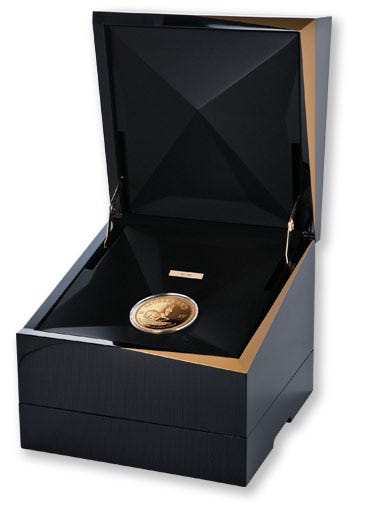 in frosted detail. No magnifying glass is required for you to enjoy even the finest details of this first ever 50-ounce proof, as it measures in at an astounding 100 mm--more than three times the diameter of a one-ounce Krugerrand!
Sure to be the crowning achievement of your Gold Krugerrand collection, this mighty 50-Ounce Gold Krugerrand Proof is the pinnacle of the 50th anniversary South African Krugerrand program—the mint's way of celebrating 50 years of luxurious fashion. And despite its massive weight, this proof still bears the exact same design as the original Gold Krugerrand issued in 1967, digitally remastered to absolute perfection. This massive proof was struck in extremely limited quantities, so call your Scarce and Unique coin specialist now to learn more about this first-ever 50-oz gold Krugerrand.
Quality has no substitute.
For five decades, the Gold Krugerrand has been the guiding standard of gold bullion coins. It preexisted the Canada Maple Leaf, China Panda and even the U.S. Gold Eagle by decades!
Now, to honor the 50th anniversary of the world's first modern bullion gold coin, the South African Mint is offering several first-year additions to the series. The first ever Silver Krugerrand has already gained international attention, but what many don't know is that 2017 also marks the release of two all-new Gold Krugerrand Proofs!
Just like the standard bullion Krugerrands, these Gold Krugerrand Proofs are struck in 22 karat gold—but unlike the standard Gold Krugerrand, each of these gold coins has been struck in mirror-like Proof condition, their frosty designs hovering over their shimmering fields for a level of detail and eye appeal not found in bullion issues.

UnBoxing Video of the 5-oz Gold Krugerrand
Perfection. Uncompromised.
The name "Gold Krugerrand" has been synonymous with wealth, prosperity, and luxury for 50 years—which may be why the South African Mint was named the Mint of Honor at the 2017 World Money Fair in Berlin, Germany! Some of our representatives joined in the celebration along with our friends at the South African Mint, and made sure to capture a few memories for us to share.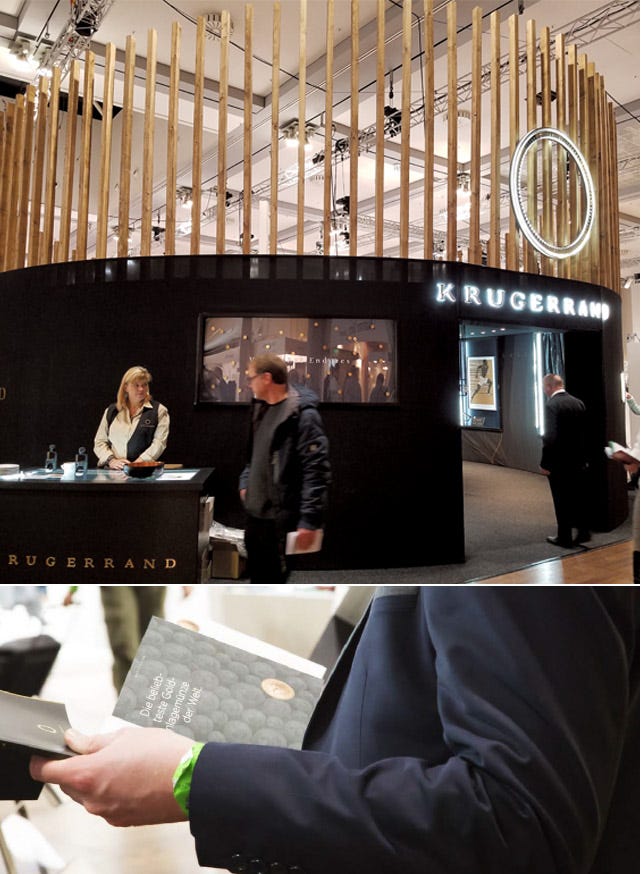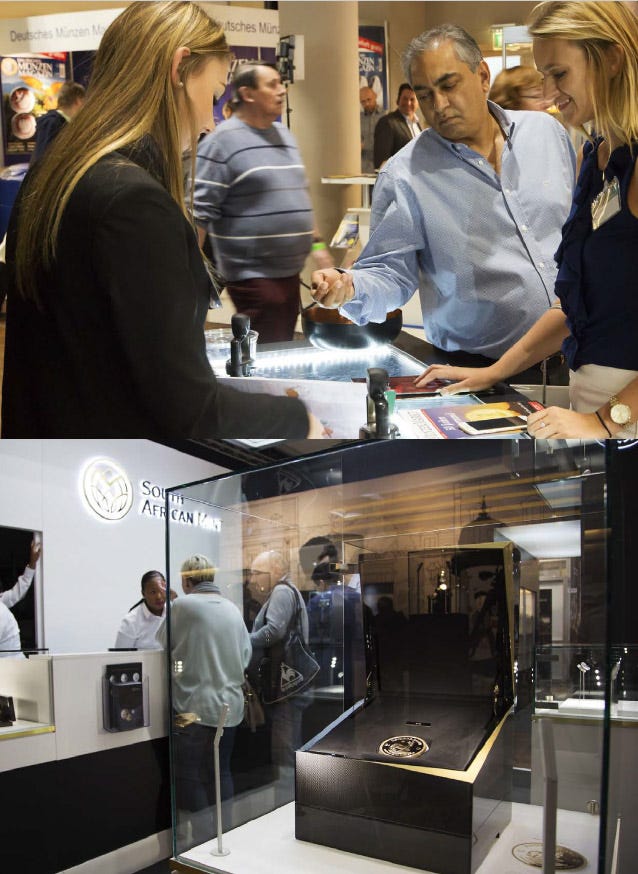 Step up to the ultimate in luxury ... Hurry! Call 1-888-870-6339 today.