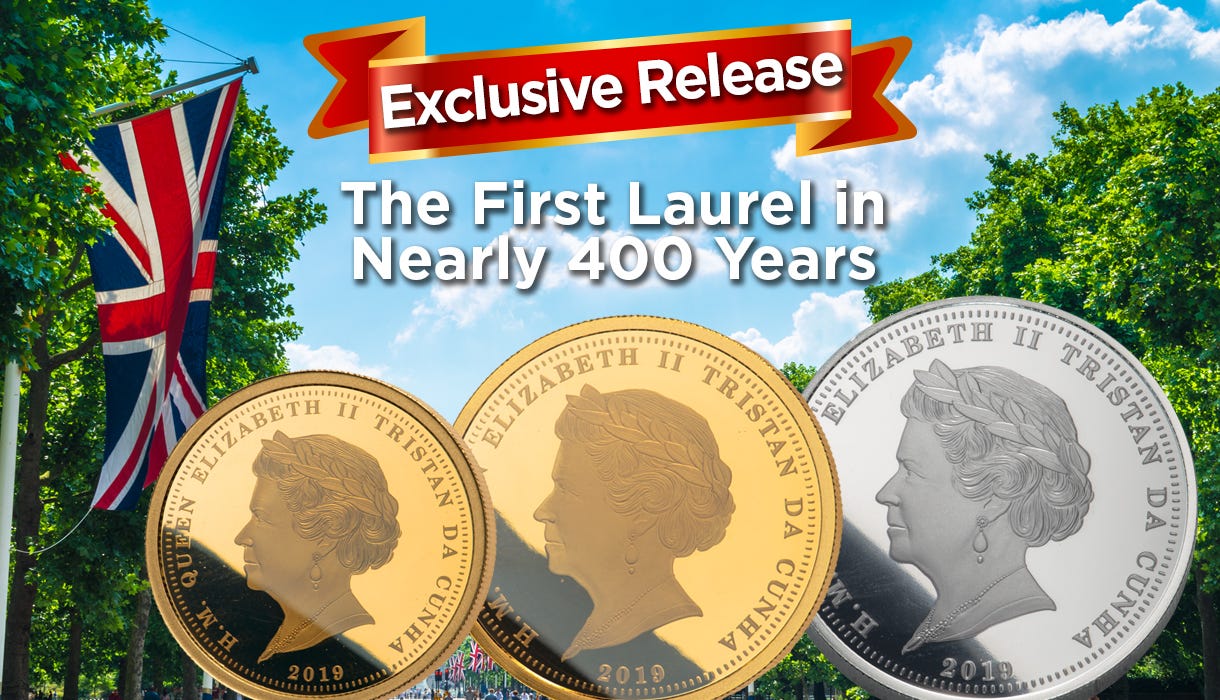 The Queen Makes an Historic About-Face
During the reign of King James I, something extraordinary happened in the world of numismatics.
Now, exactly 400 years later, it's happening again—and you have the chance to be a part of it.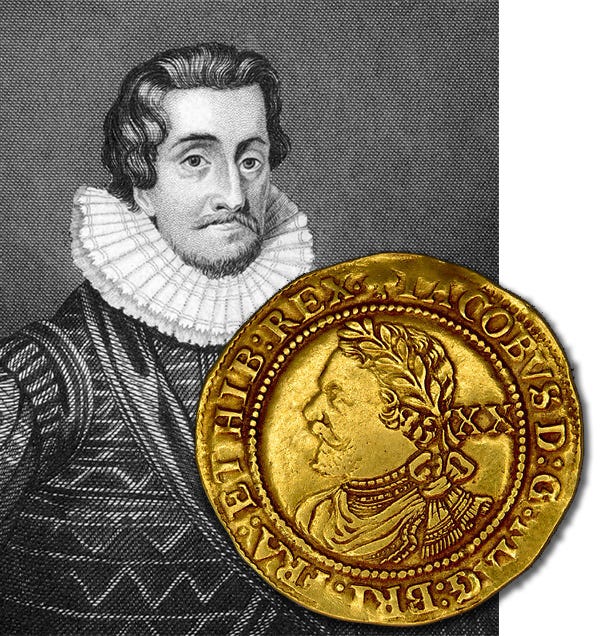 A Tradition Overruled
Ever since the introduction of the Shilling under Henry VII, the portrait of the reigning monarch on circulating coinage faced the opposite direction of the prior ruler. This tradition continues today, but King James decided to buck tradition when he introduced the Laurel, Half-Laurel and Quarter-Laurel in 1619. Named for the wreath depicted on Henry's brow, the Laurel showed the monarch facing the opposite direction from his previous coins!
The Queen Isn't Always "Right"
This 2019 release resurrects the Laurel on the 400th anniversary of the original, and follows suit by depicted Queen Elizabeth II facing left for the first time on the obverse of a coin (traditionally, the queen's portrait faces right). Like King James I, Queen Elizabeth II wears the leafy crown. For this special anniversary release, denominations include the One Laurel, Half Laurel and Quarter Laurel. The reverse depicts a long cross over the Shield of the Royal Arms.
Pure Rebellious Gold
Certified by NGC in perfect Proof-70 Ultra Cameo (PF70 UC) condition, you can secure a 400th anniversary Laurel three-coin set struck in a quarter-ounce of 99.99% pure gold, a half-ounce gold 99.99% pure gold and one-ounce of 99.9% fine silver.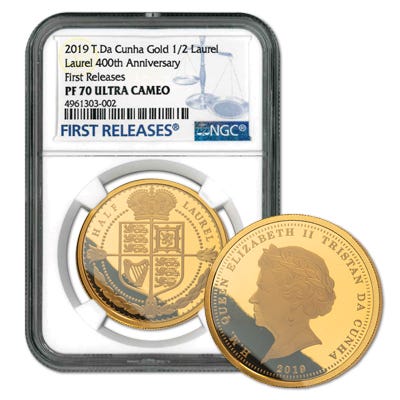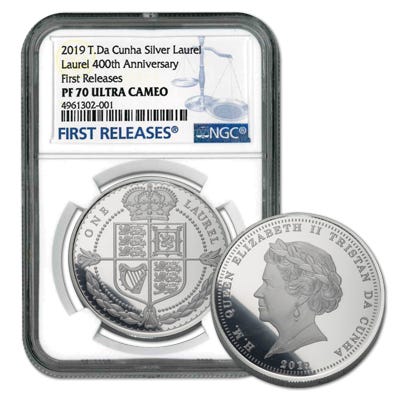 The World's First-Ever Silver Laurel
When the first Laurel was released in 1619, it made history. This release is no different—in the 400-year history of the Laurel, the 2019 series marks the first time ever that the Laurel has been struck in silver!
Certified Flawless PF70 UC Condition
Each Laurel has been certified and graded by Numismatic Guaranty Corporation (NGC), one of the world's leading third-party grading services, as flawless Proof-70 Ultra Cameo (PF70 UC) condition. Once graded, each coin is sealed in an acrylic display holder to preserve its brilliance. And what brilliance it is—each polished blank was struck multiple times with specially treated dies to create a stunning Proof condition, with frosty designs and mirrored fields. These coins were struck just for collectors.
World-Exclusive Limited Release
We have secured world exclusivity on this modern Gold and Silver Laurel release—but mintages are still limited. Don't wait or you may miss your opportunity to join in this 400th-anniversary celebration!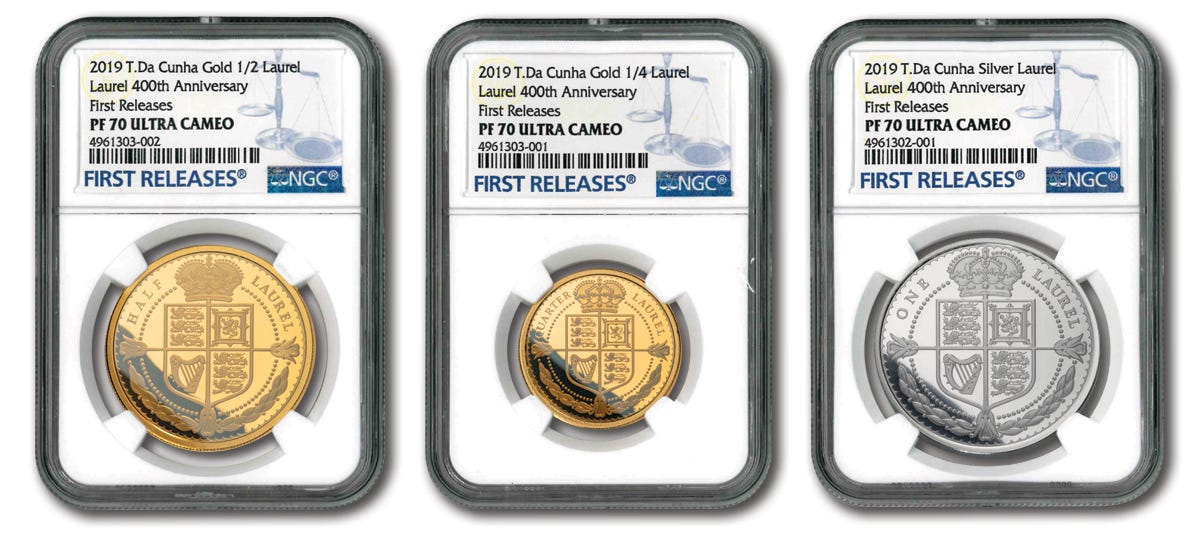 2019 Gold & Silver Laurel 400th Anniversary 3-Proof Set
Half-Ounce Gold, Quarter-Ounce Gold and One-Ounce Silver Laurel
Struck in 99.9% Silver and 99.99% Gold
Official Legal Tender
400th Anniversary Release
First-Ever Left-Facing Queen Elizabeth II Obverse
First-Ever Silver Laurel
Proof Condition
Certified by NGC as Flawless PF70 UC
World Exclusive Release
Limited Availability
Individual Coins Also Available
The original Laurel coins were struck for only six years between 1619 and 1625. There's no telling when or if the modern Gold or Silver Laurel will return.

Don't wait for this exclusive 400th-anniversary release to enter into the history books without being a part of the action. Call now to secure your new 2019 Gold and Silver Laurels today!
Call 888-870-6339 now!