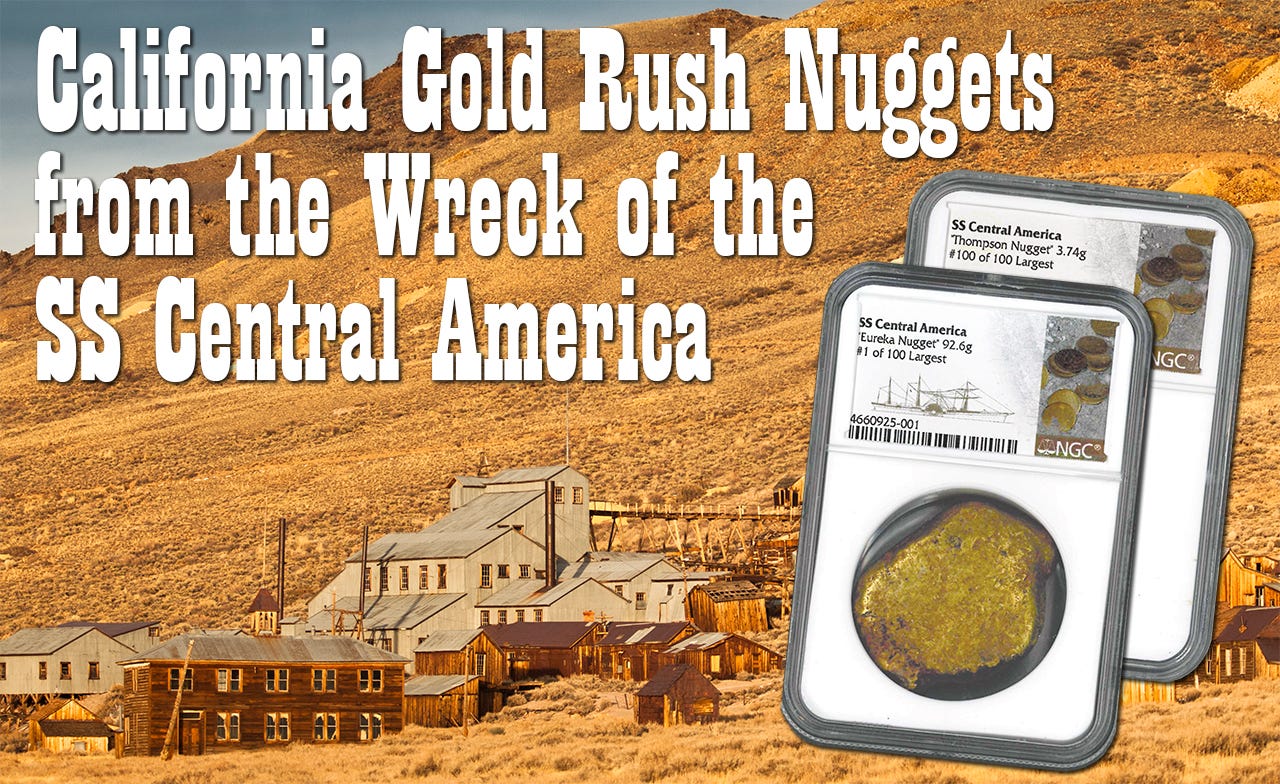 From the Gold Fields of California to Your Collection
It's incredible that something weighing less than one-thousandth of an ounce and smaller than a fingernail could have literally changed the course of American history.
But that's just what happened one January morning in 1848 to California carpenter John Marshall. As he oversaw construction of a new sawmill for Colonel John Sutter, Marshall noticed something glittering in the water, bent down, and picked up a small gold nugget. He later hammered that nugget into a thin flake for easier identification.
That single, tiny flake of gold weighed in at just 0.0855 grams—and yet, it changed American history forever. Soon, the news of Marshall's discovery spread like wildfire…
The Wreck of the SS Central America
On August 20, 1857, several hundred passengers boarded a Pacific Mail steamship and left San Francisco headed south toward Panama City. Aboard was over $1.6 million in gold—including raw gold nuggets still in their original saddlebags that carried them from the gold fields into San Francisco.
Since the Panama Canal had yet to be built, the passengers and gold were then hauled overland to the next leg of their trip aboard the sidewheel steamer SS Central America.
As the ship rounded the Florida peninsula and headed north, the Atlantic grew dark and angry and a huge gale-force storm moved in. The ship took a pounding and she was swallowing thousands of gallons of water. Most of the passengers knew they were sinking and were emptying their pockets, including gold dust, to alleviate their weight so they could swim. Efforts to keep her afloat were futile (although women and children managed to transfer to another ship.) Finally, a huge wave hit the SS Central America and sent her 8,000 feet down to the ocean floor about 160 miles offshore from Charleston, South Carolina. At the time of the sinking, the amount of gold carried on board had a value in today's dollars of $300,000,000.
She would remain lost for the next 130 years…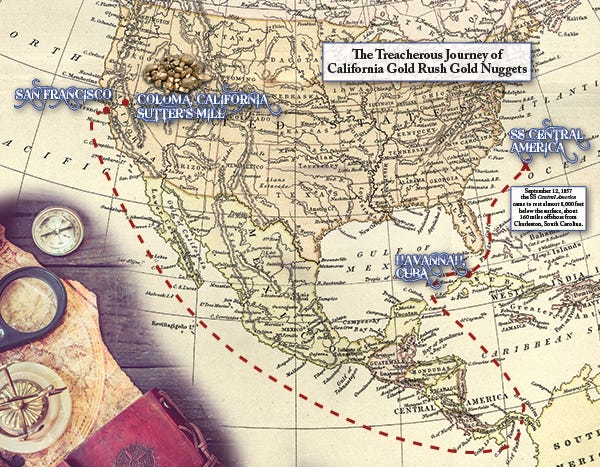 An Incredible Discovery
The SS Central America was given the nickname "Ship of Gold" for her famous cargo: tons of gold coins, as well as raw nuggets from the California Gold Rush. And in 1988—131 years after her final voyage—some of that treasure was finally discovered. More than 7,000 gold coins were recovered…but there was still more to be found.
Another 25 years later, the recovery crew returned in 2014 to find something amazing: a large rectangular form laying on the ocean floor. Further careful probing revealed it to be the ship's safe, still intact more than 150 years later.
The rusted hinges fell away, and the door dropped open—and so did the mouths of the recovery crew. Inside was a leather saddlebag, still tightly wrapped in leather straps as it was the day it was placed in the safe in 1857. Once recovered, the bag was carefully opened to reveal several "pokes"—canvas pouches each filled with hundreds of gold nuggets ranging from 0.3 grams all the way up to a single nugget weighing nearly three ounces of gold!
Some of these same unopened pokes were included in the blockbuster traveling "Ship of Gold" exhibition, displayed within an aquarium of water to preserve them after over a century of saltwater immersion. As for the others…
Authentic Gold Rush Nuggets Certified by NGC
Now, for the first time ever, genuine California Gold Rush Nuggets, including those discovered locked in the ship's safe during the latest SS Central America recovery mission, have been individually authenticated and certified by Numismatic Guaranty Corporation (NGC) as SS Central America Gold Rush treasure.
Sealed in an archival acrylic holder with an exclusive SS Central America label, these nuggets give you the mind-boggling opportunity to own real California Gold Rush gold which has the most direct and well-documented pedigree in history!
Think of it—the California Gold Rush Nugget you can hold in your hands will have taken just a few short steps from the California Gold Fields to your collection. An opportunity like this may never come again!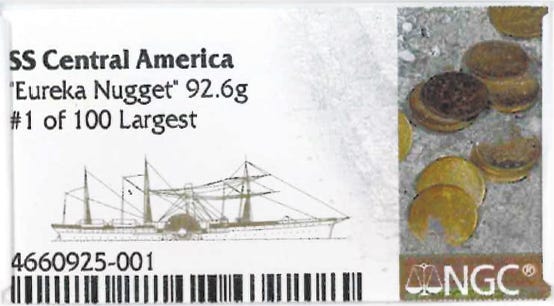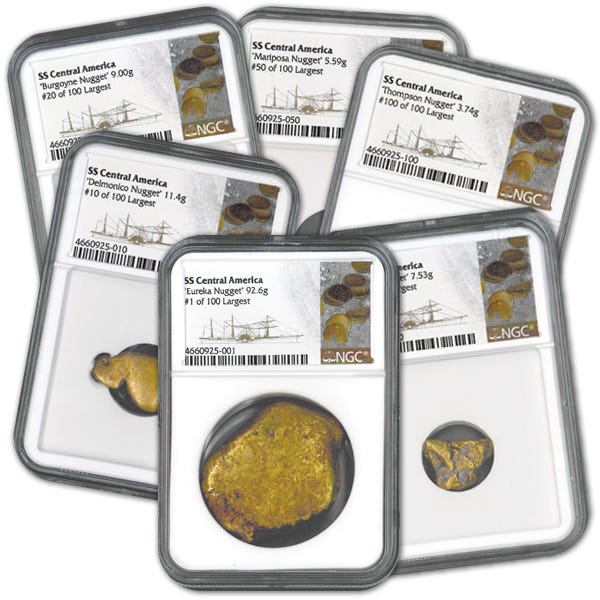 SS Central America Gold Nugget
Authentic California Gold Rush Nugget

Each Nugget is Unique

Between 0.31 and 0.40 Grams of Gold

Certified by NGC as Coming from the SS Central America

Sealed in a Protective Holder

Housed in a Branded Velvet Pouch

Includes Storybook on the California Gold Rush and SS Central America

Limited Availability
These are genuine California Gold Rush Nuggets from the Ship of Gold, SS Central America. The importance of this discovery cannot be overstated. Don't let history slip through your fingers—hold Gold Rush history in your hands TODAY!
Call 888-870-6339 now!