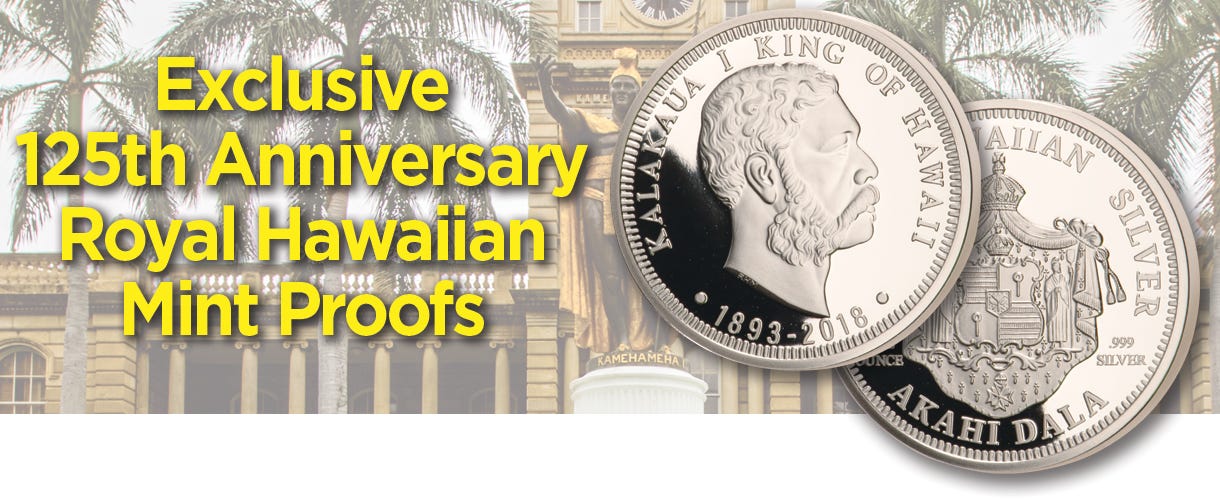 Long before Hawaii became the State of Hawaii, the Hawaiian Islands were
a sovereign
Royal Kingdom.
During much of Hawaiian history, the various Hawaiian chiefs were in a near-constant struggle for power. This struggle ended when Kamehameha I conquered all of the islands, united the chiefdoms and created a dynasty that ruled until
1872,
when King Kamehameha V passed without naming an heir.
In 1874, David Kamananakapu Kalakaua was elected by the Legislative Assembly to be King of Hawaii and ruled until his passing in 1891. His sister Kamakaeha Liliuokalani was elected Queen and became the last Hawaiian sovereign to rule the Kingdom of Hawaii.

In 1893, the Kingdom of Hawaii was overthrown with the help of the United States military. Hawaii thus became a U.S. territory, which was more favorable to the American businesses that had become disgruntled with the sovereign Hawaiian government.
Now, on the 125th anniversary of the Hawaiian Kingdom, the Royal Hawaiian Mint has issued exclusive proof sets featuring beautiful royal designs that commemorate the history and culture of the Kingdom of Hawaii.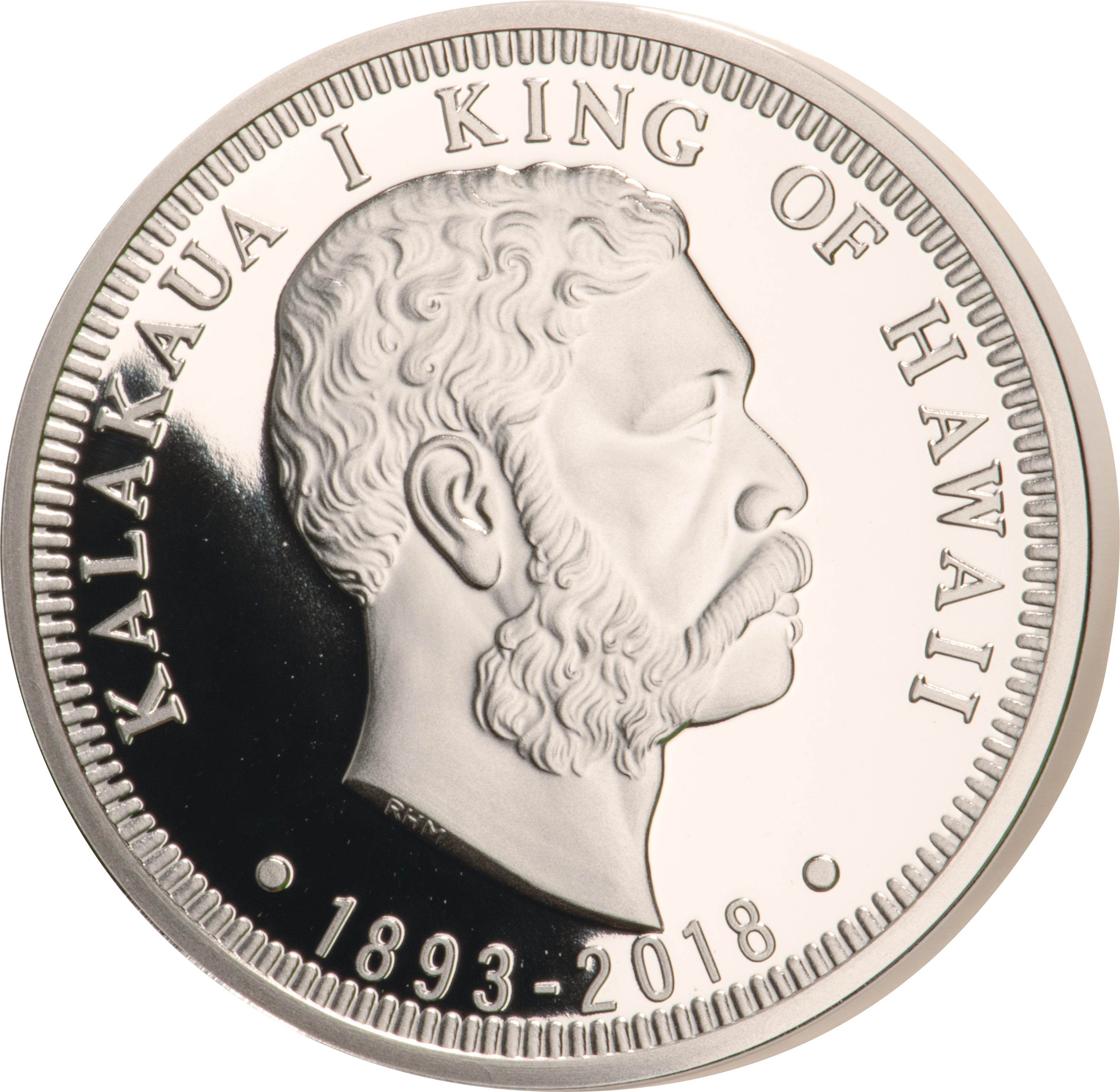 King Kalakaua
King Kalakaua reigned from 1874 until his death in 1891. While he successfully restored Hawaiian cultural traditions that had been suppressed for decades, he has ever since been known as the "Merri Monarch" for his legendary love of music, parties and fine dining. In fact, it was during his reign that the hula dance made a resurgence after being forbidden for decades by Christian missionaries.
More Hawaiian Royalty Available In a Three Piece Set
King Kamehameha I
Kamehameha I, also revered as "Kamehameha the Great," was the first Hawaiian to unite the Hawaiian Islands. A gold and bronze statue of King Kamehameha is prominently featured in front of the Hawaii State Supreme Courthouse across King Street from Iolani Palace in Honolulu. The image from that statue is depicted on the One Ounce Silver Kamehameha Proof. The reverse features a traditional Hawaiian outrigger canoe and the official Hawaiian Motto: Ua Mau keEa o ka 'Āina ika Pono: "The life of the land is perpetuated in righteousness".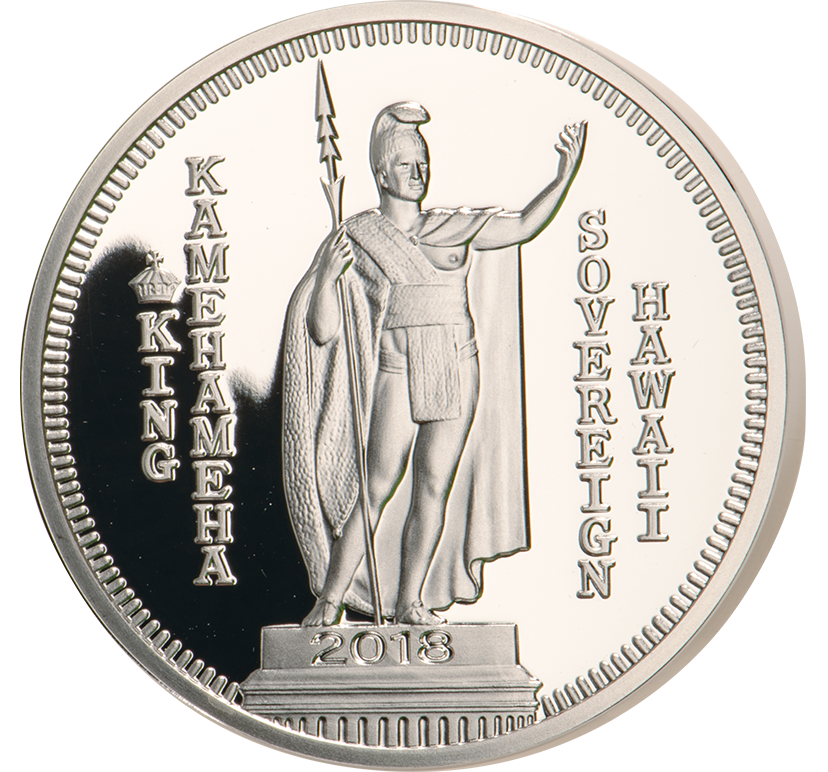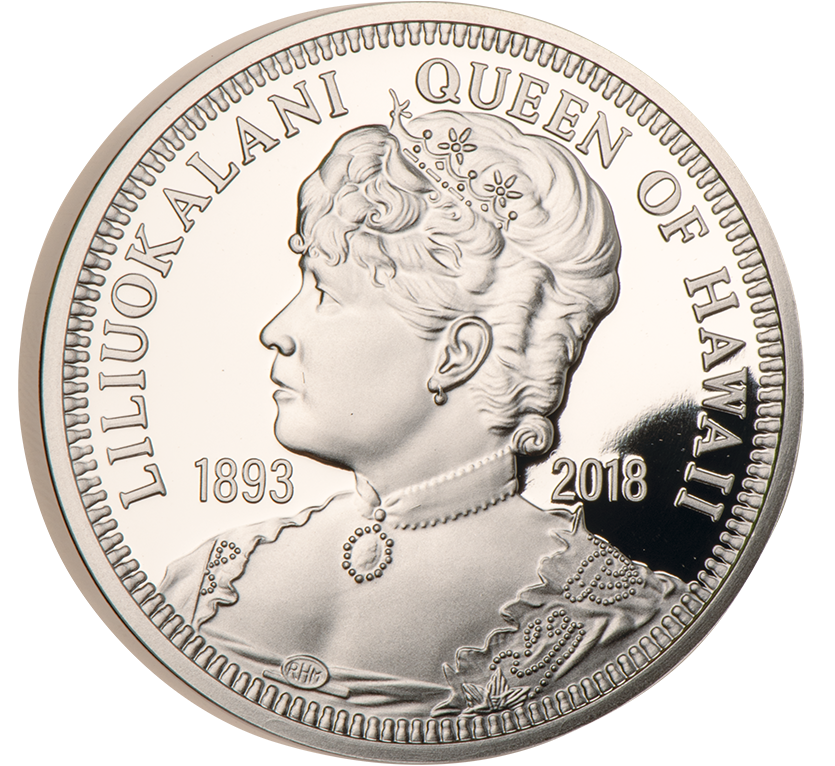 Queen Liliuokalani
Kamakaeha Liliuokalani was elected Queen Liliuokalani to succeed King Kalakaua. Two years later, the Kingdom of Hawaii was overthrown by the U.S. government. This most beloved Queen of Hawaii was featured on $20 gold proof coins struck by a British collector for circulation in the Kingdom of Hawaii. Today, the Queen's coins have exceeded $75,000 at auction. The Queen Liliuokalani Proof revives this design, adding dual dates of 1893 and 2018. The reverse features the Hawaiian Royal Crown.
Princess Kaiulani
Queen Liliuokalani named Princess Victoria Kaiulani heir apparent. Educated abroad and rarely in Hawaii, her grace was said to be pure Aloha as she spread joy throughout the Kingdom. She traveled throughout the United States as a relentless advocate for the restoration of the Hawaiian monarchy. Eloquent and charming, she was nevertheless denied the throne for which she was groomed. She is featured on the obverse with the Hawaiian Royal Crown on the reverse.