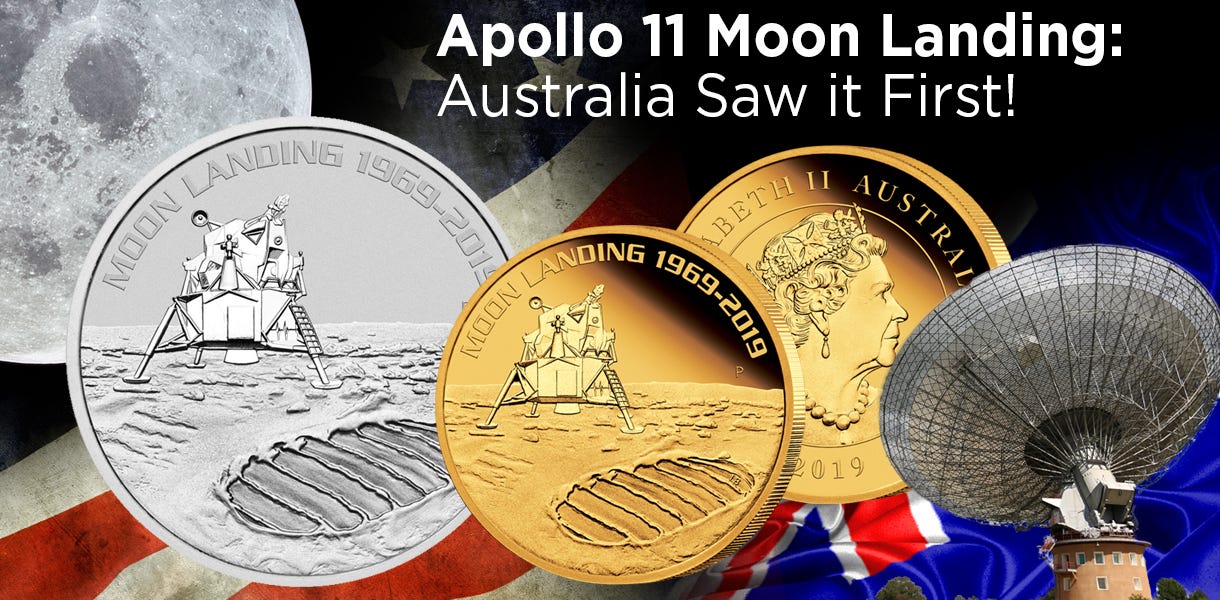 New 2019 Apollo 11 Proofs from Perth Mint
On July 20, 1969, American astronaut Neil Armstrong became the first person in history to set foot on the surface of the moon. It's one of mankind's greatest achievements, and holds a special place in the heart of every American—but we didn't do it alone!
In order to receive telemetry and communications from the Apollo 11 crew, we turned to our friends in Australia for help. After all, at the estimated time of the landing, the moon would be positioned over Australia, not the United States, meaning communications would be better received there.
For the mission, three tracking stations were set up. One in California, and two in Australia: the Honeysuckle Creek Tracking Station and CSIRO's Parkes Radio Telescope. Honeysuckle is where the first images of a man on the moon were seen, but Parkes had the clearest images, and so was used for almost the entirety of the broadcast.
Images were sent to Sydney, and from there they traveled to both Mission Control in Houston and directly into Australian homes. Since anyone living outside of Australia saw the footage via Houston, and it took slightly longer for the footage to travel halfway around the globe than it did to travel into local television sets, the first audience to see the historic "one small step" was Australian!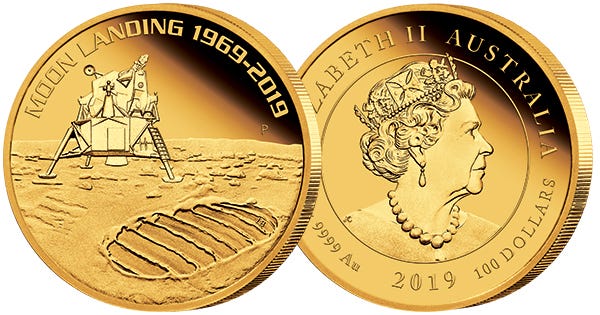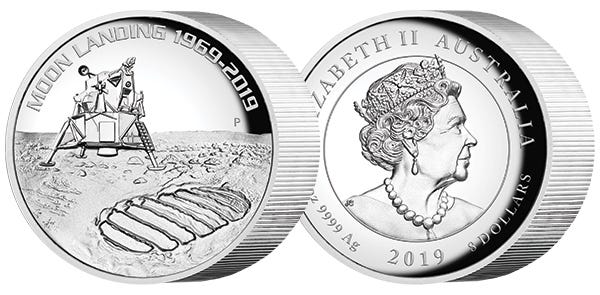 Perth Mint Apollo 11 50th Anniversary Commemorative Proofs
To commemorate the Apollo 11 mission and Australia's part in making it happen, Australia's world-famous Perth Mint has struck beautiful 99.99% pure gold and silver commemoratives. The reverse depicts Armstrong's history-making footprint with the Lunar Module Eagle in the background. Above are the words "Moon Landing" and dual dates of 1969 and 2019—capped off by the tiny but incredibly significant "P" mint mark of the Perth Mint.
This beautiful commemorative comes struck in shining Proof condition, with frosted details and mirrored fields. Both coins are official Australia legal-tender, and the silver proof even comes struck in stunning high relief, with designs that sit even higher over the fields for additional contrast.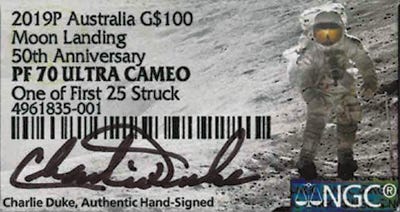 Apollo 11 Was an Historic First—And So Are These Coins!
Not only are these special 50th-anniversary commemoratives beautiful, but they're also available certified by Numismatic Guaranty Corporation (NGC) as One of First Struck—a designation that requires official confirmation from the mint that these coins were the very first to roll off the presses.
Autographed by Apollo Astronaut Charlie Duke
Whether you know it or not, you've heard the voice of Charles "Charlie" Duke. As Capsule Communicator (CAPCOM) for the Apollo 11 mission, he was the voice of planet Earth for the crew in space. When Armstrong famously reported "the Eagle has landed," it was Duke who retorted "We copy you down. We've got a bunch of guys about to turn blue. But we're breathing again."
Apollo 11 was not the last time Duke's name would enter the history books. As part of the Apollo 16 mission, Duke himself set foot on the moon's surface, becoming the youngest person in history to do so.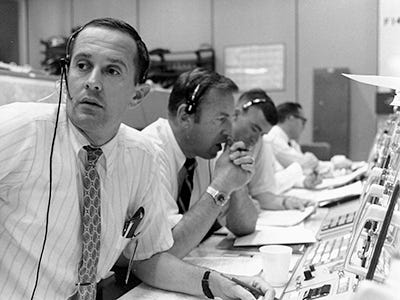 When you secure your Apollo 11 Commemorative Proof, it will arrive sealed in a protective display holder with an attractive black core and a special label hand-signed by Charlie Duke. You won't just own a piece of numismatic history—you'll own the hand-signed autograph of an important Apollo 11 figure and one of only 12 people in history to walk on the moon!
Limited Availability
Both of these historic proofs has a strictly limited mintage. Only 1,000 five-ounce silver high relief proofs and just 500 one-ounce gold proofs have been authorized. Out of that small mintage, only 250 silver and 25 gold proofs will ever be certified by NGC as One of First Struck and come sealed with a label hand-signed by Apollo astronaut Charlie Duke. Do not miss this chance to own a piece of Apollo 11 history!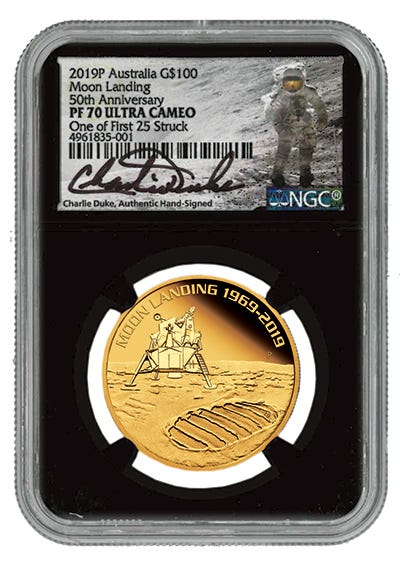 2019 One-Ounce Gold Apollo 11 Moon Landing Proof
Apollo 11 50th Anniversary Commemorative
One Ounce of Pure Gold
99.99% Fineness
Iconic Moon Landing Design
$100 Australia Legal Tender
Proof Condition
Certified by NGC as One of First 25 Struck
Label Hand-Signed by Apollo Astronaut Charlie Duke
500 Struck
Only 25 Available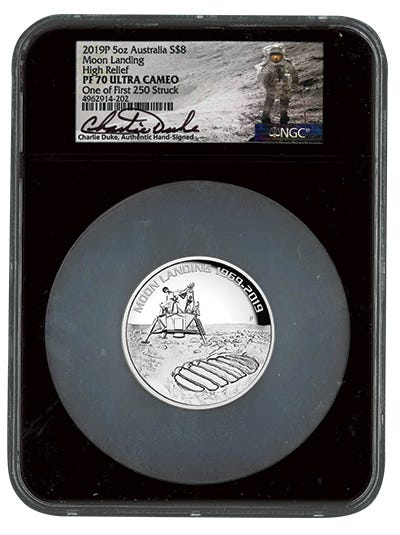 2019 Five-Ounce Silver Apollo 11 Moon Landing High Relief Proof
Apollo 11 50th Anniversary Commemorative
Five Ounces of Fine Silver
99.99% Fineness
Iconic Moon Landing Design
$8 Australia Legal Tender
High Relief Strike
Proof Condition
Certified by NGC as One of First 250 Struck
Label Hand-Signed by Apollo Astronaut Charlie Duke
1,000 Struck
Only 250 Available
Without Australia's help, we may never have witnessed Armstrong's historic first steps on the moon. Without these shining Proof coins, your historic collection may never be complete. Call now and secure your Perth Mint Apollo 11 Commemorative Proofs today.
Call 888-870-6339 now!