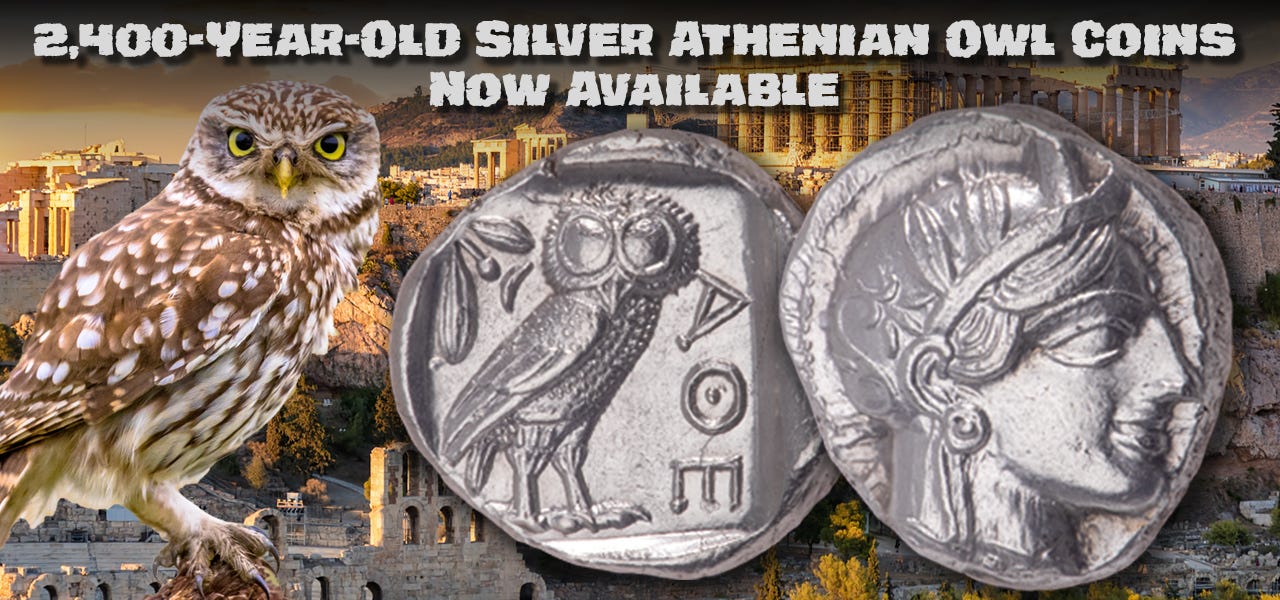 The World's First Mass-Circulated Coin

Fun fact: a group of owls is called a "Parliament." You'll need that for later.
But first, let's take a trip back some 2,400 years to Ancient Greece. It was a time known as the "Pentecontaectia," or "Fifty Years" during which Athens became an imperial power capable of standing against Sparta and her Peloponnesian allies.
It was during this period that a massive project was undertaken: the building of the Parthenon, a temple dedicated to Athena, goddess of, among other things, wisdom, the arts, and strategic warfare.
But how to pay for its construction? Some coinage existed, but none were standard. The existing silver coinage were known as "Drachma," taken from the Greek verb "to grasp," with its value equivalent to that of a handful of arrows.
And so a plan was put into motion: create a new standard coin design and strike it in great numbers. That coin was the Athenian Owl Tetradrachm, and it became the first mass-circulated coin the world had ever seen.
Of course, this is 2,400 years ago. Surely it would be impossible to get your hands on one of these coins today, right?

Wrong.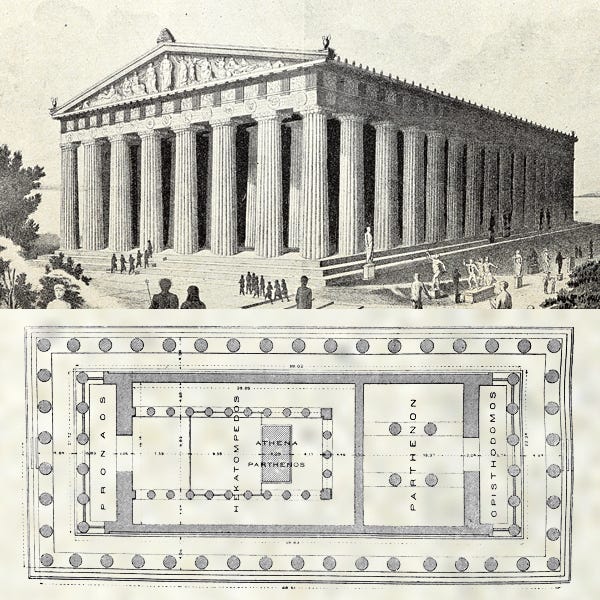 The Ancient Greek Silver Athenian Owl
When the workers at the Parthenon first received payment, their question was likely "what is this?" And upon being told it was a coin, their next question was likely "what's a coin?" That's now uncommon this sort of currency was in Athens at the time.
However, the coins iconic imagery helped bridge that understanding. On the obverse is an image of the goddess Athena, for whom the Parthenon was built. She smiles proudly while wearing her beautifully designed helmet.

On the reverse is what is perhaps the most iconic and recognizable design of all ancient coinage: the Athenian Owl. A symbol of Athena's wisdom, the owl is flanked by the crescent moon, and olive branch, and an important legend identifying its city of origin: Alpha Theta Epsilon—the first three letters of the city of Athens.
This coin is so iconic that it has earned the #10 spot in the book 100 Greatest Ancient Coins, and even graces the cover of the second edition.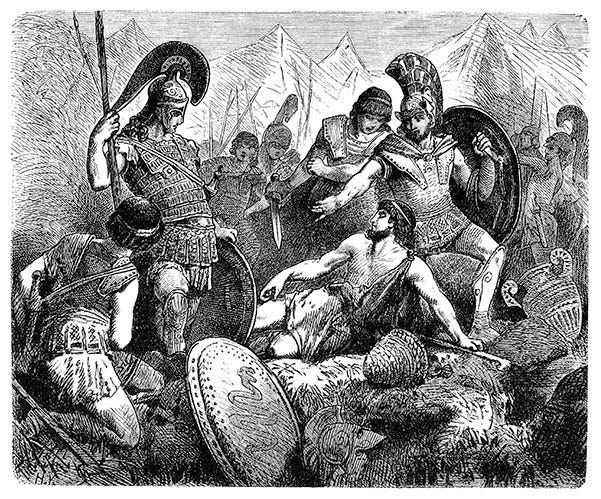 The World's First "Trade Dollar"
The Athenian Owl is not just the most famous silver coin of antiquity. After being used to pay for the Parthenon, these coins continued to circulate around the world, paying for the reconstruction of the Acropolis and becoming the wages for soldiers who served during the Peloponnesian War.
In effect, the Athenian Owl became the world's first-ever "trade dollar," finding its way across Europe as it continued to trade hands in commerce. This is evidenced by some of the markings you'll find on those examples that have survived to the modern era. As the world's first mass-circulated coin, the Athenian Owl was also a mystery to many who received it as payment. Not knowing what a coin was, tradesman would often cut or chisel into the surface of the Athenian Owl to assure themselves of its pure silver contents.
The Parliament Collection
Remember what I said about groups of owls being called a parliament? It's with that in mind that we're proud to introduce you to the Parliament Collection—a group of incredibly fine Athenian Owl coins hand-picked from a larger hoard for their tremendous eye appeal, fine strikes and unbelievable condition.
Certified by Numismatic Guaranty Corporation (NGC), one of the world's leading third-party grading services, the coins of the Parliament Collection were struck in Athens sometime between 440 and 404, B.C. Amazingly, these coins have lasted for more than 2,400 years in Mint State (MS) condition, with a Strike 5/5 and a Surface 4/5.
Remember, not all ancient coins of the same grade are the same. Each piece is unique, and "Eye Appeal" is an important factor in the value of a coin. The Parliament Collection consists of only the finest coins we have chosen for our customers from a larger hoard of ancient coinage.
BONUS: Your Own Copy of 100 Greatest Ancient Coins

100 Greatest Ancient Coins is a veritable encyclopedia of knowledge concerning coins of the ancient world. If you've never dipped a toe into this world before, THIS is the opportunity you don't want to miss!
Your coin will come graded and sealed by NGC with the special Parliament Collection pedigree and housed in a beautiful display box. In addition, you'll receive a pamphlet on the Athena Owl coins released by NGC, as well as your very own copy of 100 Greatest Ancient Coins by respected numismatist Harlan J. Berk. As I've stated before, that book features the Athenian Owl at #10 in its rankings but also features the coin on the cover of its second edition. But here's a secret for you: the coins we're offering are in even better condition than the one on the cover of this book. What's more, that coin is valued in the book at $7,000!
That price was listed before this great hoard was found and released, so our coins aren't valued as high as $7,000. But we were able to secure our coins at just the right time, allowing us to bring them to you at a price far below current market values. But just imagine—you'll be able to hold in your hands a finer example of the world's first-ever mass-circulated coin than the one that appears on the cover of an ancient coin encyclopedia!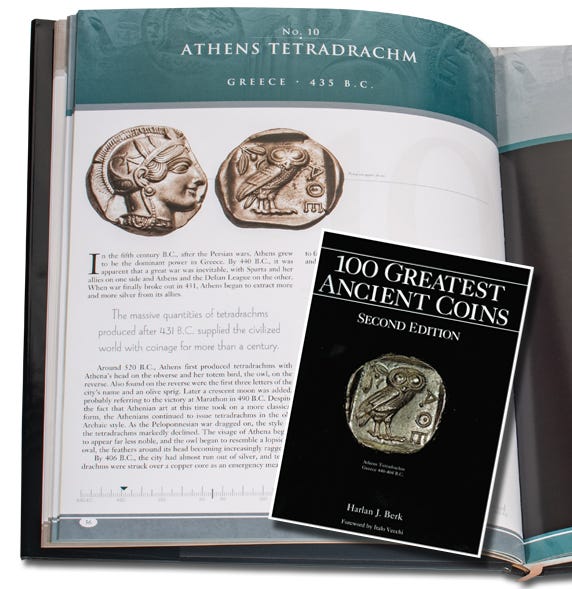 Limited Availability
This should come as no surprise, but Athenian Owls aren't something you'll happen across as you count your pocket change (though the design is so important to the history of coinage that it's now a part of the Greek Euro!).
This is the world's first mass-circulated coin. And it was struck more than 2,400 years ago. So you can imagine that the vast majority of these coins were worn down in commerce or melted to create new silver coinage. And of those that exist, only a small number were fine enough to be hand-picked for inclusion in the Parliament Collection.
In other words, our quantities of these Ancient Greek Silver Athenian Owl coins is extremely limited—so if you want to get your hands on one, you have to act NOW!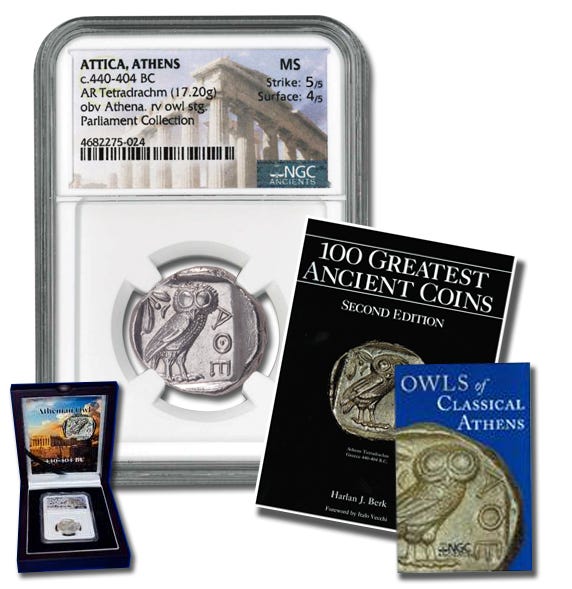 Ancient Greek Silver Athenian Owl
World's First Mass-Circulated Coin

The Most Famous Silver Coin of Antiquity

Minted in Ancient Athens, Greece

Struck Between 440 and 404, B.C.

Struck by Hand, No Two Are Alike

Certified by NGC as Mint State (MS)

Strike Graded 5/5

Surface Graded 4/5

Parliament Collection Pedigree

#10 in 100 Greatest Ancient Coins
Cover Coin for Second Edition of 100 Greatest Ancient Coins
Includes Copy of 100 Greatest Ancient Coins
Athena Owl Pamphlet by NGC

Beautiful Display Box

Limited Availability
This is your chance to hold in your hands a genuine piece of the Ancient World. A silver coin struck in Athens, Greece more than 2,400 years ago. The precursor of all mass-circulated coinage in the entire world. A numismatic legend! But it can only be yours if you strike now. The Parliament Collection is a limited, exclusive selection of Athenian Owl coins. To ensure that you can secure one of these incredibly preserved pieces and instantly turn your collection into a numismatic museum, you must order immediately. Don't wait—call now!