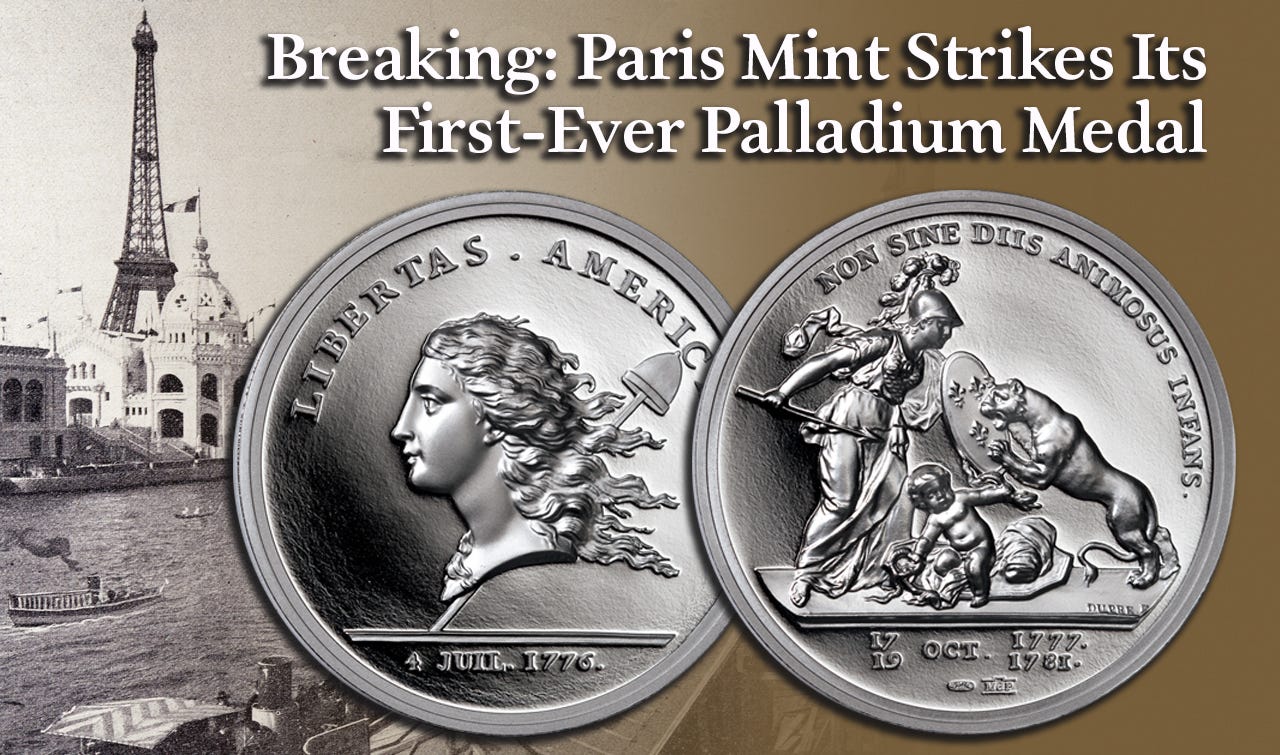 Ben Franklin's Freedom for America design shines like never before
The history of the Monnaie de Paris dates back to its founding in 864. In operation for twelve centuries, the Paris Mint was Paris' first industrial establishment, is France's longest-standing institution and the oldest enterprise in the world.
And yet, 2020 still marks something new for this historic mint. For the first time ever, the Monnaie de Paris has struck a palladium medal! But why Palladium?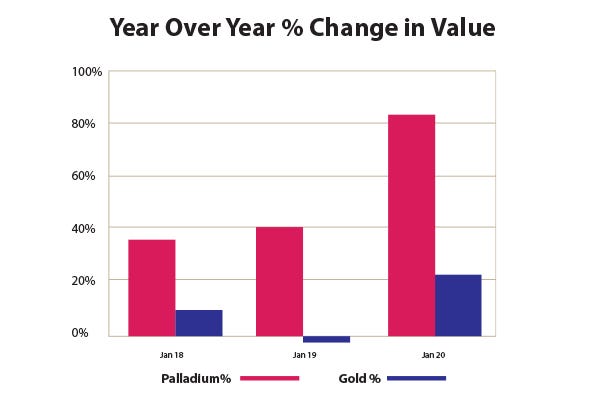 Palladium—Hotter Than Gold!
In the world of precious metals, palladium has now risen to the top! It is considered the most expensive of the top four precious metals, beating out even gold in its value.
Though palladium was first discovered in 1803, recent severe shortages have driven prices to record highs. The chart compares the spot price of palladium to gold from 2017-2020. Palladium has seen a 240% increase in just a few short years!
With just two countries supplying most of the world's palladium—Russia and South Africa—and with the metal being used in vehicle manufacturing, electronics, dentistry and exhaust systems, demand for this precious metal could remain high for some time.
So now we know the "why," but what design has the Paris Mint chosen for France's first-ever palladium medal? Enter Ben Franklin…
---
The Libertas Americana—Commissioned by Benjamin Franklin, Struck by the French
The Libertas Americana (or "Freedom for America") Medal was first commissioned by Benjamin Franklin in 1792 to mark the new nation's victory against the British at Yorktown and Saratoga. Outlined by French artist Esprit-Antoine Gibelin, sculpted by Augustin Dupre and struck at the Paris Mint, it displays Lady Liberty with her hair flowing in the wind alongside a freedom cap on a pole.
The reverse depicts an infant strangling two serpents, a call back to the myth of Hercules that also represents America's defeat of the British at Yorktown and Saratoga. The dual dates of October 17, 1777 and October 19, 1781 represent the dates of victory in these decisive battles. Alongside the child, the goddess Minerva keeps a lion at bay, symbolizing France's assistance in fighting the British.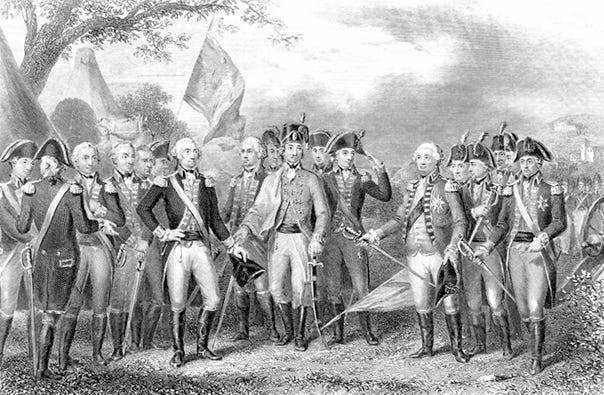 This is the design that the Paris Mint selected for their first-ever palladium medal. After all, the original dies from the American Revolution are still held in the Paris Mint's archives! It's a design that both of our nations cherish, and it looks absolutely stunning in a full ounce of 99.95% pure palladium—especially struck in Proof condition with frosty designs and mirrored fields! But that's not all…
---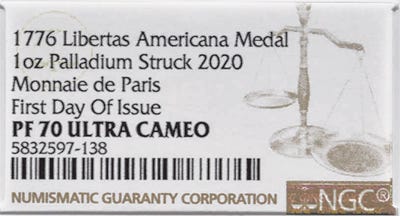 Certified as Flawless and First Day of Issue by NGC
Numismatic Guaranty Corporation (NGC) is one of the most trusted and well-respected third-party grading services in the world. These historic One-Ounce Palladium Libertas Americana Proofs have been certified not only as flawless Proof-70 Ultra Cameo (PF70 UC) condition, but as First day of Issue (FDI). This coveted designation indicates that the coins were secured for grading within 24 hours of the mintage's release. They're the freshest of the fresh, graded and slabbed as soon as possible to protect their perfect provenance.
---
Extremely Limited Release—Don't Miss Out!
As we've previously stated, palladium is in incredibly high demand right now. That's about to be true of this historic release as well. Just 500 of these One-Ounce Palladium Libertas Americana Proofs—France's first-ever palladium medal—have been authorized for minting. Of that already extremely limited mintage, just 150 are available certified by NGC as both flawless PF70 UC and FDI. Don't miss out!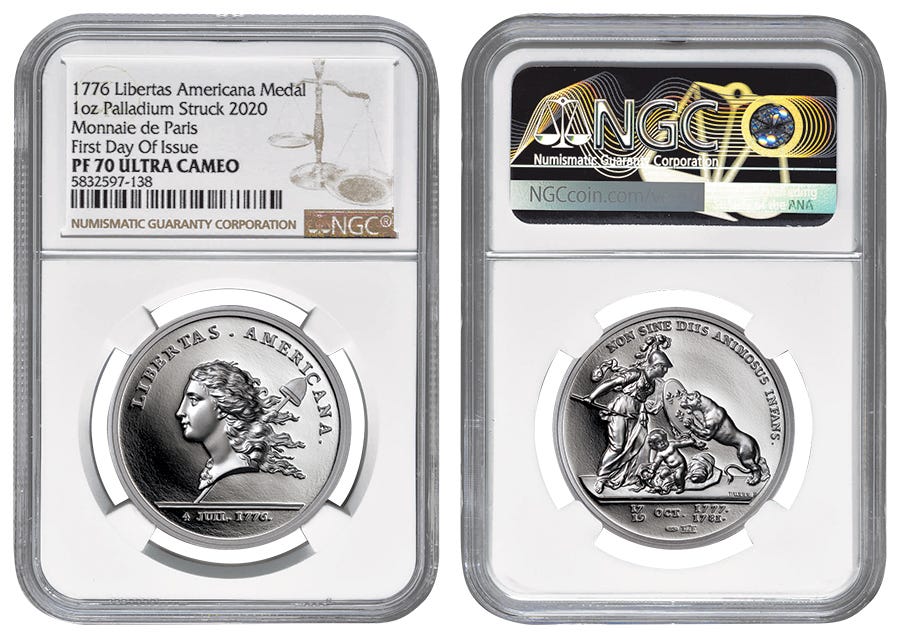 France One-Ounce Palladium Libertas Americana Proof
France's First-Ever Palladium Medal

One Ounce of Palladium

99.95% Purity

Classic Libertas Americana Design

Proof Condition
Graded Flawless PF70 UC by NGC

Certified as First Day of Issue

Only 500 Authorized for Minting

Just 150 Available Certified as PF70 UC and FDI
For the very first time in 12 centuries, the Paris Mint is striking a medal in pure palladium—a proof that's currently hotter than gold! History is being made before our eyes—but only a quick few will get to join in the event. Are you one of those few lucky collectors? Blink and you may miss this extremely limited mintage—so don't wait. Call 888-870-6339 now!