A $28 Million Discovery—And the Next Addition to Your Collection!
Built by the Savannah and Charleston Steam Packet Company, the SS Pulaski was designed to be faster and safer than any other steamboat then plying between Charleston and New York. It had spacious accommodations, paddlewheels that were six stories high, and sturdy copper boilers. From the gold leaf-plated wheelhouse to the shining brass fixtures, no expense was spared in its construction. The Pulaski was luxury from bow to stern, and only the wealthiest Americans could afford passage.
A Tragic End
On June 13, 1838, the Pulaski left on her fourth voyage with 194 souls on board. That night, around 11 p.m., one of the boilers exploded, practically cutting the vessel in half. Forty-five minutes after the boiler explosion, 135 of the Pulaski's crew and passengers had drowned, or were scalded to death or crushed by the falling masts. Those left alive in the aftermath made what they could of the damaged lifeboats, with some being forced to make their own rafts.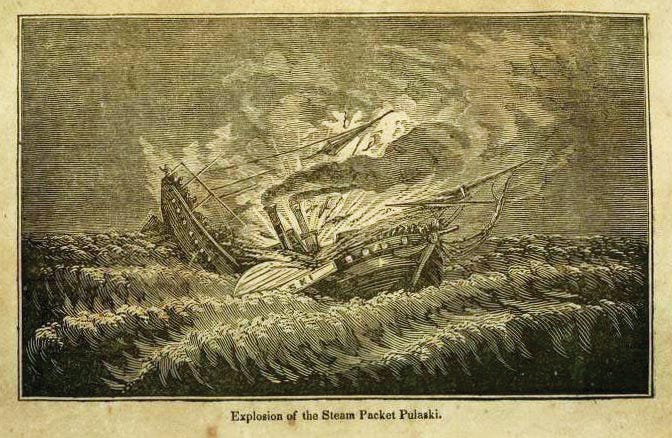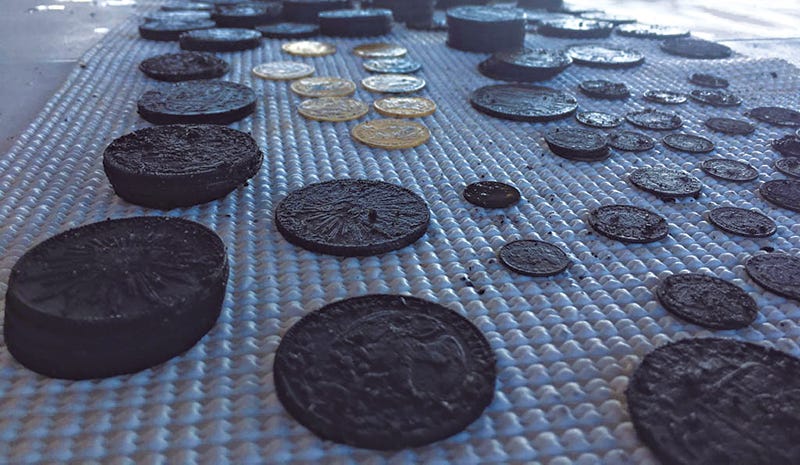 In the summer of 2018, nearly two centuries after the Pulaski was lost to the depths of the Atlantic, the first coins of the shipwreck were recovered. And what a recovery it was!

With no ATMs or a system of national banks, it was not uncommon for the wealthy to travel with significant amounts of money—and the Pulaski was a ship built for the wealthy. The ship was carrying at least $150,000 in coins and currency at face value and another $10,000 in jewelry. Based on the gold and silver coins that were believed to be on board, however, the collector value has been estimated at being approximately $28 million!
A Special Breed of Coin
Collectors have always gone crazy for shipwreck coins. In the coin world, history and rarity are two of the greatest drivers of value, and what could be more storied and scarce than one of the few coins that can be traced back to a specific shipwreck? The SS Central America, SS Republic, and Brother Jonathan have all become household names to savvy collectors who seek out and acquire these sunken treasures, spending millions on these historic low-population coins.
And while other shipwrecks carried massive amounts of coinage in an official capacity, transporting large sums for banks or governments, the smaller number of coins of the Pulaski were those held by individual passengers—personal artifacts with far more history to them than funds simply traveling from bank to bank.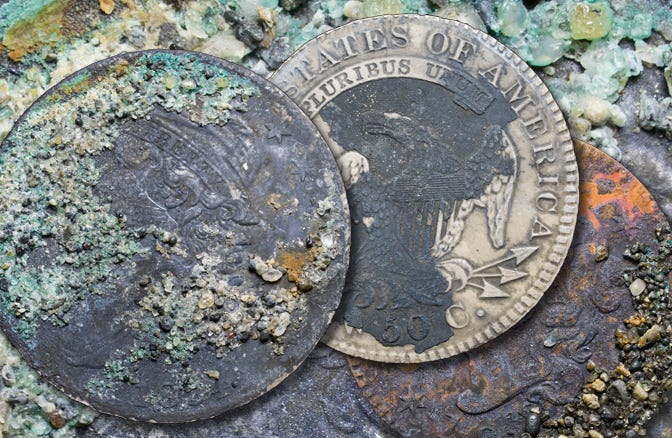 Own Genuine U.S. Sunken Treasure
Taken from the sunken wreckage of the Pulaski, you can now own U.S. Silver Half Dollars, Silver Half Dimes, Silver Dimes, Large Cents and $5 Gold Eagles dated between 1790 and 1837! Each coin comes sealed and certified by Numismatic Guaranty Corporation (NGC), one of the world's leading third-party grading services, as an official "Shipwreck Effect" coin from the wreck of the SS Pulaski.
In addition, each coin or set will arrive in a beautiful wooden presentation case along with a custom storybook detailing the Pulaski's final voyage and the recovery of its treasures.
Limited Availability
Only a limited number of coins and sets are still available certified as coming from the wreck of the SS Pulaski.
This ship was the Titanic of its time, and owning a piece of its incredible story of luxury, loss and even love
(you'll have to call to hear about that one!) is something you'll treasure forever. But only if you call and order now!
Coins and Sets from the SS Pulaski
SS Pulaski Shipwreck Coins
U.S. Large Cents, Silver Half Dimes, Silver Dimes, Silver Quarters, Silver Half Dollars and Gold Half Eagles
Coins from Spain, France, Great Britain and Chile
Dated 1790–1837

Certified by NGC as Shipwreck Effect
Individual Coins Available
Limited Availability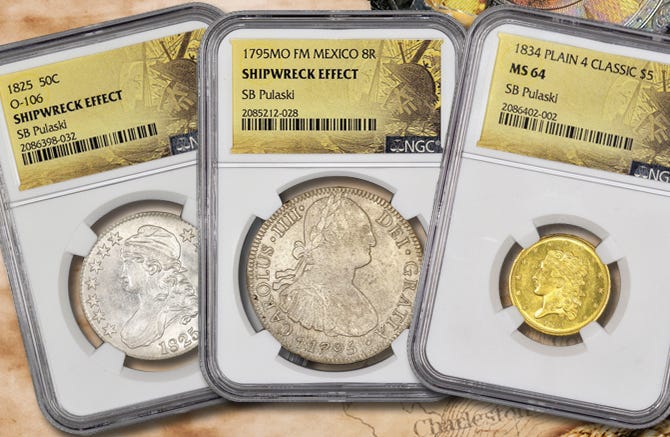 Don't wait for these historic pieces of American sunken treasure to disappear once again. Call now and secure your coins from the wreck of the SS Pulaski!
Call 888-870-6339 now!