---
Brilliant Uncirculated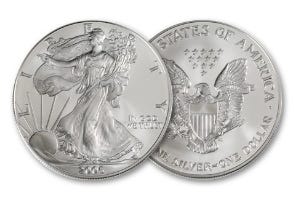 America's finest silver is displayed in all its splendor with the American Eagle Silver Dollar. It's one ounce of 99.9% silver! Here's your chance to get a Silver Eagle in blazing Brilliant Uncirculated (BU) condition!
Near-Flawless MS69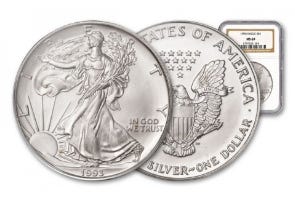 American Eagle Silver Dollars graded near-flawless Mint State-69 (MS69) are the choice of many astute, budget-conscious collectors. Better than brilliant and close to perfect, you can't go wrong!
---
Proof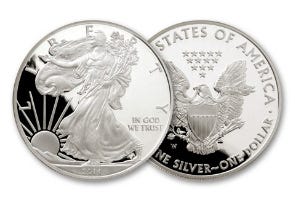 Struck to a dazzling proof finish, these Silver Eagles have crisp detail and Miss Liberty walking atop a brilliant mirrored field.
---
Near-Flawless Proof 69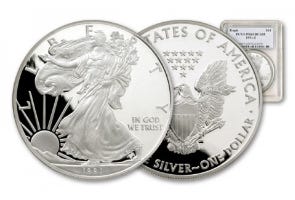 With all the beauty of the proof these near-perfect Proof-69s are a great choice for a savvy buyer, and a great addition to any collection.
---
About The American Silver Eagle
Thenti, Chief Engraver at the U.S. Mint. Inspired by the Great Seal of the United States, Mercanti's design features an eagle with wings outstretched in a heraldic pose, its breast protected with a shield. Struck in the blank field above its head are 13 stars, representing America's original 13 states. The eagle clutches an olive branch in one foot and a sheaf of arrows in the other, symbolizing a desire for peace but a readiness for war. In its beak is a banner inscribed with "E PLURIBUS UNUM," Latin for "Out of many, one."

"UNITED STATES OF AMERICA" appears in a half-circle above the eagle, and "1 OZ. FINE SILVER – ONE DOLLAR" is inscribed in a concave arc at the bottom of the Silver Eagle's reverse face. "JM", the artist's initials, appears just below the arrows. Proof coins carry a mint mark, which is placed underneath the olive branch.
Silver Eagle coins are struck in .999 fine silver and weigh one Troy ounce (31.103 grams). Every American Silver Eagle coin measures 40.6mm in diameter and has a thickness of 2.98mm and a reeded edge. Because of its one dollar face value, the Silver Eagle is often considered the modern-day version of the silver dollar.

People buy American Silver Eagle coins for two reasons: Collectors love Silver Eagles because they're simply beautiful—especially Silver Eagle proof coins and Uncirculated Silver Eagles. Many collectors seek to assemble a complete set of American Silver Eagle coins by acquiring a coin from every year of mintage, 1986 to the present.
History Of The American Silver Eagle
The American Silver Eagle was created by a 1985 Act of Congress called the Liberty Coin Act. This legislation was conceived and enacted to provide investors a safe, simple means for investing in precious metals. Silver American Eagles are produced by the U.S. Mint and are the only silver bullion coin guaranteed by the U.S. Government for weight, content and purity.