---
Take Silver Krugerrand for a 360° Spin
Sign-up for the latest Silver Krugerrand updates & when other products are available!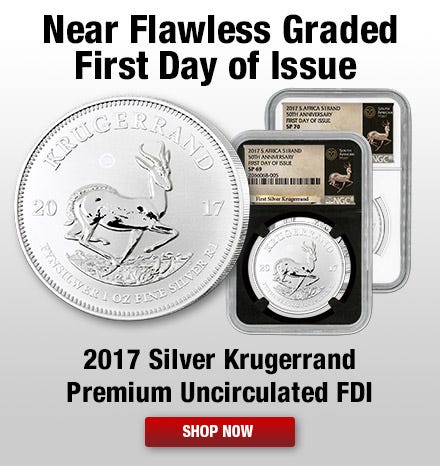 ---
The World's First Silver Krugerrand
It took 50 years to turn gold into silver
The name "Gold Krugerrand" has been synonymous with wealth, prosperity, and luxury for fifty years. First issued in 1967, the South Africa Gold Krugerrand was the world's first modern gold bullion coin. It is still the most widely traded gold bullion coin on the planet. Every other gold coin that followed—Gold Maple Leafs, China Pandas, and American Gold Eagles—owe their very existence to the Gold Krugerrand.
Now, to mark the 50th anniversary of the Gold Krugerrand, the award-winning South African Mint has just released a limited FIRST EVER issue: A stunning new one-ounce pure Silver Krugerrand!
For fifty years, collectors have dreamed of owning official Krugerrand coins in affordable pure silver, but South Africa has never issued them...until now!
World's Most Famous Gold Coin Now Shines in Silver!
The Krugerrand has never been struck in silver before and—once the 50th anniversary is over—it may never happen again! But soon, you will be able to secure the World's First and ONLY Premium Uncirculated Silver Krugerrand.
50 Years in the Making
Issued by South Africa, the Silver Krugerrand is official legal-tender, struck in a full ounce of 99.9% pure silver. The silver coin bears the timeless design of the original: South African President Paul Kruger on one side, and the symbolic South African Springbok antelope on the other. In addition, each one-ounce silver coin features a special 50th anniversary mint mark.
A Masterpiece Enhanced
The dies for the 2017 Premium Uncirculated Silver Krugerrand have been digitally enhanced through innovative laser-etching technology-minting technology not available when the original Krugerrand coins were struck in 1967. The result is a masterpiece coin design made even better! The 2017 Premium Uncirculated Silver Krugerrand features razor-sharp details, polished gleaming highlights, and satiny frosted shading never seen on a Krugerrand coin before. These amazing enhancements make this Silver Krugerrand a "must have" for any Krugerrand lover or silver coin collector.