As a special "thank you" for being a loyal GovMint.com customer, we'd like to offer you a classic 1883-1885 Morgan Silver Dollar at an incredible price. But there's far more to this coin than its date or even its beautiful Mint State-63 (MS63) grade from NGC, and more to this offer than just a single coin. Read on…
The Great Montana Hoard—Their Scandal Is Your Opportunity!
Zollie Kelman grew up during the Great Depression. When he was a boy, he watched, speechless, while city collectors threatened to shut off his family's water supply unless they paid the $1.81 bill immediately! His brother paid the bill with 181 Indian Head Pennies from his collection.
This experience stayed with Kelman, and during the 1950s and 1960s, he turned himself into quite the businessman. He owned a bank, the American Music Co., Zollie's Jewelry Exchange, World Wide Press and more. He's said to have had a hand in helping more businesses in Great Falls, Montana than any other individual. But Kelman never forgot those coins, and a hobby soon turned into an obsession.
Kelman knew that on a regular basis, an armored car company transported 1,000-coin bags of silver dollars from Minneapolis, Minnesota to Montana. So he hatched a plan: the cars would first stop by his house, he would dump the bags carefully on his kitchen table and his family would sort through them for the finest examples and scarcest dates possible. Then he'd pay for the selected coins in cash, bag the rest back up and send them on their way. Soon, he amassed such an impressive collection it's been given its own name: the Great Montana Hoard!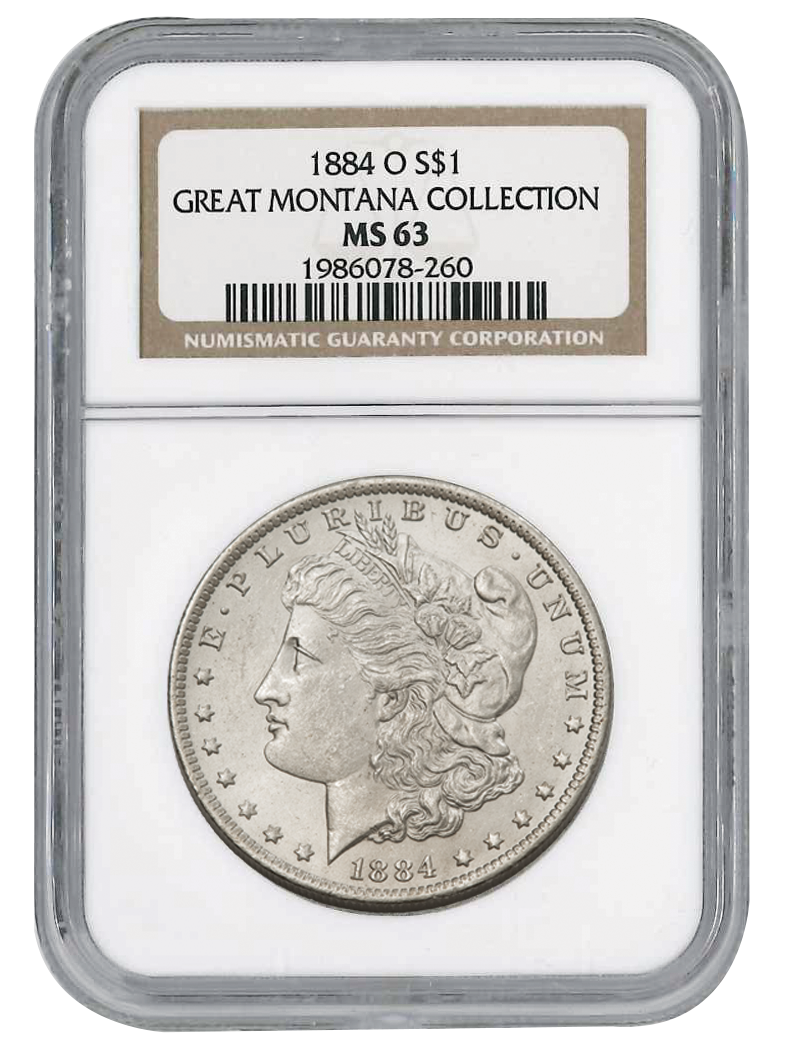 Certified by NGC as Mint State-63 Condition
For true collectors, a Brilliant Uncirculated (BU) coin simply isn't good enough. Instead, they seek out coins certified by a respected third-party grading service like Numismatic Guaranty Corporation (NGC).
Not only has NGC certified each of these hefty Morgan Silver Dollars as coming from the "Great Montana Collection," but each one comes graded as respectable Mint State-63 (MS63) condition.
Every one of these beautiful vintage American Dollar coins are at least 134 years old, and come struck with the "O" mint mark of the fabled New Orleans Mint—the only mint in U.S. history to function under three governing bodies—the State of Louisiana, the Confederate States of America and the United States of America.

An Incredible Offer You Won't Want to Miss
Normally, these coveted Great Montana Hoard Morgans are listed on our website for $89 per coin. But with this special offer, you can now secure up to 3 of these historic Silver Dollars, certified by NGC as MS63 condition, for as low as $79—a savings of $10. And that's just for starters…
When you use the special offer code below to secure this limited-time offer, you'll receive one FREE Bonus Pack a value of up to $62.15!
FREE Patriotic BONUS Pack
Included with your 1883-1885 Morgan Silver Dollar from the Great Montana Hoard, you'll also receive a FREE Bonus Pack including:
• Authentic 1935 $1 Silver Certificate:
Back when Silver Dollars were widely used in circulation, there were folks who preferred the weight of a piece of paper over a hefty coin. Enter the Silver Certificate: it functioned in exactly the same way, but could be traded at any bank for one U.S. Silver Dollar. Valued at $28.25!
• 50 Wheaties:
"Wheaties", or Wheat-Back Cents, are often one of the first coins in an American coin collection. Struck from 1909 to 1958, it replaced the Indian Head Cent and began the longest running design in U.S. Mint history—the Lincoln obverse. You'll receive 50 of these coins, including 10 that are guaranteed to be at least 100 years old. A $9 value!
• 10 Steel Cents:
During World War II, copper became an important natural resource for the war effort. Doing what they could to help, the U.S. Mint turned over nearly their entire story of copper. This in-house shortage resulted in the striking of the one-year-only 1943 Steel Cent! In this Bonus Pack you'll receive 10 of these popular pieces of American history—a $10 value!
• 5 Full Date Buffalo Nickels:
Another classic piece of Americana is the Buffalo Nickel, struck from 1913 to 1938. Designed by James Earle Fraser, the coin displays a composite portrait of Native American Chiefs and a mighty American bison. You'll receive five of these classic coins, still with fully visible dates. A value of $4.95!
• Commemorative Declaration of Independence:
Suitable for framing, this replica Declaration of Independence allows you to read the immortal words of our Founding Fathers whenever you walk into the room. Adopted by the Second Continental Congress in Philadelphia on July 4, 1776, this document told King George and all the world that the 13 colonies of the New World would govern themselves. It was the first step to founding a new nation. Valued at $9.95!
• Morgan History Story Book:
Finally, you'll receive a special story book detailing the history of the Morgan Silver Dollar Series, from its origins at the Comstock Lode to its time as one of the premier coins of the Wild West.
A deal like this can only last as long as our limited supply lasts, and with a deal this hot, it's not likely to last long! Just think: if you bought three of these coins on their own, plus shipping, plus the items in our Bonus Pack, you could be paying as much as $329.15. But right now, with this special limited offer, you can purchase up to three of these beautiful vintage Morgan Silver Dollars from the Great Montana Hoard in attractive MS63 condition for as low as $79 each—buy three and that's a total savings of nearly $30. Add in the fact that you're getting additional FREE extras valued at up to $62.15, and this is a deal that's simply too good to pass up!
PLUS Get a FREE Patriotic BONUS Pack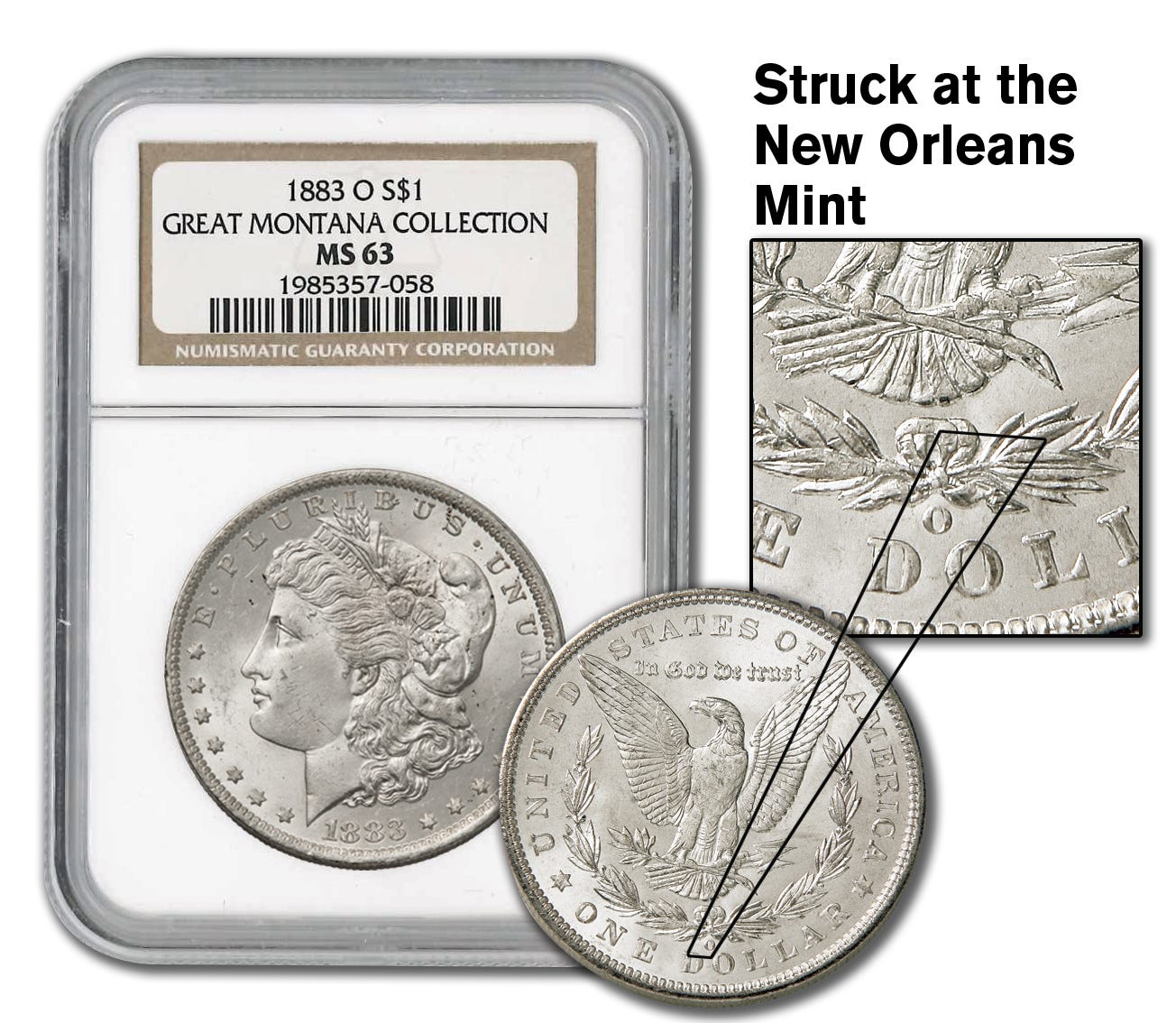 90% Silver
Struck at the New Orleans Mint
Morgan Silver Dollar
Dated 1883-1885 (our choice)
Graded by NGC as MS63 Condition
Certified Great Montana Collection
Currently Selling for $89
FREE Domestic Shipping when you order 2 or more coins!
FREE Bonus Pack (1 per order)
Limit 10 Coins Per Household
Limited Time! This Special Offer Has Been Extended to 4/30/19 @ 5PM CT
Call Now 1-800-870-8534! Offer Code: SLV43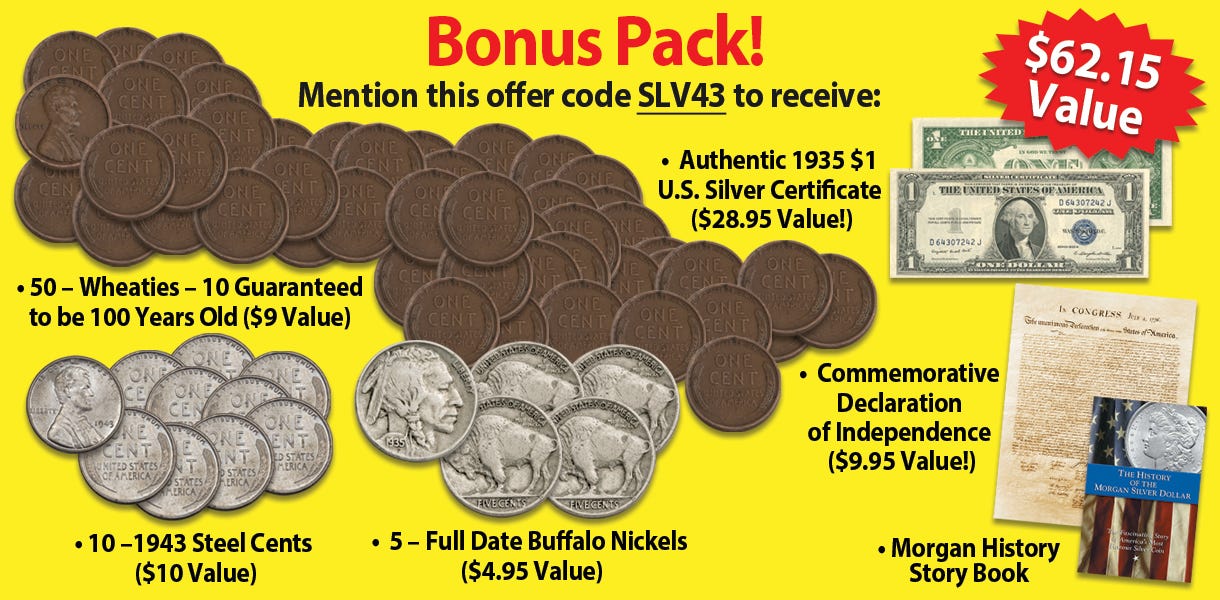 Again, thank you for being a loyal GovMint.com customer. Now hurry and call 1-800-870-8524 now before our limited supply of Bonus Packs run out!
Free shippingoffervalid for domestic standard delivery orders only. Not valid on previous orders. This promotion is reserved for existing customers only. It is non-transferable and only valid for the customer shown. Limit 1 bonus pack per order. Bonus Pack is Free withpurchaseof this offer. FREE Domestic Shipping when you order 2 or more coins!