America's Most Collected Coin Was Never Meant to be Collected!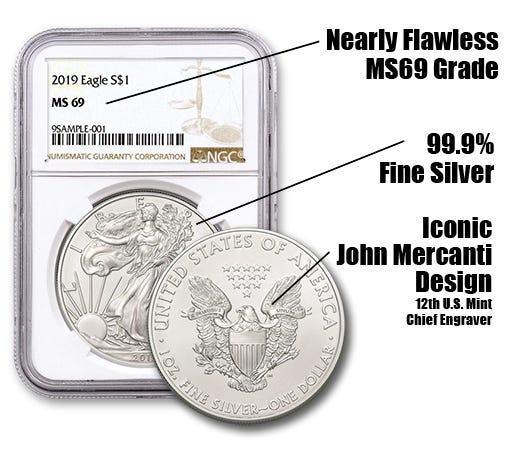 In 1986, President Ronald Reagan authorized the creation of America's first silver bullion coin—the American Silver Eagle. Surprisingly, this new American dollar—struck in one ounce of 99.9% pure silver—has become America's most collected coin over its 32-year history.
And now, as a special "thank you" for being a loyal customer, we want to give you the opportunity to secure 2019 Silver Eagles at an incredible price.
Certified by NGC as Mint State-69 Condition
For true collectors, a Brilliant Uncirculated (BU) coin simply isn't good enough. Instead, they seek out coins certified as being at or near the top of the 70-point coin grading scale. Coins in Mint State-69 (MS69) condition, for example, are virtually flawless to the naked eye, and just one point below absolute perfection.
Look elsewhere, and you'll find this coin selling for as much as $45.95 on the market (we normally sell it for $29.95). But with this special offer, you can now secure up to 4 of these coveted coins, certified by respected third-party grading service Numismatic Guaranty Corporation (NGC), for as low as $26.95—a savings of more than $20!
Plus, the more you buy, the more you save, and every order includes one FREE Patriotic Bonus Pack and a Mystery Gift (a $42.40 value) !

As if that price weren't enough, you'll also receive our Patriotic Bonus Pack, which includes:
• Authentic 1957 $1 Silver Certificate:
Back when Silver Dollars were widely used in circulation, there were folks who preferred the weight of a piece of paper over a hefty coin. Enter the Silver Certificate: it functioned in exactly the same way but could be traded at any bank for one U.S. Silver Dollar. Valued at $12.50!

• Replica Declaration of Independence:
Suitable for framing, this replica Declaration of Independence allows you to read the immortal words of our Founding Fathers whenever you want into the room. Adopted by the Second Continental Congress in Philadelphia on July 4, 1776, this document told King George and all the world that the 13 colonies of the New World would govern themselves. It was the first step to founding a new nation. Valued at $9.95!

• Novelty American Flag:
Perfect for decorating your office or mantle, this novelty America flag is an instant reminder of our freedoms, and a sign to others that they stand in the home or office of a true patriot!

• U.S. Silver Eagle Booklet:
This story booklet details the history of the American Eagle Silver Dollar, from President Reagan's signing of the Act ordering it into existence to the present day.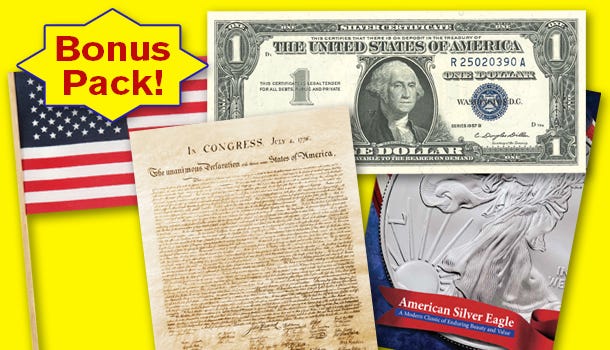 A deal like this can only last as long as our limited supply lasts, and with a deal this hot, it's not likely to last long! Just think: if you went elsewhere to purchase these coins, you could be paying as much as $183.80. Even at our normal price, it would still cost you $119. But right now, with this special limited offer, you can purchase up to four of these beautiful 2019 One-Ounce Silver Eagles in near-perfect MS69 condition for as low as $26.95 each—a total cost of less than $100. Add in the fact that you're getting additional FREE extras valued at over $42, and this is a deal that's simply too good to pass up!
PLUS Get a FREE Patriotic BONUS Pack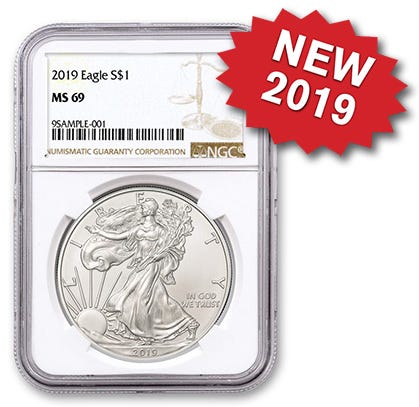 One Troy Ounce of 99.9% Fine Silver
Certified by NGC as Near-Perfect MS69 Condition
Currently Selling for $29.95
As Low as $26.95
FREE Patriotic Bonus Pack and Mystery Gift
Limited Time! This Special Offer Ends 4/27/19 @ 5PM CT
Call Now 1-888-870-8524! Offer Code: SLV45

Again, thank you for being a loyal GovMint.com customer. Now hurry and call 1-888-870-8524 now before our limited supply of Bonus Packs run out!
Shipping and handling charges: $6.95 for orders of $50 and under, $9.95 for order valued between $50.01 and $100, $11.95 for orders between $100.01 and $149, and free domestic shipping on orders totaling $150 or more.
Free shipping offer valid for domestic standard delivery orders only. Not valid on previous orders. This promotion is reserved for existing customers only. It is non-transferable and only valid for the customer shown. Limit 1 bonus item per order.