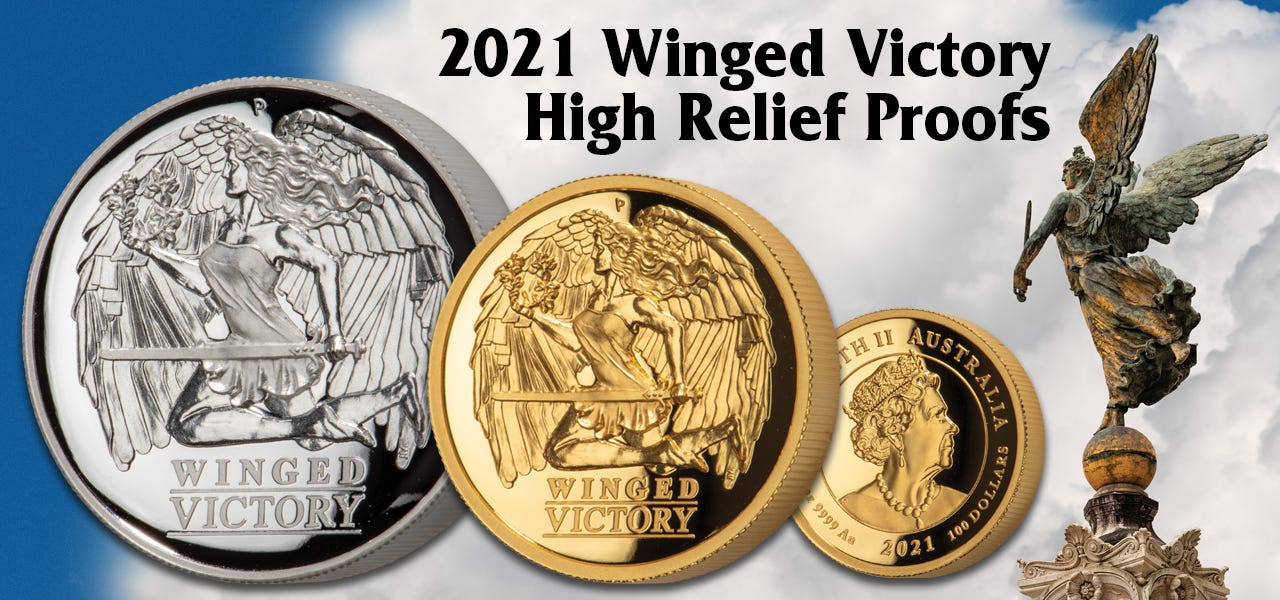 Mercanti Resurrects One of the World's Oldest Numismatic Icons
When the Ancient Greeks and Romans wanted a symbol for their coins, they chose Winged Victory, also called Nike or Victoria. One of the earliest images used on coins, Victory has been jangling in pockets and coin purses since around 510 B.C. But her legacy doesn't end there.
Victory appears on coins from Olympia symbolizing victory at the Olympic Games. In some Greek coins, she appears in the palm of the great goddess Athena. Winged Victory also stands as the largest bronze casting on a memorial in Australia—the 1919 Marrickville War Memorial. On it, Victory is shown gazing down as she holds her wreath of victory in one hand, a sword of battle raised in the other.
In 2021, Winged Victory has returned once again—this time envisioned by one of the world's greatest living coin designers: John Mercanti, 12th Chief Engraver of the U.S. Mint.
Victory Spreads Her Wings
As on the Marrickville War Memorial, Victory is often depicted with large wings and a laurel victory wreath. Mercanti has taken that classic imagery of Victory with her wreath and sword and put her in motion, her knees bent, as though she has just leapt into the air. Her mighty wings are spread wide, serving as an intricate frame to her powerful figure. These intricate wings are Mercanti's tribute to his idol, famed American coin designer and sculptor Augustus Saint-Gaudens, as well as Saint-Gaudens' famous $20 gold designs featuring Lady Liberty.
Below Winged Victory is her name, bold and underlined, and above is the "P" mintmark of Australia's respected Perth Mint. The obverse displays the traditional effigy of Queen Elizabeth II along with the coin's issuing nation, weight and fineness, date, and legal-tender value.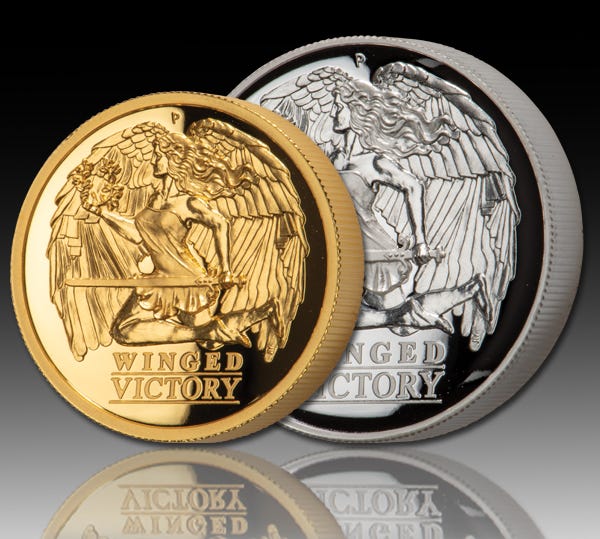 High Relief Proof Condition
For Mercanti's vision of Winged Victory, standard relief simply wouldn't do. That's why Perth Mint struck these beautiful coins in stunning High Relief, with designs that rise high over deep, concave fields. To complete the soaring imagery of Winged Victory, the coins were minted in Proof condition, with frosty devices and mirrored fields. These coins take extra care and effort to strike, with highly polished blanks, specially treated dies, and multiple strikes under extreme pressure. The end result is a coin that does the Goddess of Victory justice!
Struck in 99.99% Silver or Gold
The 2021 Winged Victory High Relief Proof is available struck in a full Troy ounce of 99.99% fine silver or 99.99% pure gold. Both coins are official Australia legal tender, with face values of $1 and $100, respectively.
Certified Flawless and First Day of Issue
If you're going to add the newest incarnation of Winged Victory to your collection, do it right. These coins are available graded by Numismatic Guaranty Corporation (NGC), one of the world's leading third-party grading services, as flawless Proof-70 Ultra Cameo (PF70 UC) condition. Coins come graded on a 70-point scale, with a perfect 70 grade meaning the coin is flawless, even under magnification! Coins simply don't come in better condition…but they do come with special designations like First Day of Issue (FDI). Coins certified as FDI have been secured from the mint and received by NGC for grading and certification within the first 24 hours of the mintage's release.
Hand-Signed by Designer John Mercanti
John Mercanti is a living numismatic legend. The 12th Chief Engraver of the U.S. Mint, Mercanti has designed more coins and medals than any other engraver in mint history. He famously designed the original reverse of the American Eagle Silver Dollar, and his first series with Perth Mint, the Wedge-Tailed Eagle, quickly became another collector favorite.
Upon grading, each Winged Victory High Relief Proof is sealed in a protective display holder. That holder comes decorated with a descriptive label bearing the hand-written signature of John Mercanti!


Limited Availability—Secure Yours Now!
Only a limited number of these 2021 Winged Victory High Relief Proofs have been authorized. Even fewer have been submitted for grading and returned certified as PF70 UC and FDI, sealed with a label hand-signed by designer John Mercanti himself.
Owning a Winged Victory coin joins you with a tradition that reaches back to Ancient Greece and Rome. Don't miss out on Mercanti's latest soaring design!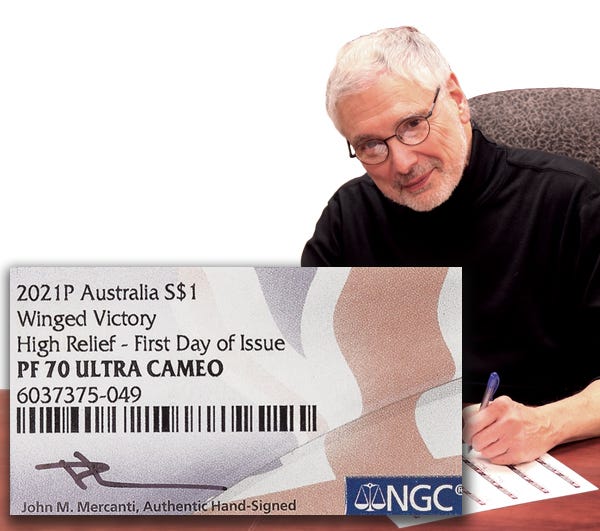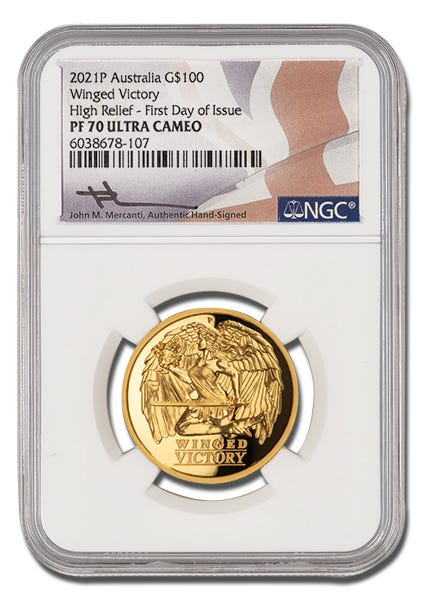 2021 One-Ounce Gold Winged Victory High Relief Proof
One Ounce of Pure Gold

99.99% Purity

Designed by John Mercanti

High Relief Condition

Proof Finish

$100 Australia Legal Tender

Flawless PF70 UC Grade

Certified First Day of Issue (FDI) by NGC

Hand-Signed Label

Limited Availability
2021 One-Ounce Silver Winged Victory High Relief Proof
One Ounce of Fine Silver

99.99% Fineness

Designed by John Mercanti

High Relief Condition

Proof Finish

$1 Australia Legal Tender

Flawless PF70 UC Grade

Certified First Day of Issue (FDI) by NGC

Hand-Signed Label

Limited Availability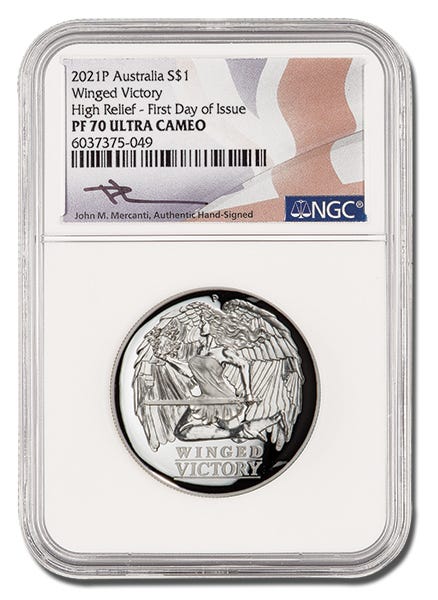 John Mercanti was the first former U.S. Mint Chief Engraver to work with a foreign mint when he created the popular Wedge-Tailed Eagle series. Now Perth Mint and Mercanti are back at it, creating a new beautiful design for you to add to your collection. But only if you act fast. Mintages are limited, so don't wait—call and secure your 2021 Winged Victory High Relief Proofs today.
Call 888-870-6339 now!