Houston We've Hade A Problem!
If that headline doesn't sound quite right, that's okay. The famous words spoken by Apollo 13 command module pilot Jack Swigert and mission commander Jim Lovell were actually changed by Hollywood from "we've had a problem," to "we have a problem."
Something else you might not know about the Apollo 13 mission: when Swigert, Lovell and lunar module pilot Fred Haise were fighting for their lives hundreds of thousands of miles away from home, they weren't alone.
But let's back up…
The Apollo 13 Mission
In July of 1969, man first landed on the moon when Apollo 11 touched down. In November of that same year, we did it again with Apollo 12. And then came Apollo 13.
The troubles began before the mission ever lifted off. Just days before the scheduled launch, astronaut Ken Mattingly was removed from the mission due to exposure to German measles (which he never contracted) and replaced by Jack Swigert as command module pilot.
Then came the first glitch.
The First Glitch, the Accident, and "A Problem" the World Would Never Forget
Just five minutes after launch, one of the rockets shut off earlier than expected. Luckily, they were able to adjust their flight path and continue on, assuming their "one big glitch" that came along with every mission was now over. They were wrong.
About 56 hours into the mission, the crew was asked to stir the cryonic oxygen tanks–a standard procedure. But what happened was anything but standard. Due to an undiscovered fault, the stir caused a massive explosion in one of the oxygen tanks. With their breathable air spilling out into the void of space, Swigert and then Lovell said the eternal words that would be associated with the mission for the rest of time: "Houston, we've had a problem."
A hard truth settled on the crew: the mission to the Moon was now scrapped, and a new mission had emerged: bringing these American heroes home safely. But with their precious oxygen depleted—oxygen that now only allowed them to breathe but was used in the creation of their water as well as the craft's power—that was going to be a tall order.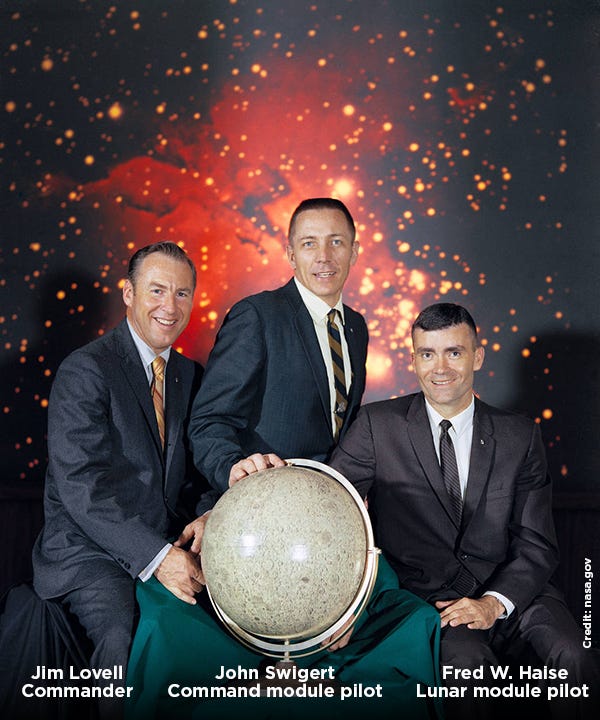 The Slingshot, and A Square Peg in a Round Hole
With an unknown amount of damage done to the Service Module, which held their air and fuel, turning around wasn't a viable option. Instead, the brilliant minds at NASA devised a new solution: pass by the Moon close enough that its gravitational pull would slingshot them back towards the Earth.
They now had a plan, but one big problem still loomed: how would the astronauts stay alive long enough for the plan to succeed? To conserve power, all possible systems within the Service and Command Modules, jointly named Odyssey, were shut off, and the crew crawled into the Lunar Landing Module Aquarius.
Even with the heat turned off, leaving the astronauts in near-freezing temperatures, Aquarius was only built to sustain two men for a small period of time, not three men for days. Eventually, the lander's small air filter had to be replaced—but the Landing Module used a round filter, and the only replacements left were for the Command Module, which were square. Enter again the geniuses at NASA, who devised a way to fit the square filter into the round hole using the few items the astronauts could spare.
A Miraculous Return Home
After days in the Lunar Module, the astronauts climbed back into the Command Module and crossed their fingers. The electronics were not meant to be turned off, and the cold could have prevented them from turning back on. But on they went, and a final burn of what little fuel remained was made to send the astronauts on the correct path home. If the calculations were off, they would burn up in the atmosphere or skip off and make Earth's orbit their frozen tomb. But again American ingenuity and engineering paid off, and the command module landed about 143 hours from liftoff, and was retrieved by the USS Iwo Jima. Lovell, Haise and Swigert were home. And they brought a little something back with them.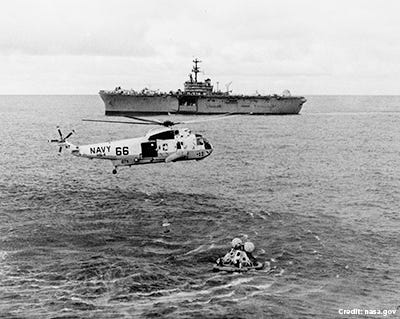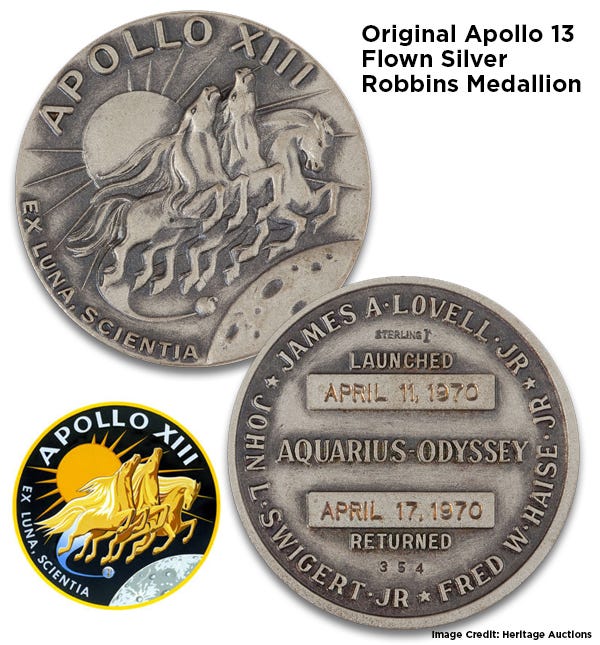 What Is a Robbins Medal?
Since Apollo 7, Robbins Medals (so named for the company that mints them—Robbins Company of Attleboro, MA) have journeyed into space along with every manned U.S. mission. Each medal bears an obverse taken from that mission's official patch.
Imagined by Jim Lovell and designed by New York artist Lumen Winter, the Apollo 13 mission patch (and thus the Robbins Medal's obverse) features the three horses of the sun god Apollo circling the moon. Rather than showing the names of the astronauts, Lovell suggested instead the Latin words "Ex Luna, Scientia," (From the Moon, Knowledge), a phrase inspired by the U.S. Naval Academy's "Ex trident, scientia" (From the sea, knowledge). The reverse displays the astronauts' names, the Command/Service and Landing Modules' names and the mission launch and return dates.
In total, 303 Apollo 13 Robbins Medals went into space with the astronauts. These space-flown artifacts were then given almost exclusively to the astronauts, their families, and the crew that made the mission possible.
Special 50th Anniversary Apollo 13 Robbins Medal Commemoratives
Now, 50 years after the incredible story of survival and ingenuity that is the Apollo 13 mission, you can take home a special Robbins Medal Commemorative modeled after a real Apollo 13 Robbins Medal—Medal #25, owned by Jack Swigert! Each commemorative displays the same iconic Apollo 13 mission "three horses" design – struck in high relief on the obverse – as seen on the NASA patch. The reverse features the astronauts' and modules' name as well as the launch and return dates of the mission. Small changes to the original design on the reverse side include the weight and fineness of the medal and the dual dates "1970-2020" to pay homage to the historic anniversary.
Struck in two full ounces of 99.9% fine silver or a full ounce of 99.9% pure platinum, these special 50th-anniversary commemoratives are historic pieces that belong in the collection of every American patriot.
A Set of Commemoratives That's Literally Out of This World
In addition to having been patterned after an authentic Apollo 13 Robbins Medal, each 50th Anniversary commemorative comes coated with a special antiquing solution that includes space-flown material in it. The one-ounce platinum piece also includes space-flown gold layered on the sun as seen on the obverse. That's two authentic space-flown materials in one commemorative! When you hold these commemoratives in your hands, you're literally holding material that has left the earth and returned—only to become a treasured heirloom for you and your loved ones.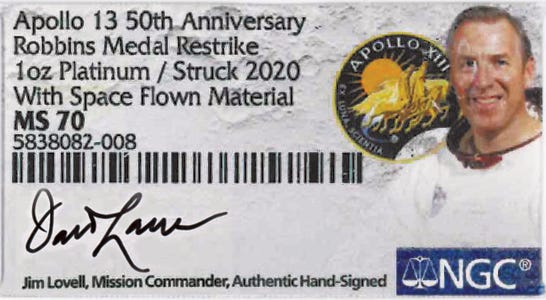 Flawless Condition, and a Label Hand-Signed by Captain Jim Lovell!
Now available through this world exclusive release is a complete two-piece set of 50th Anniversary Apollo 13 Robbins Medal Commemoratives.
Your historic set will include the one-ounce platinum and two-ounce silver medals – each certified and graded by the Numismatic Guaranty Corporation in flawless Mint State-70 condition. MS70 is the finest graded possible!
In the Hollywood adaptation of the Apollo 13 story, it is mission commander Captain Jim Lovell (as played by Tom Hanks) that utters the famous phrase "Houston, we have a problem." As a part of this exclusive two-piece set, your One-Ounce Platinum Apollo 13 Robbins Medal Commemorative will come with a label bearing Lovell's hand-written signature! You're not only getting a historic two-piece set, you're also securing the autograph of one of America's greatest living heroes.
Extremely Limited Availability—Secure Your Set Now!
Mintages of these commemoratives are extremely limited, with just 1,000 two-ounce silver and a mere 500 one-ounce platinum pieces authorized for minting. Even fewer have been certified by NGC as flawless MS70, and only a small number of one-ounce platinum commemoratives bear a label hand-signed by Apollo 13 mission commander Captain Jim Lovell.
This is a world exclusive release, but our limited supply won't last long. Hurry and secure your two-piece 50th Anniversary Apollo 13 Robbins Medal Commemorative Set now!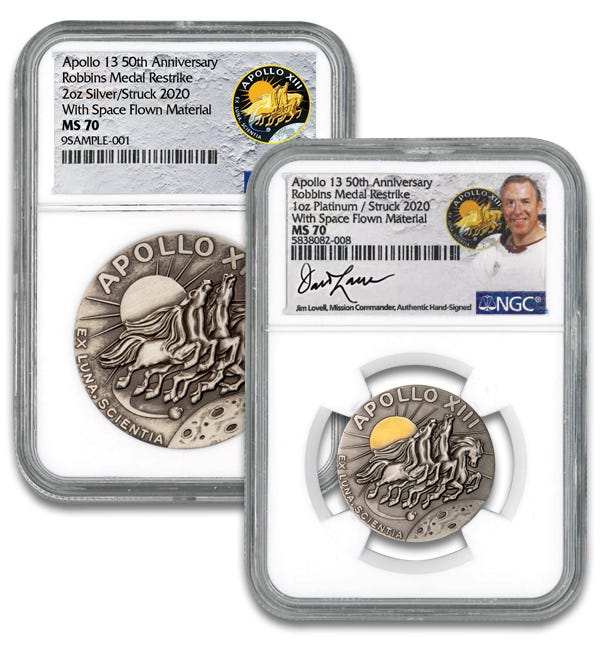 2-Pc. 50th Anniversary Apollo 13 Robbins Medal Commemorative Set NGC MS70 Signature Edition
Two-Piece Set:




-Two-Ounce Silver




-One-Ounce Platinum

Struck in 99.9% Fineness

Apollo 13 Robbins Medal Design

Created Using an Original Apollo 13 Robbins Medal

Ultra High Relief Obverse

Authentic Space-Flown Material

Graded by NGC as Perfect MS70

Label Hand-Signed by Apollo 13 Astronaut Captain Jim Lovell (Platinum Only)

World Exclusive Release

Extremely Limited Availability
50 years ago, three of America's heroes left the planet Earth. Only through indomitable will, bravery and brilliance did they make it back home. The story of Apollo 13 will live on for generations—and this is your opportunity to become a part of the story. Secure your special two-piece 50th Anniversary Apollo 13 Robbins Medal Commemorative Set, complete with real space-flown materials and the hand-written autograph of a real Apollo 13 astronaut, right now. Don't wait—call immediately to secure yours before our limited supply runs out!
Call 888-870-6339 now!