John Mercanti: A Numismatic Legend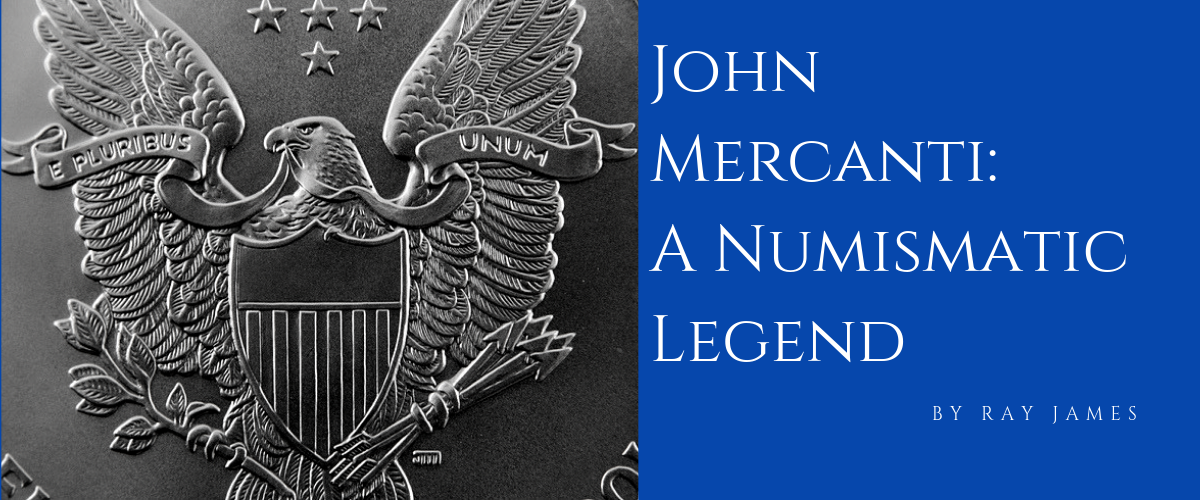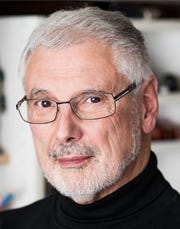 When John M. Mercanti retired as the 12th Chief Engraver of the U.S. Mint, he had accomplished one of the most storied careers in the Mint's history. He had served as an engraver –sculptor for 37 years. The only engravers to serve longer were George T. Morgan at 48 years, William Barber at 47 years and Frank Gasparro at 39 years. Mercanti also designed, sculpted or engraved over 100 coin and medal designs, more than any other designer in the history of the U.S. Mint.
Mr. Mercanti's U.S. Mint career began in 1974 in the pre-digital age when everything was done by hand and finished at the Mint in 2010 when most of the design work was done with the aid of digital technology.

John Mercanti was born on April 27, 1943 in Philadelphia, Pennsylvania. He studied art at the Pennsylvania Academy of Fine Arts, the Philadelphia College of Art and Fleisher Art Memorial School. Mr. Mercanti also served six years in the National Guard before joining the U.S. Mint. He served as assistant to 10th Chief Engraver Frank Gasparro who was Mercanti's friend and mentor. The Chief Engraver post remained empty for five years after the departure of 11th Chief Engraver Elizabeth Jones. Mercanti was named 12th Chief Engraver of the U.S. Mint on May 19, 2006.

Notable Coin Designs
Perhaps Mercanti's most notable design is the reverse for the American Silver Eagle series-the premier coin released by the U.S mint every year in a variety of finishes since the series' inception in 1986. This proud Heraldic Eagle is depicted with wings spread, holding arrows and an olive branch. Overhead, there is an inverted triangular field of thirteen stars. This powerful image has been reproduced millions of times each year since 1986.
Another notable and easily found design from Mr. Mercanti is the obverse of the American Platinum Eagle series. This image is reproduced on both the bullion and numismatic versions of the coin. The design is a close up representation of the face of the statue of Liberty.
He designed several of the coins in the U.S. Mint's Modern Commemorative series including the 1984 Los Angeles Olympics ten dollar gold coin, the 1986 Statue of Liberty dollar, the 1989 Congress Bicentennial five dollar coin, the obverse of the 1990 Eisenhower Centennial dollar, the obverse of the 1991 Mount Rushmore five dollar coin, the obverse of the 1991 Korean War Memorial dollar, and the obverse of the 2005 John Marshall commemorative dollar. He famously produced the reverse of the Dr. Dorothy Height Congressional Gold Medal in only 9 days. He designed seven reverses for the 50 State Quarters Program including Arkansas, Iowa, Louisiana, North Carolina, South Dakota, West Virginia and his home state of Pennsylvania.
Mr. Mercanti retired from the Mint in 2010. His role as Chief Engraver remained empty until February of 2019 when Joe Menna was named. After his retirement John Mercanti remains active and involved in numismatics and coin designs.
In 2014, Mr. Mercanti became the first former U.S. Mint Chief Engraver to collaborate with a foreign mint in the design of a coin series. The Perth Mint's incredibly popular Australian Wedge-Tailed Eagle series features new reverse designs depicting Australia's largest bird of prey. The series is struck in gold and silver, in a variety of sizes and in bullion and proof finishes.
Mr. Mercanti has also collaborated with the Saint-Gaudens National Historic Park site and completed some highly sought after limited edition medals from the original Saint-Gaudens plasters.
Mercanti Signed Labels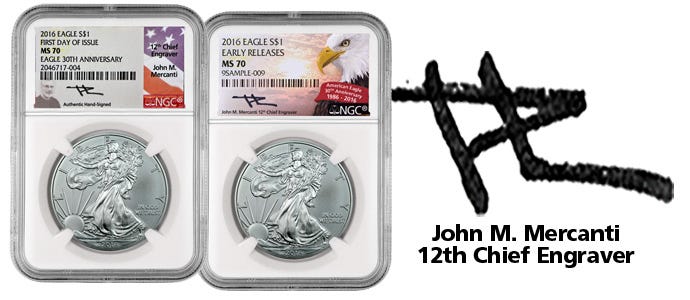 Both Numismatic Guaranty Corporation (NGC) and Professional Coin Grading Service (PCGS) have collector labels featuring the hand signature of Mr. Mercanti. These labels have proven popular with collectors as they have been eager to have an authentic hand autograph from someone who will undoubtedly occupy an honored place in the history of numismatics, with a stature like other former U.S. Mint Chief Engravers James B. Longacre, Robert Scot or George T. Morgan.

Mr. Mercanti's place in the field of numismatic design is undeniable. His work will live on for centuries.
2021 Winged Liberty Victory High Relief Proof Coin
John Mercanti again teamed up with the Perth Mint to create the stunning 2021 Winged Victory High Relief Proof coin!
Mercanti designed this issue's reverse, which features the goddess Nike, often referred to as Winged Victory. Appearing in both Greek and Roman mythology, Nike was often depicted with broad wings and holding a laurel wreath, symbolic of victory. She is most often associated with the concepts of speed, strength, triumph, and glory, be it in sports or war.
Mercanti's take on Winged Victory features fully sculpted wings to create a stunning high-relief effect, in part paying tribute to another numismatic legend and an idol of Mercanti, Augustus St. Gaudens. Each coin has been struck in lovely High Relief Proof condition, allowing Mercanti's design to be fully appreciated.
The 1 oz. .9999 fine silver issues have a limited mintage of just 3,000 pieces and are available certified by Numismatic Guaranty Corporation (NGC) or in Original Government Packaging.
Copyright 2020 GovMint. All Rights Reserved. GovMint.com does not sell coins and numismatics as investments, but rather as collectibles. Please review GovMint's Terms and Conditions, Terms of Use and Privacy Policy before using this website and prior to purchasing from GovMint. All website content is for reference use only and does not constitute investment, legal or financial advice. We encourage the sharing and linking of our information but reproduction of our news and articles without express permission is prohibited. Instead of reproducing, please provide the link to the original article or use the share buttons provided.