Coin Grading: What You Need to Know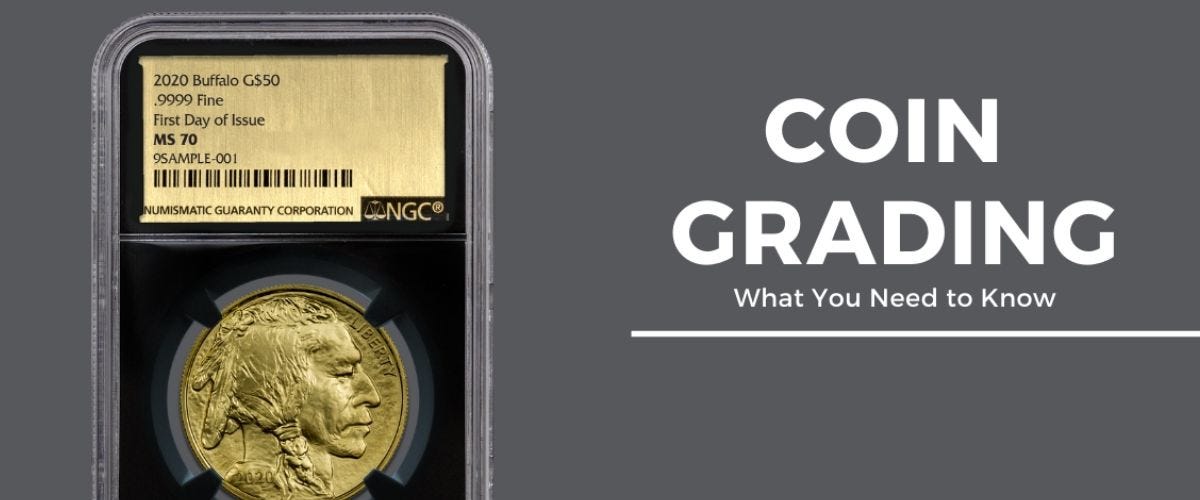 What is Coin Grading?
Grading is a way of determining the physical condition of a coin. Coin grading is both an art and a science. According to standards accepted by collectors, a coin is given a grade based on factors such as the strength of strike, wear, contact marks, and eye appeal. The grading scale assigns a whole number between 1 and 70 with 70 being a perfect, flawless coin. Grades range from poor, almost completely worn out, to perfect mint state, a coin with absolutely no wear and no flaws of any kind.
With experience and much practice, many people can learn to grade with moderate degrees of accuracy, but few are able to grade a coin with the precision required to become a professional. The grade of a coin goes a long way in determining its value and seemingly insignificant, easily overlooked flaws can make thousands of dollars of difference. Coins that have been properly stored since the day they were minted are called "uncirculated" or "mint state." If a coin saw circulation for a short time but still looks nearly brand new, it is called or graded "about uncirculated."
The most respected third-party grading services are Numismatic Guaranty Corporation (NGC) and Professional Coin Grading Service (PCGS). Before grading a coin both services first authenticate the coin to make sure it has not been cleaned, altered, or tampered with in any way.
Professional grading is a team effort with at least two highly trained graders examining every coin. The coins and best states of preservation will almost always have the greatest value.
Professional Coin Grading Can Offer:
Peace of Mind- Professional coin grading offers you peace of mind because your coin has been authenticated and certified as genuine.
Grading- Your coin has been carefully examined by at least two experts who have assigned a numeric grade on its condition.
Universally accepted- When graded by one of the two major grading services your coin will be recognized and accepted by dealers and collectors worldwide.
Archival Holder- After grading, each coin is sonically sealed in an archival acrylic holder to preserve its condition and permanently attest to its grade and its authenticity.
Additional Pedigree- NGC and PCGS sometimes certify coins with additional pedigrees and imprint them directly on the label. These may include first strike, first releases, or special shipwreck, hoard, or collection pedigrees.
Online Registration- Each coin is given a unique registration number which serves to catalog the coin at the grading service. In many cases it is possible to look up this number and verify your coin's information.
The Sheldon Grading Scale
The condition of a coin often directly relates to its value. In the early days of coin collecting and still somewhat to this day, adjectival coin grades were used to describe the condition that a coin was in. Such adjectival grades include conditions such as Poor, Fair, About Good, Good, etc. However, there was no industry standard across the hobby leading to great discrepancies between what one dealer would call "good" and what another one would. In 1949, Dr. William H. Sheldon, a famous numismatist, developed what is referred to as the Sheldon Scale. This system determines the condition of a coin based on a 70-point system. While a 100-point system may make more sense, Sheldon chose the 70-point system since, in his opinion, a coin that received a "70" would be worth 70 times as much as a coin that received a "1." The system was first devised to determine the quality of large size cents but would soon go on to become the industry standard.
When grading along the Sheldon Scale, first the authenticity of a coin is determined and then its strike type is determined to be either Mint State, Proof, or Specimen. After that, a numeric grade along the 70-point system is assigned by a numismatist. A "1" is defined as being just barely recognizable and often, are damaged. The rims would be flat or nearly flat at this level. On the other hand, a "70" is defined as a coin having no post-production imperfections at five times magnification. Both popular third-party coin certification companies, Numismatic Guaranty Corporation (NGC) and Professional Coin Grading Service (PCGS) use the Sheldon Scale in their grading process. The American Numismatic Association (ANA) also bases its grading standards largely on the Sheldon Scale but includes the addition of a clearly defined description of each numerical grade.
For further reading about coin conditions, click here.
About the Coin Grading Process
---
Top-tiered grading services receive coins that arrive for certification and carefully verify the number of coins in each package. Once counted, the coins are inspected to ensure that the label they arrived with matches the correct description of the coin. After inspection, the coins are entered into a database and are prepared grading.
---
Next, the coins are examined and certified by multiple professional graders. Requiring more than one grader is necessary to ensure and verify that the coins are receiving an accurate grade. During this time, the coins will be examined for authenticity, alterations, and characteristics. These characteristics include the strength of the coin and the quality of the strike, luster, marks, toning, and visual appeal. The Sheldon Grading Scale is then used to determine the overall grade of the coin. Once the coins are graded, they are then prepared for encapsulation.
---
Special labels are created that display the grading service, the coin's date, denomination, mintmark, grade, variety, designation, and unique identification number. Next, coins are placed inside protective core holders along with a unique label. Once the coins are placed in their holder, they are then sonically sealed between two clear plastic shells to ensure protection.
---
After the coins have been carefully encapsulated, they are then sent for a final inspection before being prepared for shipment. This inspection compares the coins to their original submission form and verifies the coins have received the appropriate grade and description in addition to checking for flaws, such as scratches or scuffs. Once inspected, the coins are ready to be packaged and shipped to the customer.
The History of Coin Grading
As mentioned above, coin grading used to be more subjective and prone to dispute than it is today. Through the 1800s and early 1900s, terms used to describe a coin's condition remained very general and there were no industry standards set in place,which lead to large differences between how different dealers would describe the condition of the same coin. Such discrepancies made coin collecting inherently more difficult. While many collectors and dealers alike recognized the need for a set standard, it was not until Dr. William H. Sheldon made a 70-point scale for grading coins in 1949 that some cohesion would be brought to the hobby.
In 1977, another significant improvement to coin grading took place when Abe Kosoff published the Offical ANA Grading Standards for United States Coins, which sought to define the numerical grades Sheldon had identified years earlier. This text would not only create descriptions for each possible grade, but would also provide photographs as examples of each.
The rise of third-party grading companies began in the 1970s with the founding of the ANA Certification Service, also known as ANACS, in 1972. The two most prominent third-party coin certification services Numismatic Guaranty Corporation (NGC) and Professional Coin Grading Services (PCGS) would be founded in 1987 and 1986 respectively. PCGS would be the first to encapsulate graded coins by placing them in a plastic holder with a label that details information about the coin and its condition. After that, everything changed. Today a multitude of cores, labels, and designations are available that allow collectors to enhance their collection even further.
Learn more about the history of coin grading here.
The rise of third-party grading companies like PCGS and NGC has brought many positive changes to the hobby of coin collecting. Before such services were widely available, collectors just had to trust the information that the seller was giving them with little to no way to verify if that was true or not. Today, collectors rest assured knowing that their coins are not only authentic, but guaranteed to be in the condition the grading service has arrived at. This also helps guard against counterfeit coins as customers can rest assured that third-party certified coins are the real deal.
In addition, the encapsulation of coins that have been certified also provides an extra layer of protection to coins that would otherwise be vulnerable to damage, which would lower the overall condition of the coin.
Learn more about the impact coin grading has had on numismatics here.
All What Are the Advantages of Buying Graded Coins?
For casual collectors, ungraded coins provide the most cost-effective means of collecting. Accordingly, collectors who simply like the appearance of coins and those who don't scrutinize them may prefer to stick to ungraded pieces. For more serious collectors, those who take pride in their collections, those who like certainty, and those who purchase in hopes of turning a profit, graded coins are often a more attractive option.
Authentication
One of the most important advantages of a graded coin over an ungraded one is authentication. Coins new and old may be counterfeited by those with nefarious motives or simply errantly identified by inexperienced collectors, those who inherit coins, or others. Grading companies authenticate the coins sent to them, providing professional backing to things like weight, purity, and age. Not only does this make it possible to buy and sell coins on the secondary market without fear, but it also guarantees authenticity for hobbyists.
Protection
Another advantage of graded coins is that they are protected in ways that ungraded coins are not. Ungraded coins are susceptible to damage by carelessness, improper handling, spills, humidity, and more. However, graded coins come sealed in plastic slabs which offer a layer of protection from environmental factors that could otherwise damage them. For collectors who like to show off their collections, these slabs also make it easier to allow other people to handle the coins, as they need not worry about smudges or drops.
Eye-Appeal
Many collectors also prefer the aesthetics of graded coins. Although many modern coins come in themed packaging that sometimes includes display cases, other coins are released in rolls or other generic packaging. Older ungraded coins typically have no packaging. The slabs that protect the coins provide a neat, clean look. They may also add to the visual appeal of coins with themed labels, which may include features like pictures or national flags. Avid collectors also appreciate labels that have been hand-signed by significant numismatic figures, like former United States Mint Chief Engraver and numismatic legend John Mercanti.
All in all, coin grading provides significant advantages for both personal collectors and those looking to sell.

Copyright 2020 GovMint. All Rights Reserved. GovMint.com does not sell coins and numismatics as investments, but rather as collectibles. Please review GovMint's Terms and Conditions, Terms of Use and Privacy Policy before using this website and prior to purchasing from GovMint. All website content is for reference use only and does not constitute investment, legal or financial advice. We encourage the sharing and linking of our information but reproduction of our news and articles without express permission is prohibited. Instead of reproducing, please provide the link to the original article or use the share buttons provided.