The Impact of Coin Grading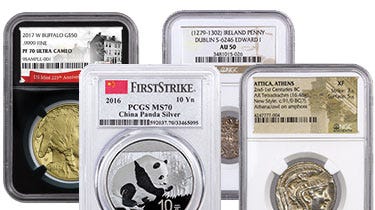 Nearly every day, my company submits rare coins to one of the two major grading companies in the United States, Numismatic Guaranty Corporation (NGC) or the Professional Coin Grading Company (PCGS). Both have been in business for over 20 years and have graded and capsulated billions of dollars-worth of rare coins.
The creation of these third-party grading companies had a profound, positive impact on the world of numismatics. Before third-party grading and authentication, buyers had to rely solely on the expertise, honesty, and integrity of the seller. Often buyers thought were buying oranges and ended up with bruised apples. Most other collectibles fields still have this problem today. That's why the rare-coin market is among the most transparent and liquid. Try selling a rare vase or seldom seen wristwatch over the telephone to an antique dealer.
Over the last two decades, many multi-million dollar coin collections have been created. Without the security of third-party grading and authentication, most of these buyers would have spent their money elsewhere. It is no coincidence that rare coins have surged in value since the creation of these very important pillars of modern numismatics.
One of the most surprisingly positive benefits from the creation of the coin-grading companies has been the ability to quantify rarity. Both NGC and PCGS keep an ongoing census of every coin they have certified over the years.
Changes Over the Years
Thirty years ago, rarity was little better than a guessing game done by a handful of experts. There was no real way to separate fact from hype. Now, with use of the census reports, the true rarity of every coin in every grade is factual and easily obtained. Because of this new information, it is now known that some coins thought to be very rare are actually known in surprising numbers. The 1907 High Relief Double Eagle is a good example. The coin has an original mintage of just 11,250 coins, yet over 5,000 have been certified by NGC and PCGS. Nearly 500 have been graded MS65 or better, the finest at the mind-blowing level of MS69!
In contrast, as a result of the census reports, we now know the true rarity of the 1920 Double Eagle in Gem condition. Only eight coins have been certified in MS65, with none higher. In 2007, an example of this previously thought to be common date, sold for over $100,000 at public auction. Surprisingly, a fully frosted, mint state example of the 1920 Double Eagle can be purchased for under $3,000.
The examples above help to explain the concept of condition rarity and the vital importance of coin grading. Not many people can afford to collect Double Eagles by date, but the same factors can be found in nearly every series of United States coinage.
Morgan Silver Dollars are extremely popular, and the value of many individual issues is a clear reflection of the rarity of dates by grade. An Almost Uncirculated 1884-S Silver Dollar can be purchased for around $500. In this condition, the coin would have ample mint luster, but with some apparent wear from light circulation. Together, NGC and PCGS have graded around 8,000 coins in AU condition.
At the other end of the spectrum, there have been only six coins graded by both companies above MS64. The finest known example (an MS68 from the famed, Eliasberg collection) is worth over one million dollars! These are the extremes of course, but the same formula of rarity and value is found for every issue of U.S. Coinage. With these vast differences in value for each grade, it is easy to see why third party certification is a cornerstone of the hobby.
Another issue that has almost been taken for granted in the last two decades is counterfeits. Both NGC and PCGS fully guarantee the authenticity of every coin they certify.
The matter of counterfeits used to be a huge problem in world of numismatics. Detecting a clever fake clearly requires some level of expertise and even dealers might be fooled by well-made counterfeits. The grading companies spend enormous sums to hire the best experts in the world. They have also invested millions of dollars in state-of-the-art-equipment. Why have they done this? Because they have to!
Think of the exposure each company takes when they certify a coin. For a fee of just $50 they are issuing a lifetime guarantee of authenticity, sometimes for a million-dollar coin.
Current Issues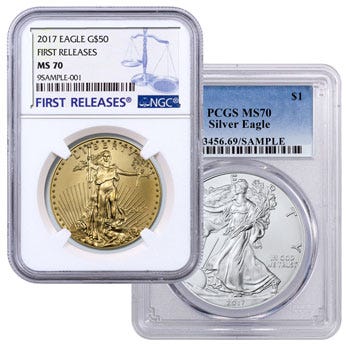 In recent years, the issue of counterfeit coins has been headline news because of the flood of fake coins pouring out of China. The United States and Chinese government seem uninterested or unprepared to deal with the problem. Your best protection is to purchase only certified (NGC or PCGS) coins from a reputable dealer. Never buy coins over the Internet from someone you do not know (there are literally thousands of counterfeits offered in online auctions everyday).
If you have any doubts about your ability to get a refund from a seller, go elsewhere. As modern technology improves, it is certain that counterfeits will become more dangerous. Rare coins are not only industry facing this problem. Billions of dollars are lost each to fake goods from around the world. Certification is not only a good idea; it's non-negotiable when buying a rare coin of substantial value.
Over the past several years I've worked closely with the staff of the Smithsonian Institute on the National Numismatic Collection on several projects. We've worked on exhibits, research projects, and several numismatic books.
My proudest achievement, however, might seem a bit odd. Before I became involved, all of the numismatic rarities in the national collection were stored loose on trays in a vast assemblage of cabinets. A coin worth a few hundred dollars might share the same tray with a coin worth five million dollars. They've been stored in this fashion for decades. You can only image how frightening it is to handle a coin worth millions with no protection.
Coin Certification and Authentication
One of the most famous coins in the world, the 1849 Double Eagle, shows signs of mishandling (a large bag mark on the obverse) at some point in its past. After months of consultation, testing and research it was decided that these national treasures needed better protection. Numismatic Guaranty Corporation (NGC) volunteered to encapsulate the top coins in the national numismatic collection. These coins are now protected for future generation from mishandling and contamination. They are also more secure because of security features that are part of the certification process.
These same principles apply to every collector. Certified coins can be admired and handled without fear of damage. They also offer at least some protection from fire damage. I've seen several coins from house fires that were sent back to the grading companies for re-holdering. All certified coins also carry a unique submission number on the holder. This offers a level of protection in the case of theft. Many coins have been recovered over the years because of the unique number assigned to the certified coin.
When coin certification was first introduced in the early 1980's many old-time collectors and dealers were quite resistant to the concept of third-party grading. It was several years before certified coins became an acceptable business. Now, it's hard to image a world without certified coins. Even several of the collecting specialties that claimed to be uninterested in certification are now fully committed to the process. This includes paper money, ancient coins, tokens and medals. The world of numismatics is certainly a safer place with certification.
Copyright 2020 GovMint. All Rights Reserved. GovMint.com does not sell coins and numismatics as investments, but rather as collectibles. Please review GovMint's Terms and Conditions, Terms of Use and Privacy Policy before using this website and prior to purchasing from GovMint. All website content is for reference use only and does not constitute investment, legal or financial advice. We encourage the sharing and linking of our information but reproduction of our news and articles without express permission is prohibited. Instead of reproducing, please provide the link to the original article or use the share buttons provided.