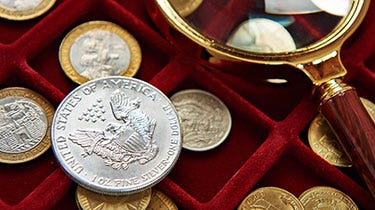 My introduction to numismatics began the "All-American" way in the mid 1970's. A family friend gave me a Whitman folder for Lincoln Cents 1941 to-date. Like millions of other kids before and since, I began to fill the holes in my album. In the 1970's, finding most of the Lincoln cents for my budding collection was relatively easy. Every Friday after receiving my allowance, I would head to the bank for $5 worth of penny rolls. I repeated this process for months until my collection of 1941 to-date Lincoln Cents was complete. Unfortunately, I lived in Florida, and being from the east coast, I found that several of the early Cents from San Francisco were not to be found in my weekly searches. This only added to my lust. I had to complete the set!

It was now time to get serious. I made my first numismatics purchase for a coin above face value. I can still remember the excitement the day my package from Littleton Coins arrived. Inside the small brown envelopes were the three missing Lincolns that had evaded my search. For 15 cents each, I had now completed my first set of United States coinage. This set is still a treasured part of my collection. As many collectors can attest, the coin board concept was truly ingenious. For those with a strong impulse to collect, having a missing hole in your album makes life itself incomplete.

The numismatic industry is based on passionate collecting. Why else would collectors spend staggering sums to acquire the object of their desires? Even many long term collectors cannot understand why someone would pay multiples of retail to acquire a coin. Obviously, from a financial standpoint, many of the coins sold for astronomical prices do not make sense. But from an emotional viewpoint, one can begin to understand the desire of truly passionate collectors.

Even one of the most famous frugal collectors of all time had the emotional weakness of being a passionate collector. John Jay Pittman loved his rare coins. He collected for decades, and never sold a coin unless it was to trade for something he desired more. His coin collection sold for $30 million dollars after his death, but his personal residence brought under $150,000. Decades before the invention of set Registry collecting, Pittman displayed the traits of a modern day "gotta have it" mentality. In 1956, two coins that had eluded him appeared at auction: Proof 1854 and 1855 Type Two gold dollars. When the two coins crossed the auction block, Pittman famously went to the front of the room, faced the crowd, and starred down potential opponents. With his bidder paddle raised, he stood like the Statue of Liberty until both coins were in his possession. The coins cost Pittman $750. In 1997, they sold for $297,000.

During my 35 years as a professional numismatist, I have handled an incredible number of great United States rarities. I did not, however, collect them for myself. Most of the coins I would like to collect are far beyond my budget. I do, however, collect small size Kentucky National Bank notes. Now, over the years, my collection has grown to the point that I seldom find a new note to add to my holdings. At a previous F.U.N. auction, an unreported note from Wallins Creek, Kentucky was offered for sale. It was the only known surviving small size National note from this town. My passionate collecting instincts were fully engaged! I had to have that note! Luckily, the competition was minimal, and I took home the prize. My desire for the note was so strong that I began to worry about the note being shipped through the mail from Dallas. What if it was lost in the mail! It was the only one known! Thankfully, that lone example of a Wallins Creek small size National now has a new home with me.