United States Mint Confirms 1986 and 1987 Bullion Silver Eagles were Struck at the San Francisco Mint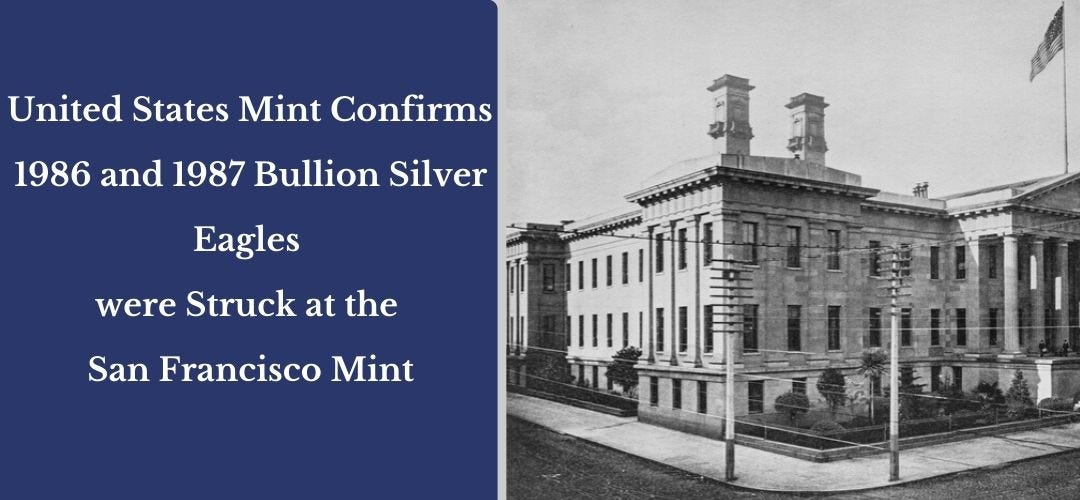 The United States Mint recently confirmed that all 1986 and 1987 bullion American Silver Eagles were struck at the fabled San Francisco Mint!
This breaking reveal was in response to a Freedom of Information Act inquiry filed by Lee Minshull, the owner of Lee Minshull Rare Coins Inc, who requested information clarifying the mintage and production of bullion American Silver Eagles.
The United States Mint provided a mintage chart to Minshull that included both total mintages and information about where each year was produced from the debut year of issue, 1986, through July 17, 2017. Minshull then shared this information with Coin World, who published an article detailing this Silver Eagle discovery to enthused collectors worldwide. The chart revealed that 5,393,005 1986 Uncirculated Silver Eagles, the entire mintage, were struck at the San Francisco Mint, as well as the entire 11,442,335 mintage of the 1987 bullion issues.
Coin World has requested further information on the production of bullion Silver Eagles for the rest of 2017 and for all of 2018, 2019, and the current year's issues.
Coin World also notes that their Coin Values Price Guide correctly identified the 1986 and 1987 bullion Silver Eagles as being struck at the San Francisco Mint. Many other resources previously stated that bullion coins from the first two years of the series were also struck at the West Point and Denver branches of the United States Mint.
Both the West Point and San Francisco Branches of the United States Mint would not receive full Mint status until March 31, 1988, when Public Law 100-274 was passed. Before that date, the West Point Branch was considered a silver bullion depository, while the San Francisco Branch was considered an assay office.
The most recent up-to-date mintage information for the Uncirculated Silver Eagle series can be found in the below chart. We'll be keeping it updated as more information becomes available.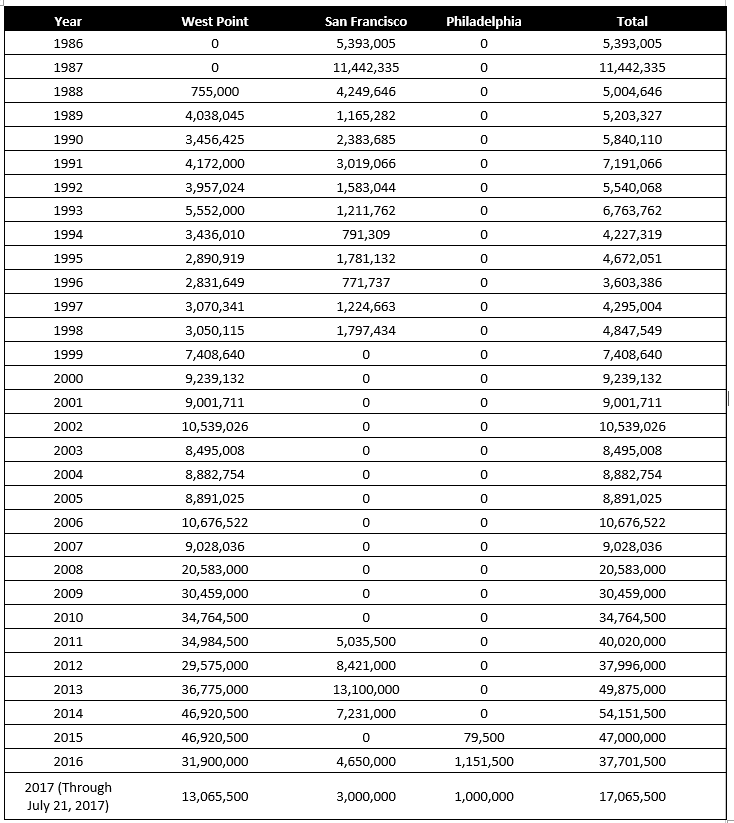 Copyright 2020 GovMint. All Rights Reserved. GovMint.com does not sell coins and numismatics as investments, but rather as collectibles. Please review GovMint's Terms and Conditions, Terms of Use and Privacy Policy before using this website and prior to purchasing from GovMint. All website content is for reference use only and does not constitute investment, legal or financial advice. We encourage the sharing and linking of our information but reproduction of our news and articles without express permission is prohibited. Instead of reproducing, please provide the link to the original article or use the share buttons provided.